Stephanie stopping cars to let the kids cross. Photos by N. Bower
By Zahabia Brainch
Nov. 20, 2021: If you cross at the intersection of Tanglewylde and Garden Avenue, chances are you know the wonderful crossing guard Stephanie Sandarciero. She greets many of the kids walking to school by name, and if it's a slow time, you'll hear her ask things like, "Hey Gabe, how did the football game go last night?" or "Jai, how was the piano recital?" She also baked 360 iced cookies to hand out to kids. "I calculated the number of kids who cross in a day," she said, "and I wanted to hand out two cookies per kid!"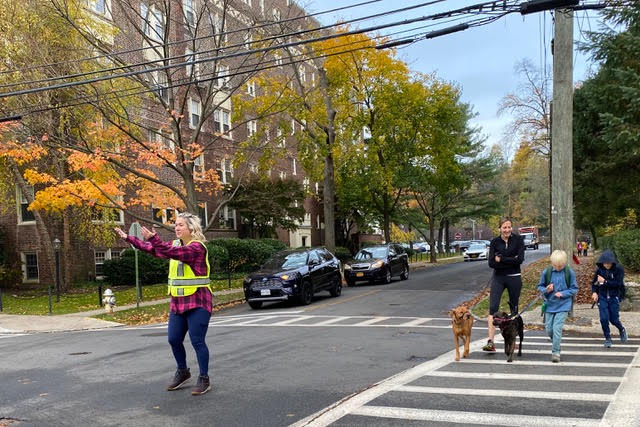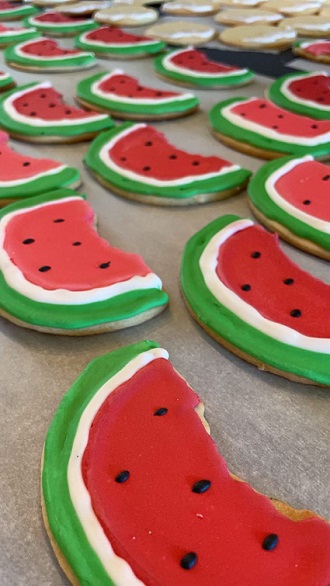 Cookies made by Stephanie
Stephanie and I met one morning at the Bronxville Diner, and I asked her about her journey to becoming a crossing guard. Stephanie grew up in Port Chester and married her best friend from grade school, who she started to date in college. Stephanie, her husband and their daughter have lived in Eastchester for 18 years. Stephanie worked as an executive assistant/office manager for a small financial company when her daughter was young. She loved the company, but in 2019, after eight years on the job, she decided to pursue a career as a firefighter. Stephanie comes from a family of service members; her dad, brothers, and husband are all police officers. 
Stephanie took the firefighter exam and got a perfect score. She was ready to move forward but was forced to change her plans when she suffered a severe herniated disk while playing with her dog. She couldn't lay straight, couldn't stand for more than 20 seconds, and was in excruciating pain. "I was at my lowest. I had lost the chance to do my dream job." But Stephanie is a fighter. By March 2020, she felt ready to work again, but COVID hit. She used the time to focus on family, cook delicious dinners, enjoy board game nights and work on improving her mobility.
In September 2020, Stephanie heard that the Bronxville police were looking for a crossing guard, and she immediately wanted to apply. "I was just ready to go to work, and a standing job with movement is very good for me." So, she applied and got the job. It didn't take her long to realize that she loved the work. She made a point of learning the names of most of the over 100 kids she sees every day. She learned the names by taking notes about jacket colors, dogs walked, and more.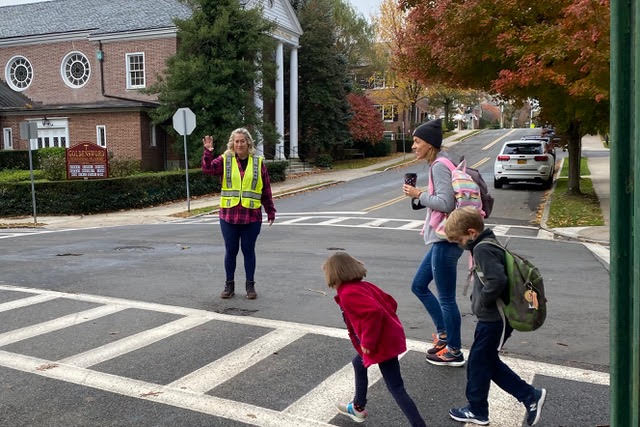 Stephanie connects with kids from kindergarten to high school. Children run to the corner calling her name every morning. She's even lent her coat to a shy middle schooler who forgot his, has been asked to attend football games and gotten hugs from seniors who are heading off to college.
Of course, the job doesn't come without its stresses. It's not easy standing in the middle of the road, cars coming at you, ensuring that the kids are listening and that cars are stopping when directed. I've seen people honk at Stephanie and get mad when they have to wait. She said she has at least one minor altercation a week but says, "I'm out there, a little old crossing guard protecting children and helping them."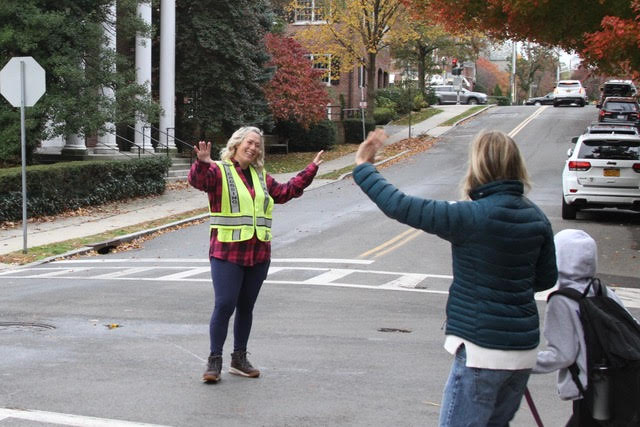 Most importantly, the kids bring a smile to her face. They say "good morning and thank you and are very kind. And I hope the parents know that. I say to Stephanie, "kindness is a two-way street and we thank you for your service."