Joe Mercora. Photo by. A. Warner
By Katharine Outcalt
Nov. 10, 2021: It's Halloween, and Bronxville Elementary School's new principal, Joe Mercora, arrives at school dressed as Spider Man. Having been in elementary education for a good deal of his career, Mercora has amassed a full trunk of Halloween costumes that he has donned over the years. However, this year, Mercora did not choose Spiderman because it's his favorite superhero. Mercora dressed as Spiderman because the students voted on his costume.
"It was something I started years ago to get kids excited about voting," says Mercora. "How do you make kids excited about voting at the elementary level? Well, you make them vote on something like a Halloween costume," Mercora explains with a hardy laugh.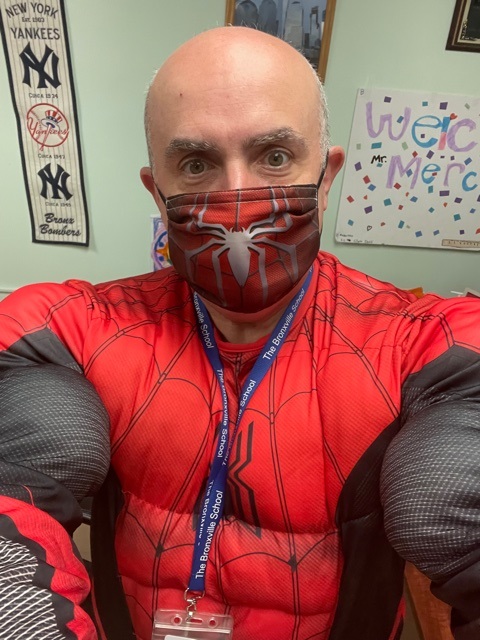 Mercora dressed as Spider Man for Halloween. Photo by K. Outcalt
This enthusiastic, learning-focused approach is what Joe Mercora has built his 20 + year career upon as an educator and school administrator.
A true native of the Bronx, Mercora began his career as an elementary school teacher. If it weren't for the encouragement he received from administrators while teaching social studies at St. Catharine's Academy in the Bronx, one of his earliest positions, Mercora might have never left teaching and entered school leadership.
"It's always great to have people who believe in you," says Mercora. While teaching full time, Mercora completed his Masters in Education and went on to receive a Masters in School Administration and Supervision at Iona College. Mercora earned his undergraduate degree from Iona as well.
Mercora comes to Bronxville Elementary School, having served most recently as the principal of Upper Nyack Elementary School. Prior to that position, he served eight years as Nyack Middle School's assistant principal. It was his desire to continue his work in a high performing district that brought Mercora to Bronxville. The fact that Bronxville was closer to his home was an added bonus. Mercora lives in the Bronx with his wife Alessandra "Alex," a first-grade teacher.
"This is like a dream come true to be working here in Bronxville," says Mercora. "This is a community that has a high expectation for excellence in teaching and learning, and we're going to continue that high expectation and always try to surpass it."
As Mercora enters his fifth month on the job, he describes his transition as "wonderful" and is looking forward to continuing to fulfill the Bronxville Promise.
Here are a few fun bonus questions for Bronxville's new Elementary School principal.
What is the best part of your day?
Walking the halls and seeing the kids learn. Watching the leadership qualities of our students is incredible. Their resilience, adaptability, and pure happiness brings your heart joy.
Introvert or extrovert?
Extrovert
What do you do outside of school?
I enjoy long walks, exercising, being out in nature, reading historical novels, and cooking.
What are you reading right now?
The Power of Moments by Chip and Dan Heath
Bingeing anything on Netflix?
I don't have the time! I have built a long list of recommendations, so my wife and I are looking forward to tuning in over the holiday breaks.
Something about you that might surprise our readers?
I went to the same high school as Sean P. Diddy Combs – Mount Saint Michael Academy in the Wakefield section of the Bronx.