Photo by A. Warner
By Staff
July 13, 2022: If you are driving by the front lawn of the Bronxville School on a Wednesday night in July, you will undoubtedly see the Bronxville Pops playing to a relaxed crowd enjoying the world-class music of this band. The Pops, which has been going strong for 48 years, includes 70+ professional musicians as well as avocational players.  The band plays a variety of music, including the work of John Philip Sousa, show tunes, Broadway "showstoppers" and more.
The Bronxville Pops band was founded in 1974 by Bronxville band legend and bassoon player Albert ("Al") Mingrone. Mingrone is well known to many who grew up in Bronxville because he taught music at the Bronxville School for 28 years and touched the lives of many students, teachers, and colleagues. Over the years, he also played the bassoon in various orchestras.  Sadly, Al Mingrone passed away on May 2nd, 2022, at 90.
Al Mingrone would be happy to know that the Bronxville Pops have carried on. Ron LoPinto, a professional trumpet player who joined the Pops in 1975, currently serves as its President.
LoPinto graduated from the NYU School of Music and the High School of Music and Art. He then went "on the road," traveling all over the country with big bands. LoPinto and his wife moved to Bronxville in 1970, opened Arista Camera in Bronxville and raised two children.  LoPinto ran Arista Camera in Bronxville for about 25 years before selling it.  He loves playing with the Pops and also plays with other concert and jazz bands.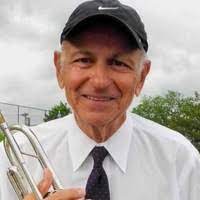 Ron LoPinto
If you want to see some world-class music, be sure to stop by and see the Bronxville Pops. There are three more concerts this summer, one tonight, July 13, at 8 pm.
Here is the remaining schedule. All concerts start at 8 pm.
July 13
July 20
July 27
Enjoy!