JV Coach Keith Hoffer, Head Coach Don Cupertino, Coach Caitlin Hoffer, & JV Coach Michaela Donohue. Photo by Senior Captain Kathryn Giuriceo
By Jen Gross
Sept. 6, 2023: The Bronxville Girls Varsity Soccer Team kicked off their highly anticipated 2023 season in style as they clashed with Eastchester High School in a thrilling contest for the Eastchester Cup on September 1, 2023. The atmosphere was electric at Eastchester High School as fans from both sides gathered to witness a showdown that would set the tone for the season ahead.
In a nail-biting encounter that had spectators on the edge of their seats, the Bronxville Broncos emerged victorious, clinching the Eastchester Cup with a tight 1-0 win. The winning goal that sent the Bronxville faithful into jubilation was expertly netted by junior forward Amy Villanueva.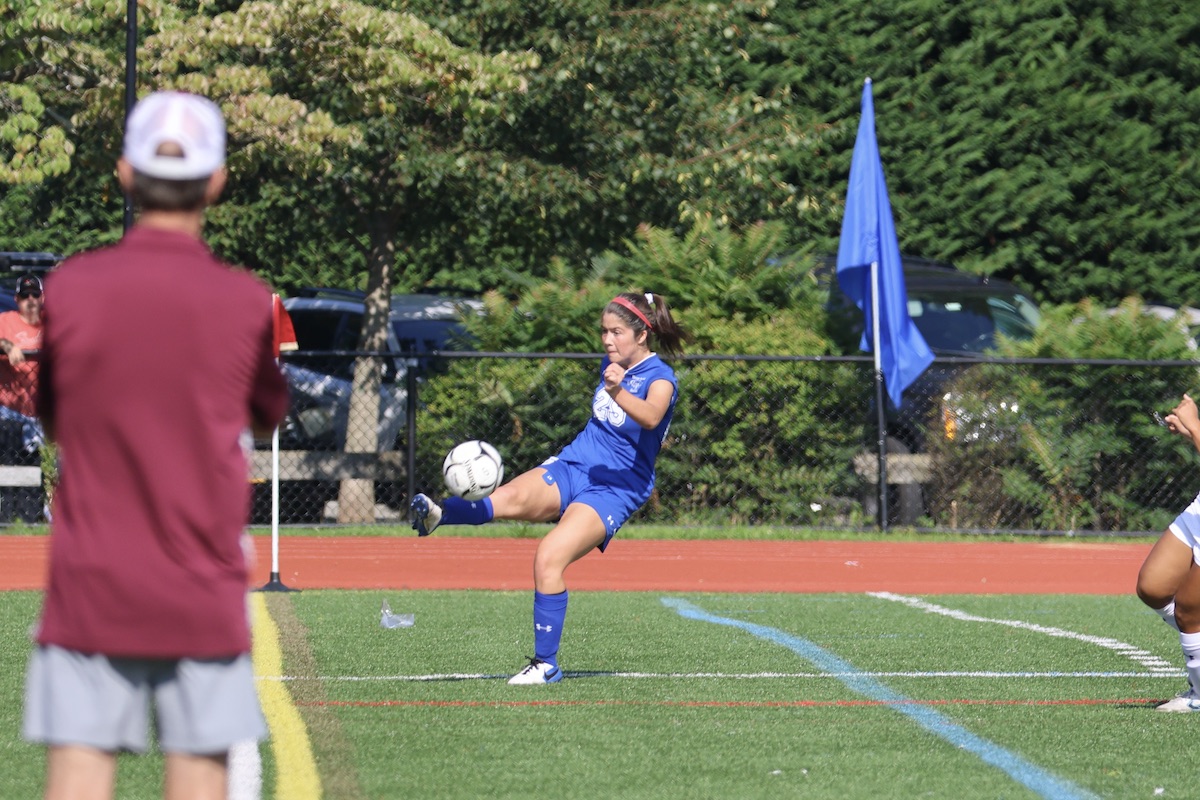 Junior Amy Villanueva. Photo by Joe Villanueva
The entire Bronxville community erupted in joy as the girls celebrated their hard-fought victory, proudly bringing the Eastchester Cup back to their hometown. The team's dedication and determination were on full display, setting a promising tone for what lies ahead in the 2023 season.
One of the standout performances of the match came from Bronxville's agile and dependable goalie, freshman Lily Delaney. Her remarkable saves ensured that the Bronxville Broncos kept a clean sheet, frustrating the Eastchester offense. Delaney's contributions were nothing short of heroic, solidifying her position as a key player in the team's defensive line.
Senior Team Captain, Maddy Stupart showcased her blazing speed and incredible skill, leading the attack and keeping the Eastchester defense on their toes throughout the game. Her leadership on the field was instrumental in creating scoring opportunities for her teammates and maintaining pressure on the opponents.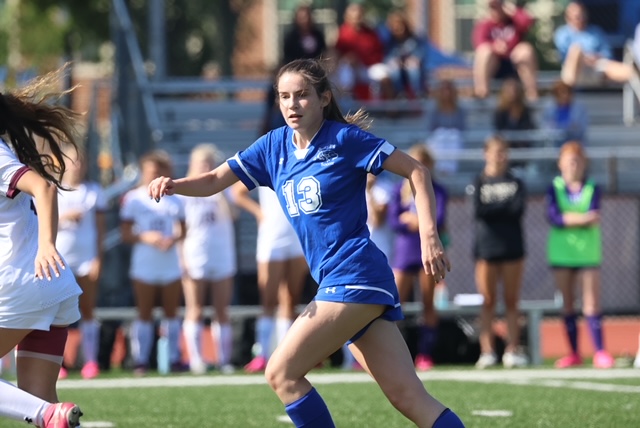 Senior Team Captain Maddy Stupart. Photo by Joe Villanueva
Alden Martinelli, another Senior Captain of the team, was a defensive stalwart. She expertly thwarted Eastchester's attempts to break through the Bronxville defense, displaying remarkable composure and strategic prowess. Her ability to read the game and intercept passes disrupted the opposing team's flow and played a pivotal role in securing the victory. Also, Senior Team Captain and defender, Kathryn Giuriceo has been pivotal but is currently battling back from sore shins.
The Bronxville Girls Varsity Soccer Team's triumphant start to the season has filled their supporters with optimism and excitement for the challenges that lie ahead. With such remarkable teamwork and individual talent on display, they are set to make their mark in the upcoming games and tournaments.
The celebration following the Eastchester Cup victory was a testament to the hard work and dedication that these young athletes have put into their craft. As the season unfolds, the Bronxville community will undoubtedly rally behind their team, cheering them on to achieve even greater successes.
Bronxville's journey in the 2023 soccer season has just begun, and if their inaugural victory is any indication, it promises to be a season filled with thrilling matches and memorable moments. The Bronxville Girls Varsity Soccer Team has set the bar high, and fans eagerly await their next triumph.
Go Broncos.