By Jen Gross
Sept. 6, 2023: The Bronxville Broncos Varsity Football team kicked off their season in spectacular fashion, delivering an outstanding performance as they secured a convincing 28-0 victory against Chester Academy in Game 1. On Sept 2, 2023, with perfect weather serving as the backdrop, the Broncos' fans couldn't have asked for a better start to the season.
The Broncos team Senior Captains this year are Alex Chrostowski, Charlie Donohue, Connor Kenny, Van Villanueva, and Gabe Maicon. The Broncos' offense shone brightly throughout the game, with their quarterback, Connor Kenny, threading the needle for four touchdown passes. Two of those touchdowns were hauled in by the dynamic duo of senior Benji Atkeson and senior Will Mattson. Their chemistry and precise route-running left the Chester Academy defense scrambling to keep up.
In the first half, Charlie Donohue became injured and the whole team rallied around him. In the crucial moments of the game, it was junior Brendan Morrisroe who stepped up to make a game-changing play. Late in the fourth quarter, Morrisroe intercepted a Chester Academy pass, effectively ending any hopes of a comeback. His interception not only halted the opposition's momentum but also showcased the Broncos' defensive prowess.
Speaking of defense, the Broncos demonstrated their grit and determination when it mattered most. A monumental goal-line stand left the Chester Academy offense frustrated and scoreless on a crucial drive. Alex Chrostowski and junior Matthew McSherry spearheaded the defensive effort with key stops, preventing Chester from crossing the goal line.
Van Villanueva added to the defensive heroics with a thunderous sack that sent shockwaves through the Chester Academy offensive line. The Broncos' defense, inspired by their leader Villanueva, put up an iron wall against their opponents.
Junior Davis Patterson was also a key contributor and scored two touchdowns. The final score of 28-0 was a testament to the Broncos' balanced gameplay, solid offense, and resolute defense. The victory has left the team and their dedicated fan base filled with enthusiasm and optimism for the games that lie ahead in the season.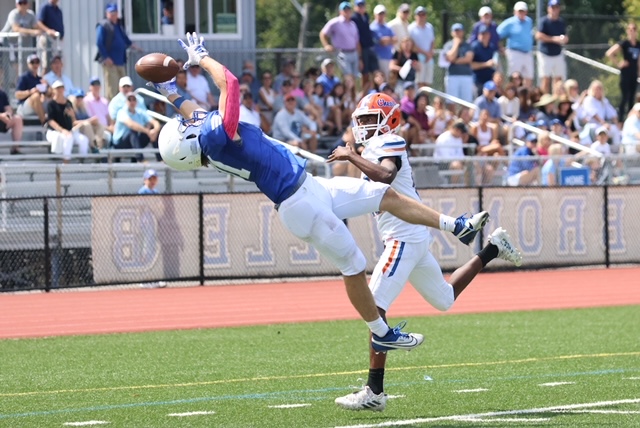 Coach Patsy Manganelli praised the team's performance, saying, "We knew we had the potential to be great, and today we showed that potential. We'll take this momentum into our next games and keep working hard to achieve our goals for the season. Effort equals everything!"
With their spirits high and their confidence soaring, the Bronxville Broncos are set to face future challenges head-on, ready to build upon this impressive opening victory. For fans of the blue and white, this is a promising start to what could be a memorable season.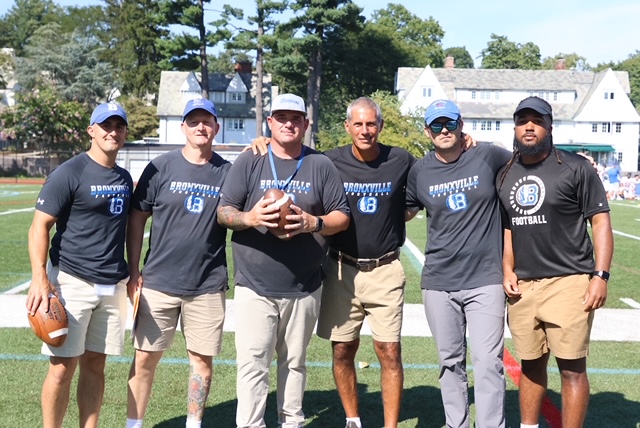 Go Broncos.
Attached pictures by Joe Villanueva. Pic #1 is of the Team Captains as pictured: (Connor Kenny, Alex Chrostowski, Van Villanueva, Gabe Maicon, & Charlie Donohue). Pic #2 is of the Football Coaches (JV Coach Lou Cicillini, Varsity Coach Mike Peller, Head Varsity Coach Patsy Manganelli, Varsity Coach Vic Quirolo, Varsity Coach Patrick Henderson, and JV Coach Elijah Ramos. Pic #3 is Junior Davis Patterson, #31 soaring towards the goal line.