Top left row: Coach Steve Klurfeld, Hayes Romley, Matthew Tveter, Charlie Clifford, Harrison Brown, Jay Marshal, Alex Ladas, Luca Barron. Bottom row: Tony Tao, Jackson Fino, Max Monogenis, Patrick Kenny, Wesley Kane
By S. Q. DeJoy and J. Murrer
June 14, 2023: The Bronxville High School boys' tennis team won the Division 2 New York State Team Tennis Championship last Friday at the Billie Jean King National Tennis Center with a solid 5-0 victory over Cazenovia in the semifinals and a thrilling 3-2 win over Friends Academy later in the day. It is only the second year that a NYS Team Championship has taken place.
"To win the state title in only the second year of it being held means a lot," said Coach Steve Klurfeld. "There is a motto or hashtag that Bronxville has taken on, 'One Square Mile', because in reality the town is pretty small, and to produce so much athletic success shows how hard the athletes work and how much the people in the town value athletics."
Start times for Bronxville's three singles and two doubles teams were staggered at the State Championship, which was held indoors because of the poor air quality index from the Canadian wildfires.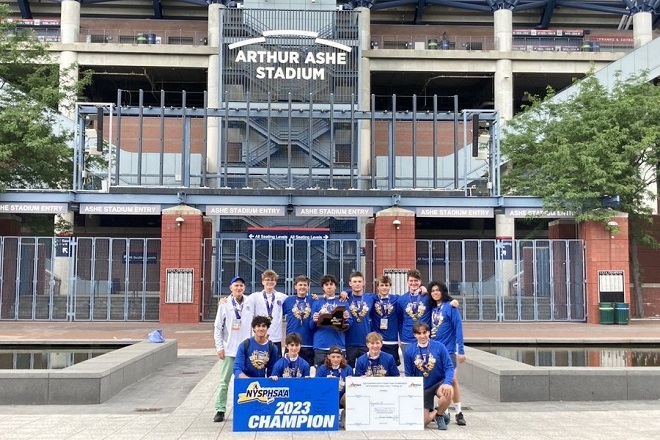 Freshman Patrick Kenny was the first to win his match for the Bronxville team. Kenny, who plays first singles, placed 8th at the Individual Tennis State Championships in early June.
Bronxville went ahead 2-0 with a win from the second singles player, Max Monogenis, but Friends Academy players defeated Bronxville's second doubles team of Alex Ladas and Jay Marshall and third singles player Jackson Fino to tie the score at 2-2.
The match that was last to finish, Charlie Clifford and Harrison Brown at first doubles, would ultimately determine the winner of the Team State Championship.
Clifford and Brown lost a close first set 6-4, faced a match point in the second set at 5-6, but turned it around and won the second set in a tiebreaker. There was then a ten-minute break between the second and third set, which likely worked to Bronxville's advantage.
"I was under the impression that we were going to play a super tiebreak," said Brown, "but once I heard there was a third set, I felt pretty good. I walked over to watch Jackson [Fino] play, talked to the team and thought, this is just a lot of fun, and we're going to go out and win it."
"Harrison and I both knew we had to stay focused in that ten-minute break," added Clifford. "When the other team came back, they seemed to lose their focus and weren't playing the same kind of tennis."
Clifford and Brown easily won the third set 6-0, and the Broncos clinched the Team Tennis State Championship in front of an enthusiastic fan base.
"Winning that 2nd set tiebreak, was huge for us," said Coach Klurfeld.  "But perhaps more importantly, Harrison played nearly the perfect set of doubles. He is a well-trained player with a very big game, and when he is on, he causes major problems for opposing teams."
Bronxville was the underdog in the Section 1 playoffs. They were seeded No. 6 at sectionals and defeated Irvington and Briarcliff before facing No. 2 Edgemont in the semifinals.
When reflecting back on the season, both Brown and Clifford pointed to a pivotal moment during the sectional semifinal match against Edgemont when Bronco teammate Max Monogenis played a very tough match against an Edgemont player who usually beats him.
"Max was not supposed to win at all," said Clifford, "but he ended up winning a super tiebreak to save our season."
Captains of the team include senior Jay Marshall and sophomore Brown. The uniqueness of having an upperclassman and an underclassman as captains worked well to bridge the age gap. Bronxville's starting singles players are in 8th and 9th grade, and three of the four starting doubles players are seniors.
"The big thing is that the team got along really well," said Clifford.  "Even though the top three players were in 8th and 9th grade, they were still able to be mature and help out. At least for me, I would always ask the top singles players for advice. It was extremely helpful."
Clifford, a senior, is a squash player who played his first season with the Bronxville tennis team this spring, but sophomore Brown will be returning next year and is excited about the future of Bronxville tennis.
"I'll be here for two more years and hopefully bring back two more state championship banners," said Brown. "My little brother will be a freshman, and I'm hoping to play with him next year."
Coach Klurfeld summed up the State Championship perfectly. "Everything about the final was epic: the location of the event at the Billie Jean King Tennis Center, the drama about the air quality issue, and the last-minute changes to play indoors. Each match was its own story. It came down to the 3rd set of the first doubles match, just like it would if you were writing a movie script and the director said, 'We need more drama.'"
It was a moment that the Broncos are not likely to forget. 
Go Broncos.