Bronxville Rowers Masha Lekovic and Sophia Hoyer Along with Westchester Teammates Place 3rd at Nationals. From left to right (bow to stern, with the coxswain in the middle): Sophia Granitto, Masha Lekovic, Helen Romita, Gabriela Moreno Chavez , Gwen Leites, Molly Peacock, Grace Jenkins, Alexandra Merrell, and Sophia Hoyer.
By S.Q. DeJoy and J. Murrer
June 28, 2023: Competing in the U16 8+ boat at the U.S. Youth Rowing Nationals, Bronxville rowers Masha Lekovic and Sophia Hoyer helped lead their boat to a 3rd place finish in the A final, winning a bronze medal. Nationals was held at Nathan Benderson Park in Sarasota, Florida from June 8th-11th.
Lekovic and Hoyer, along with teammates, Sophia Granitto (Greenwich), Helen Romita (Rye), Gabriela Moreno Chavez (Rye), Gwen Leites (Chappaqua), Molly Peacock (Harrison), Grace Jenkins (Rye), and Alexandra Merrell (Rye), race for RowAmerica Rye and had previously won a gold medal at the New York State Championships held in Saratoga in mid-May. At the State Championship, the RowAmerica Rye team placed first in 4:44.006 and were followed by the Saratoga Rowing Association who finished in 4:56.197.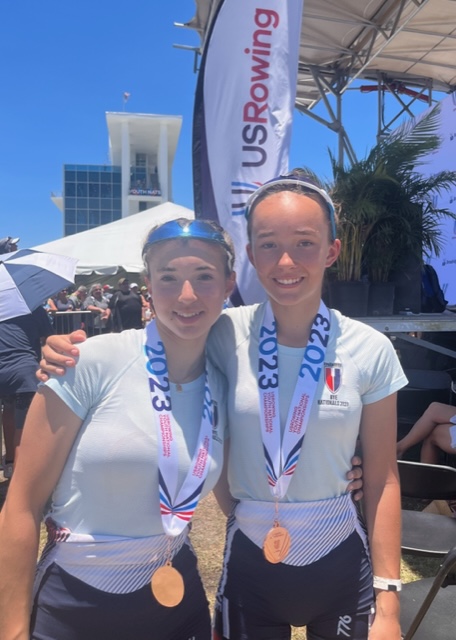 Sophia Hoyer (on the right) and Masha Lekovic at Youth Rowing Nationals in Florida. Photo courtesy of A. Lekovic.
Lekovic, a freshman at the Bronxville School, and Hoyer, who is also a freshman but attends School of the Holy Child, met when they started rowing in 7th grade and joined Row American Rye last fall. To make it to Nationals in their first year with the RowAmerica Rye team was an incredible experience for these two Bronxville natives.
"Nationals was really exciting," said Lekovic. "We got there and started practicing for a few days. We had never raced straight for three days. It was a lot more competitive than the State Championships where we had won gold without much competition."
The 3-day Youth Rowing Nationals meet included time trials on Thursday where the top 16 team moved on to two semifinal races on Friday. In their semifinal heat, RowAmerica Rye placed second behind St. Andrew's Rowing Club from Roswell, Georgia.
On Sunday, the top four teams from each semifinal competed for a gold.
"We started off pretty strong and got a little ahead of the boat that had beat us in semis, but then fell a little behind," said Lekovic. "Overall, the race went pretty well that day."
Marin Rowing Association from Grreenbrae, California took first place in a time of 6:53.952, while St. Andrews finished second in 7:00.699. The RowAmerica Rye boat was close behind with a time of 7:02.693.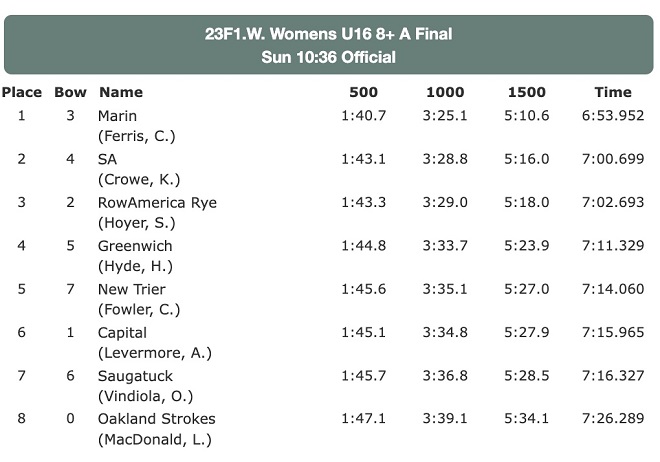 Results from Youth Rowing Nationals, 2023.
RowAmerica Rye, which has been in existence since 2013, provides an opportunity for athletes in the Greater Westchester area to train on and off the water. They have a year-round youth racing program with access to Milton Harbor. Races are held in the spring, summer, and fall, and Lekovic and Hoyer will continue to race throughout the rest of the year.