Henry Vale pitching in the game against North Salem. Photo submitted by Coach M. Schultz.
By S.Q. DeJoy and J. Murrer
April 19, 2023: Bronco sports are back in action after spring break, and the Bronxville varsity baseball team is 3-1 since returning from their Florida trip.
On Saturday, sophomore Henry Vale pitched a complete game shutout against North Salem giving up only four hits and striking out ten. The game was scoreless until the bottom of the 8th inning when senior center fielder Jaime Valdes had an infield hit and stole second base. Senior shortstop Ethan Jaquette got up to bat and drove in Valdes in for a walk-off win.
The Broncos are 3-1 with wins over Blind Brook (1-0), North Salem (1-0), and Albertus Magnus (2-1). They will play at home on Scout Field on Saturday at 11:00 against Roosevelt.
Outdoor Track and Field
Last week the outdoor track and field teams competed at the Fulton-Harrison meet on Wednesday against six other schools. Athletes with top three finishes are listed below:
Girls' team
200m dash: Mai Ly Reinking, 1st, 26.06
400m dash: Kara Kochansky, 1st, 1:00.57
1500m: Meghan Curran, 3rd, 5:07.67
400m hurdles: Colette Ungvary, 1st, 1:13.08
4x100m relay: 1st, 49.51
4x800m relay: 1st, 9:54.71
Long jump: Juliet Winiecki, 2nd, 15-11
Discus: Elira Punter, 3rd, 63-3
Boys' Team
400m dash: Gavin Benton, 1st, 53.45
110m hurdles: Wyatt Gravier, 1st, 16.05; Aidan McBride, 2nd, 17.27
400m hurdles: A. McBride, 3rd, 1:02.37
4x400m relay: 1st, 3:33.04
4x800m relay: 1st, 8:28.47
High Jump: Finn Sands, 2nd, 5-6; Wyatt Gravier, 3rd, 5-4
Discus: Konstantinos Koloutsos, 2nd, 102-0
The Broncos also competed in Suffern on Friday at the Mountie Madness meet. There were 48 teams from across Westchester and Rockland Counties and more than 2100 athletes competed in this event.
Maddy Williams placed 2nd in the 2000m steeplechase in 7:46.15. girls had three 5th place finishes including Mai Ly Reinking in the 200m dash (26.64), Hope Hershberg in the 800m (2:26.55), and Colette Ungvary in the 400m hurdles (1:13.56). In addition, the 4x400m relay team placed 2nd in 4:10.45 behind Suffern (4:08.95). The Suffern 4x400m relay currently has the fastest time in New York State.
For the boys' team, Wyatt Gravier took first place in the 100m hurdles with a time of 15:98, bettering his time from Wednesday's meet. Aidan McBride placed 4th in the 400m hurdles (1:01.65), and the 4x400m relay team finished 3rd in 3:32.81
Boys' Lacrosse
The boys' lacrosse team is 3-3 on the season and ranked No. 2 in Class D behind a strong Pleasantville team. In the past week, they defeated
Fordham Prep 16-6, Irvington 16-0, and Byram Hills. The Broncos will face Yorktown at home at 5PM on Thursday.
Two Bronco players hit major milestones already this spring. Senior Chris Patterson passed his 100 career goals in the first game of the season against Scarsdale, and goalkeeper Luke Arrighi passed his 400th career save in the win over Fordham Prep.
Girls' Lacrosse
The girls' lacrosse team (2-4) defeated Pelham last week 14-10, but was upset by Hendrik Hudson on Thursday in a 7-6 loss. The team is ranked 6th in the LoHud Power Rankings and has a very competitive schedule. They will play at No. 3 Yorktown (6-0) on Thursday.
Squash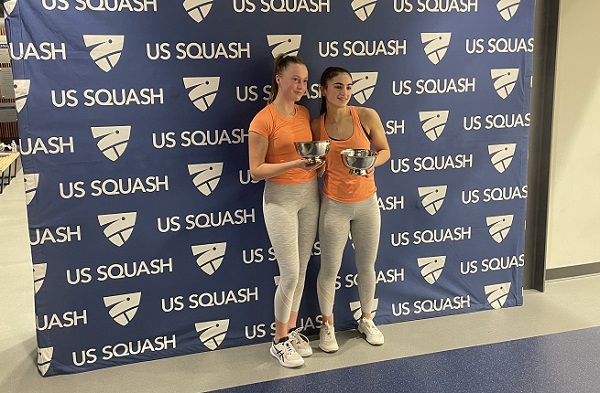 Ellie Clifford & Emma Trauber
Four squash players who train at the Bronxville Field Club competed in the Junior National Squash Doubles tournament in Philadelphia this past weekend. Bronxville Senior Ellie Clifford and Greenwich Academy Senior Emma Trauber won the Girls Under 19 Doubles tournament becoming the #1 girls doubles team in the nation.  Bronxville Senior Charlie Clifford and Bronxville Junior Rustin Wiser also had an outstanding weekend placing an impressive 6th in the Boys Under 19 Doubles.
Go Broncos.