Former Bronco Allie Berkery (front center) poses with her Northwestern teammates after practicing at Chambers Field on Friday. Photo by J. Berkery.
By S.Q. DeJoy and J. Murrer
April 12, 2023: When the Bronxville girls' lacrosse team returned from playing spring break games in Florida, they had the opportunity to watch a Division I women's lacrosse team practicing on their home turf.
Top-ranked Northwestern (13-1) was enroute to UAlbany on Saturday and stopped in Bronxville on Friday to practice at Chambers Field. It was a treat for the entire varsity team but especially for the Berkery family whose daughter Catherine, a Bronco team captain, was there to watch her sister Allie (BHS Class of 2018) take the field with her Northwestern teammates.
"A lot of colleges teams will stop in someone's hometown and have dinner," explained the girls' lacrosse coach, Gianni Maffei.  "Joe Haven and Joanie Berkery arranged for Northwestern to practice on our field while our varsity team looked on. It was cool to see the Broncos watch one of the top Division I teams in the country."
Coach Maffei, who recently played Division II lacrosse at Mercy College, is not new to Bronxville. Last year she was the assistant coach to Joe Haven and has stepped into the role of Head Coach this spring.
Bronxville has made a big impression in girls' lacrosse both in the state and nationally over the past five years. In 2018 and 2019, the Broncos made it the Class D State Finals before losing to Long Island's Mattituck two years in a row. The State Championships were cancelled in 2020 and 2021, but the team got another chance in 2022 when they brought home their first State Championship.  
"That was amazing," said Coach Maffei. "I have felt a lot of different feelings over the years, especially as a player, but it was different being on the coaching side. I felt the relief of all the hard work paying off and was so proud of the team."
Last year under Coach Haven, Coach Maffei ran the entire defense.
"I transformed it into something we totally relied on," said Maffei. "The girls knew my thoughts about defense, and I demanded they be better every day. I held them to high expectations because I knew what they were capable of." 
This year's team has started the season with a 2-3 record but their talent should produce some amazing results as the season progresses.  At the start of the season, the girls have been playing against highly competitive teams, including Connecticut's nationally-ranked Wilton High School. Bronxville is a Class D team, but during the regular season they will only compete against Class A, B and C schools with top-rated lacrosse programs.  
"I front loaded our schedule to make the team learn and improve more quickly," said Maffei. "I keep telling the girls that we have to look at the bigger picture. We are learning from our mistakes and have to fix those mistakes so when we play in our Section, we will be stronger."
The Broncos are currently ranked No. 2 in Lohud's Power Rankings and have two players who have been named to LoHud's Elite 11, Catherine Berkery and Anna Becker.
Berkery was named Journal News Player of the Year in 2022 and will continue to play lacrosse next year at the University of Pennsylvania.
"Catherine is our main facilitator. She sees the game so well and is more of a feeder than a scorer. She looks to do the selfless things and steps up and leads," said Coach Maffei.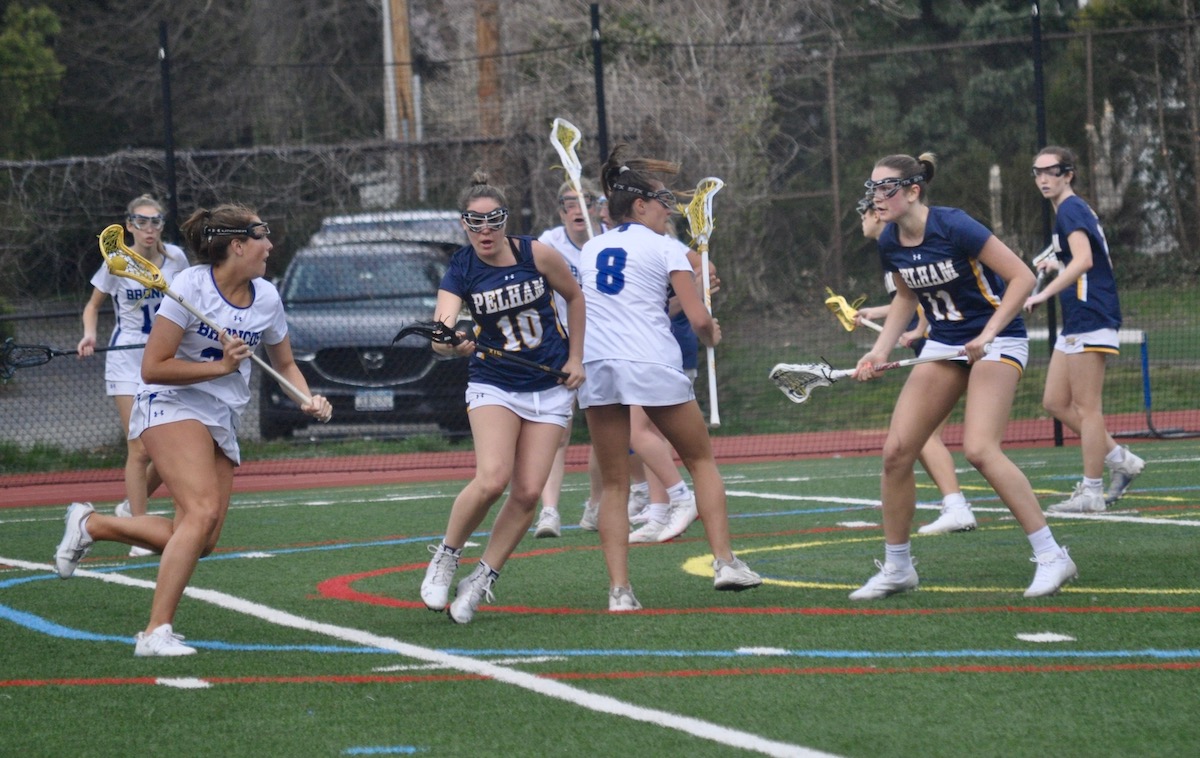 Catherine Berkery with the ball in yesterday's game against Pelham. Photo by J. Murrer.
Becker, a versatile player, was on defense last year but is back playing midfield this year. She has committed to play at Columbia next year.
"Anna can do anything you ask her to do," said Maffei.  "Last year I asked her to be a defender, and she took it, ran with it, and flourished. She is now back at midfield and also doing draws. She has a strong shot and is so athletic."
The other two seniors on the roster are Olivia Shinsato and Whitney Rowan. Rowan plays defense and will play at Vassar next year.   Shinsato, who was named to Lohud's "The Best of the Rest" list (Top 30 players in Section 1), plays goalie for the Broncos and will continue to play at Georgetown next year.  
"Liv makes these incredible saves and sometimes we ask "How did she do that? She is so good and fearless," said Coach Maffei.
The Broncos defeated Pelham 14-10 at home yesterday and will face Hendrik Hudson tomorrow at 4:30 at Chambers Field. Hendrik Hudson is a top team in Section 1 and is ranked No. 9 in the Lohud Power Rankings.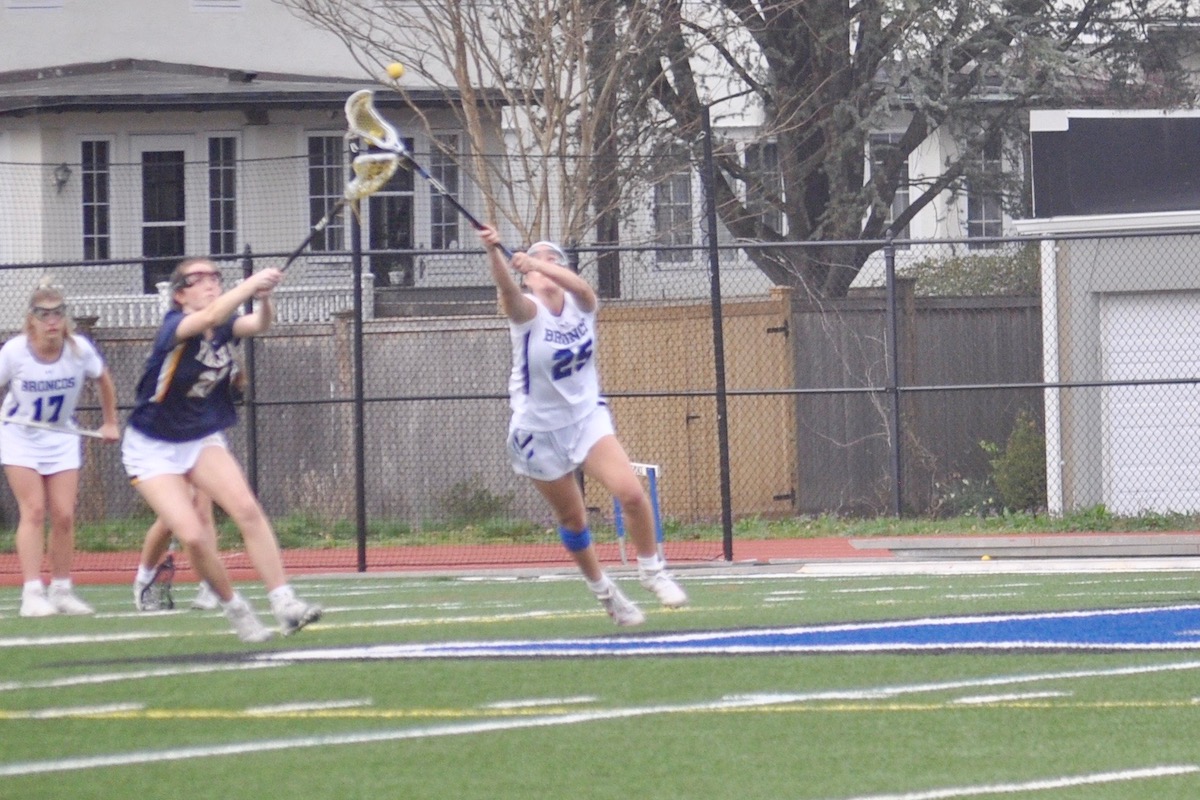 Amy Villanueva reaches for the ball in yesterday's game against Pelham. Photo by J. Murrer.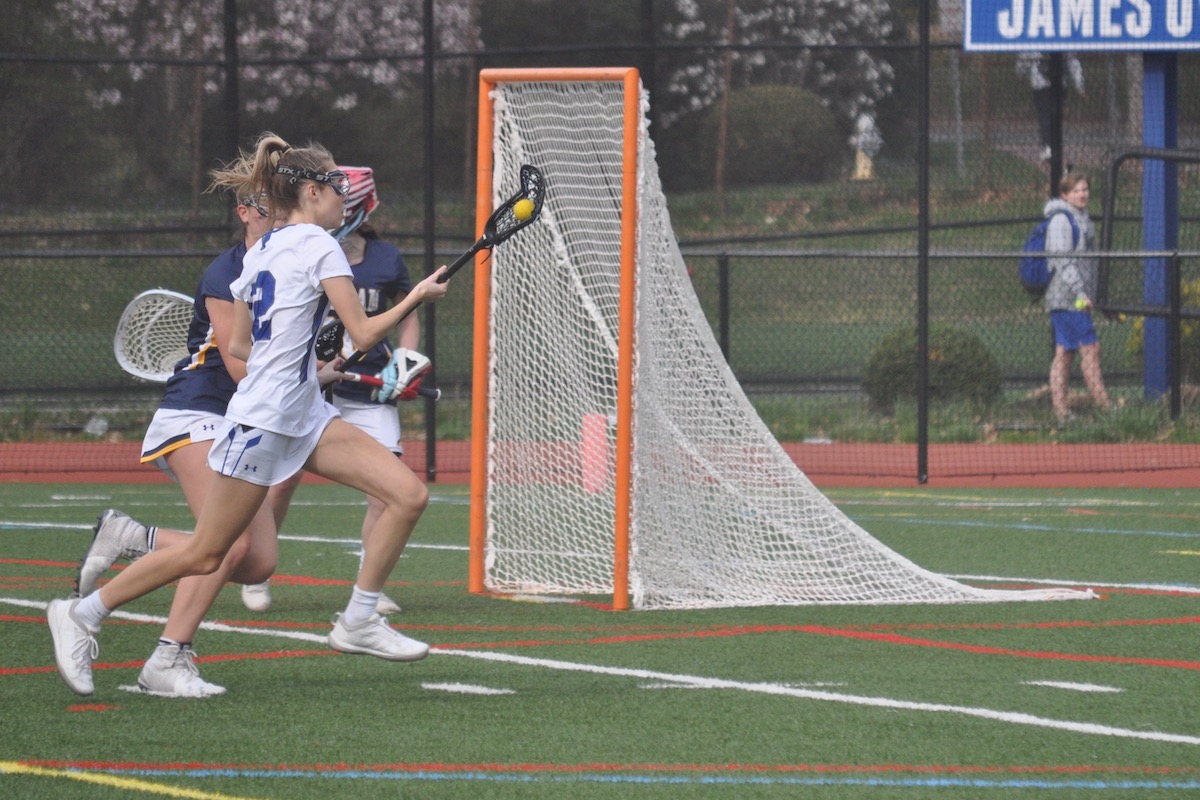 Bronxville defeats Pelham 14-10. Photo by J. Murrer.
Go Broncos!