Girls' cross country wins the Westchester County Championship. Photo courtesy of @bxvgirlstrack
By S.Q DeJoy and J. Murrer
Oct. 27, 2021: The girls' cross country team won the Westchester County Championship on Saturday with top performances from freshman Maddy Williams and senior Ava Black. It was the first County Championship for the Bronxville girls since 2014. Twenty teams from schools of all sizes competed at the meet.
"Coming into the race, we knew it would be close up front, and the race would be determined by our 5th girl, Rory Denning," said Keina Samuels who took over as head coach after nine years as assistant coach.
"This was the race where every girl had to step up and run an incredible race that allowed us to win. Maddy Williams and Ava Black continued their streak of taking two of the top spots. In the process, all seven runners set personal best times on the Somers course. What makes the athletes so successful is that they motivate each other and work well together as a team," continued Samuels.
The Bronco girls scored 56 points to second-place Ursuline's 102 and averaged 19:58 for the 5000m course. Finishing for the Broncos were Maddy Williams, 2nd (18:56.0), Ava Black, 3rd (18:57.3), freshman Lux Burgin, 12th (19:50.7), junior Katie O'Hare, 23rd (20:34.1), senior Rory Denning, 40st (21:29.8), freshman Quinn Sheehan, 49th (21:51.4), and 8th-grader Charlotte Murray, 62nd (22:38.8).
The boys' cross country team placed 18th at the County Championships out of a field of 34 schools. The top two finishers for Bronxville were freshman Kieran McBride who placed 47th (18:10.3) and eighth-grader Julian Gonzales who finished 68th (18:44.8). There were 234 runners competing in the race.
The Bronxville-Tuckahoe girls' swim team, led by Co-captains Nora Podoll and Julia Reich, competed in the League 1 Conference Championship meet on Saturday with a strong finishes from junior Keala Schubert who placed 3rd in the 50-yard free in time of 25.57 and junior Julia Bazinet who placed 7th in the 200-yard free (2:00.89) and 6th in the 500-yard free (5:23.21).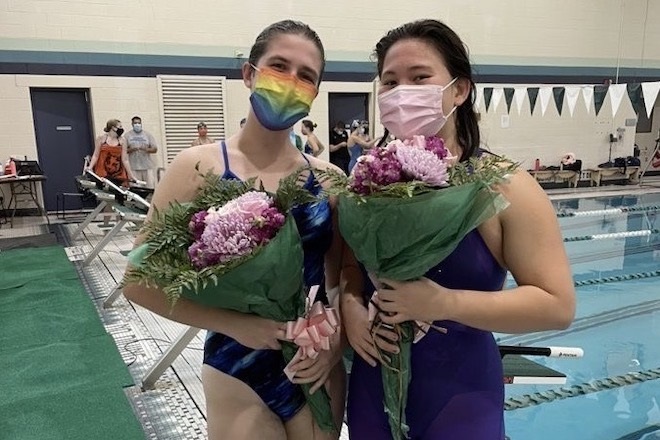 Co-captains Nora Podoll and Julia Reich (l to r). Photo submitted by Keala Schubert
Also finishing with strong performances were the 400-yard free relay team,  Bazinet, Caroline Hardart, Marian Schafer, and Schubert, who placed 6th in 4:03.28, and junior Kayla Tartarian, who placed 4th in the 1m diving.
Schubert, Bazinet, Reich, and freshman Fiona Barr will compete at Sectionals on Monday, November 1 at Felix Festa Middle School in Nyack.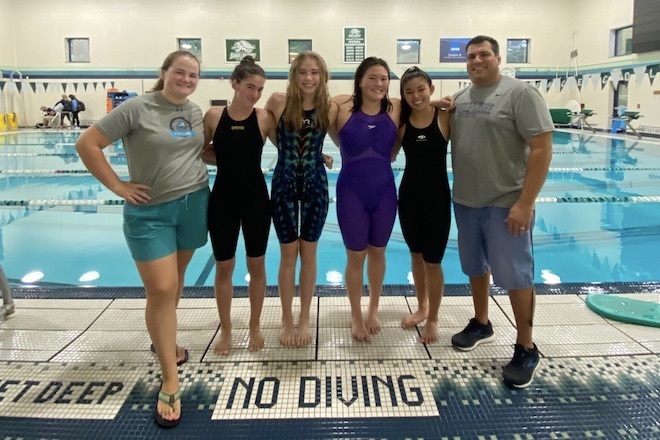 From l to r: Assistant Coach, Julia Bazinet, Fiona Barr, Julia Reich, Keala Schubert and Coach Dom Galimi. Photo submitted by Keala Schubert.
The Bronxville football team was scheduled to play its final game of the regular season against Putnam Valley on Saturday, but the game was cancelled because Putnam Valley was on a Covid pause.
The Broncos will play against Ardsley at home on Saturday at 2PM in the quarterfinal round of the playoffs. There are two leagues in Class B, and Bronxville (4-3) is ranked No. 2 in the North League, while Ardsley (5-2) is ranked No. 3 in the South League. The Broncos lost to Ardsley earlier in the season. The top ranked teams in Class B are Pleasantville (7-0) in the South and Nanuet (6-1) in the North.
The No. 3 Bronxville boys' soccer team (14-3-1) moves on to the Section 1 semifinals with wins over No. 14 Rye Neck and No. 11 Dobbs Ferry. In the 2-1 win over Rye Neck last Thursday, Aidan Sulimirski scored to give the Broncos a 1-0 lead, but the Panthers tied it up late in the game. Bronxville's Miles Courtney scored in the last two minutes of the game to give the Broncos the go-ahead goal. Rye Neck threatened to score again on a penalty kick in the remaining seconds of the game, but goalie Miles Jernigan made a game-winning save.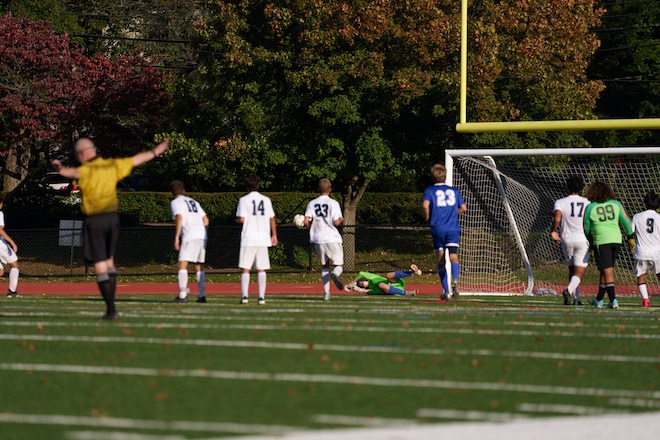 Miles Jernigan stops penalty shot for the win over Rye Neck. Photo by David Fenner.
The Broncos defeated Dobbs Ferry 4-0 with scoring by Will Redman, Ellis Goodson, Courtney and Mark Pytosh. Jernigan made five saves for the Broncos in the Rye Neck game and five saves in the Dobbs Ferry game.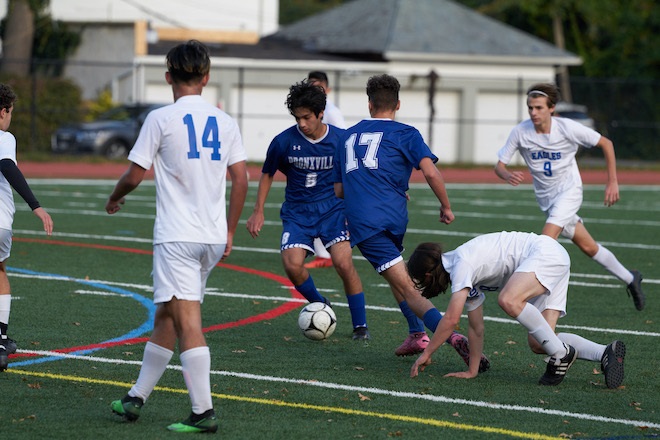 Bronxville defeats Dobbs Ferry in the sectional quarterfinals. Photo by David Fenner.
Yesterday's semifinal boys' soccer  game against No. 2 Westlake (16-1) was postponed due to rain. The top seed in the Class B is Irvington (15-1), who will face No. 5 Briarcliff in the semifinals.
The No. 1 Bronxville girls' soccer team received a bye in the first round of playoffs, and defeated Westlake 3-0 on Monday in the quarterfinals. Lily Jebejian scored all three goals for the Broncos, and Milly Koenig had three saves. The girls will play No. 4 Pleasantville at home on Thursday at 2:30.
The field hockey team (9-5-1) received the No. 2 seed in Class C and is set to play No .7 Hastings (5-6-3) in the quarterfinals. The quarterfinals were scheduled to take place yesterday, but due to the Nor'easter, the game will be played at home today. North Salem received the No. 1 seed having defeated the Broncos 1-0 in mid-September.
Playoffs will continue through the weekend. The schedule is below.
Wednesday, October 27th
Field hockey vs Hastings, Chambers Field, 3:30PM
Boys' soccer semifinals at Westlake, 3PM
Thursday, October 28th
Girls' soccer semifinals vs Pleasantville, 2:30PM
Girls' Tennis State Championship begins, SPORTTIME Tennis, Schenectady
Friday, October 29th
Section 1 Class C Field Hockey Semifinals, higher seed
Saturday, October 30th
Football vs Ardsley, Chambers Field, 2PM
Section 1, Class B Boys' Soccer Championship, Lakeland High School
Sunday, October 31st
Section 1, Class B Girls' Soccer Championship, Nyack High School, 10AM
Section 1, Class C Field Hockey Championship, Lakeland High School, 10AM
Monday, November 1st
Swimming Section 1 Meet, Felix Fiesta Middle School
The regional championships will start on November 3rd.
Go Broncos.