Pictured: The Broncos celebrate 52-45 win over Byram Hills. Photo by Susan Miller McCormick. 
By S.Q DeJoy and J. Murrer
Oct. 20, 2021: This week marks the end of the regular fall season for the football team and the start of playoffs for the other turf teams. The Bronxville varsity football team (3-3) will play its last regular season game at home on Saturday at 1:30 against Putnam Valley, while the boys' soccer team (11-3-1) will compete in the first round of playoffs tomorrow at home at 2:30 against Rye Neck (3-9-3).  The girls' soccer team has a bye in the first round as the No. 1 seed and will play its first game on Monday. 
The Class B football team is 3-3 so far this season with wins over Pearl River, Westlake and Byram Hills and losses to top-ranked undefeated teams, Nanuet and Pleasantville. The Broncos lost 25-22 to Pleasantville over Columbus Day weekend in a hard-fought game. 
Last Saturday in the 52-45 win against league opponent Byram Hills, quarterback Conor O'Neil rushed for 274 yards on 21 carries and scored six touchdowns. Teammate Tommy Garofalo had 30 carries, 165 yards, scored one touchdown and had three two-point conversions. 
There are ten teams in Class B divided into the North and South leagues, and eight of those teams will qualify for playoffs. The Broncos, ranked 2nd in the North League, are guaranteed a spot in the quarterfinals, which will take place on October 30th.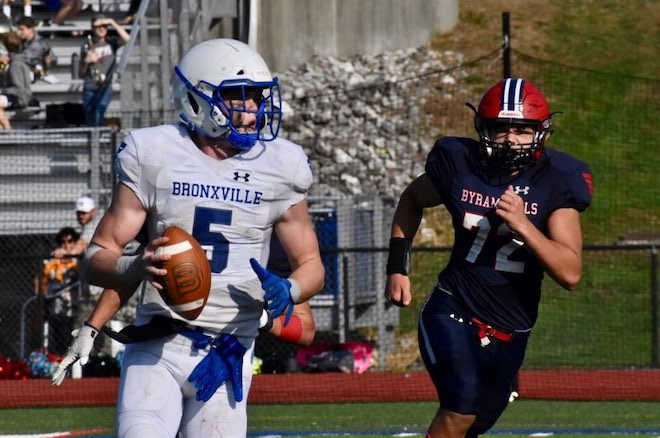 Conor O'Neil (5) in the game against Byram Hills. Photo by Susan Miller McCormick.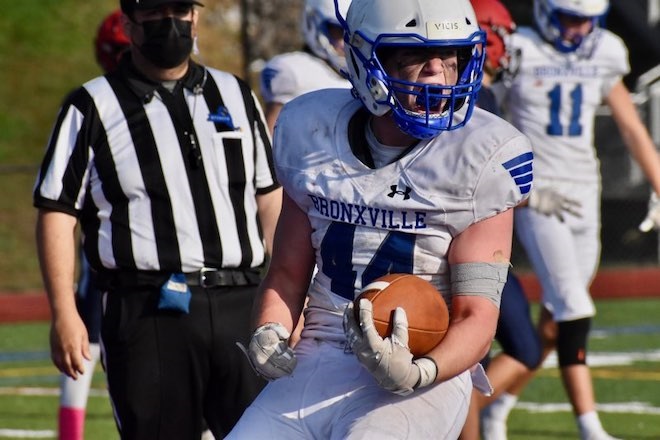 Tommy Garafalo (44) in the win over Byram Hills. Photo by Susan Miller McCormick. 
The boys' soccer team is seeded No. 3 in the Class B playoffs and will play No. 14 Rye Neck at home on Thursday. If Bronxville wins, they will play on Saturday at home against the winner of the Dobbs Ferry (No. 11)/ Croton (No. 6) game.  Irvington is the top seed for the boys, and Westlake is seeded No. 2.  The Bronxville boys lost to Irvington 2-1 in their final game of the season. 
The Bronxville girls' soccer team is No. 1 is Class B with Irvington right behind in the second spot. They will play in the quarterfinal round on Monday against the winner of the Croton (No. 9)/Westlake (No. 8) game. The Bronco girls played three games last week and defeated Hastings and Yonkers Montessori Academy, but they suffered a 1-0 loss to Irvington, which was their first loss of the season.  Three Broncos are listed among the top scorers in Section 1: Lily Jebejian (12-4-16), Maddy Stupart (8-7-15), and Kiki Tormey (5-6-11). 
The Class C field hockey team (9-4-1) won three games last week, defeating Ursuline and two two Class AA teams from Rockland. In the Ursuline 3-0 shutout, Hudson Zivic scored two goals, Carmen Phillips scored one, and Isabela Fenner had two assists.  In the 1-0 win over North Rockland, Frannie Krause scored the lone goal with an assist by Zivic.  Last Friday, Bronxville faced Clarkstown South on home turf, and the game was tied 1-1 in the fourth quarter when Olivia Gunther scored on a penalty corner to give the Broncos a 2-1 victory. Field Hockey playoff seedings will be announced later in the week. 
While the turf teams are entering the playoff season, the tennis team has completed their sectional playoffs. Doubles team Anna Becker and Gabbi Bici advanced to the second round of competition with a 6-2, 6-1 win over Clarkstown but then lost a close match to Nyack (6-5, 7-6). Singles player Hannah Shammas, who defeated Arlington's Trina Beram 6-0, 6-4, in the third round,  lost a very hard-fought match in the round of 16.
Tenth-grader Victoria McEnroe made it all the way to the Sectional Championship before losing to Byram Hills senior Alyssa Margolin. Both McEnroe and Margolin have qualified for the New York State Championship Section 1 Team. States will take place starting on Thursday October 28th at Sportime in Schenectady.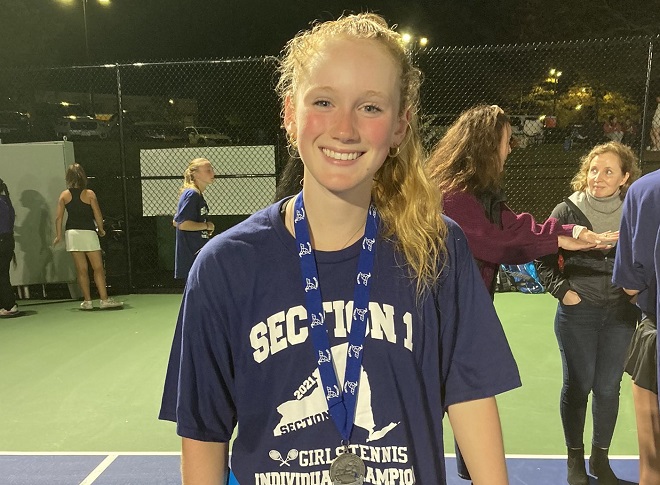 Victoria McEnroe at the Section 1 Tennis Championships. Photo courtesy of @BronxvilleTennis.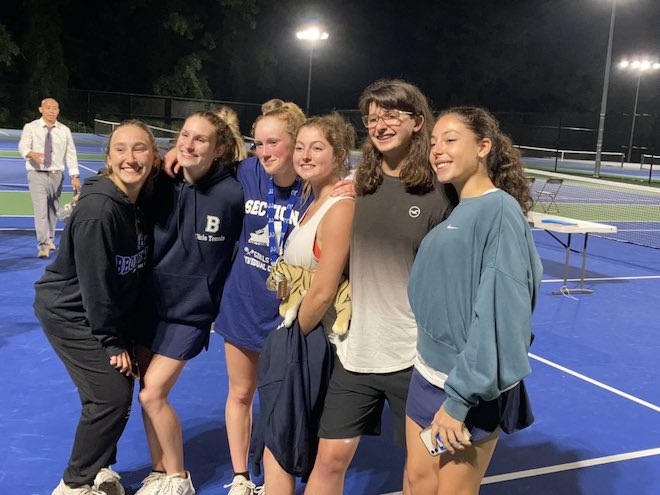 The Bronxville tennis team at the sectional championships. Photo courtesy of @BronxvilleTennis. 
The Section 1 Coaches Invitational for cross country was held at Bowdoin Park in Wappingers Falls on Saturday, and four Bronxville girls finished in the top 20. Ava Black placed 3rd in 20:20.40 followed by Maddy Williams, 4th (20:45), Lux Burgin, 11th (21:20.90), and Katie O'Hare, 13th (21:32.80). In the Varsity II race 13 teams competed including large schools such as Suffern, Scarsdale, Fox Lane, Nyack and White Plains. The Bronxville girls' team placed second (62) right behind a very fast Pearl River team (52). 
Go Broncos.