By the family
Aug. 25, 2021: Cecilia Kirby Mullen, "Billie," died peacefully on August 19, 2021. Despite a difficult battle with pancreatic cancer, she was a beacon of love, grace, and elegance.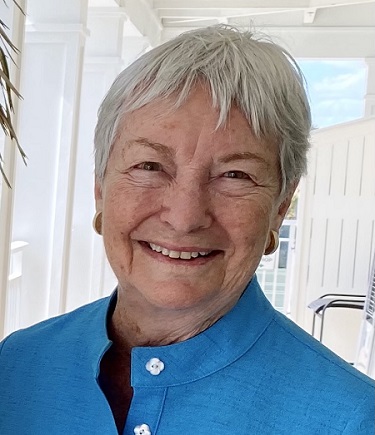 Billie was born on December 11, 1929, and grew up in Larchmont and Pelham, NY. She graduated from Manhattanville College and began her career in New York City with the General Electric Company. In 1955, on a blind date, she met the love of her life, Peter P. Mullen. They married six months later and settled in Bronxville, NY, where they raised their five children. The family spent summers on the shores of Lake Waramaug and quickly grew to love the idyllic lake community. Later in life, Billie and Peter retired to the Lost Tree Village in North Palm Beach, Florida. 
Billie had a unique combination of talents and interests. She was an athlete, artist, philanthropist, gardener, and world traveler. She was always involved in her community and was a leader for many environmental and philanthropic projects. She enjoyed golf, skiing, tennis, and sailing. Her creativity was most evident in her gardening and painting. Billie was game for anything, whether a practical joke, a costume party, learning to tap dance for a play, hosting a dance party, or a quiet dinner with friends. She loved to drive in the snow, walk barefoot, and had a great sense of humor. In her later years, painting became a big part of her life, and she treasured her painting community. She particularly enjoyed her yearly trips to Little Compton, RI, for plein air painting, friendship, and the occasional dirty martini. Billie loved life.
However, she loved nothing more than spending time with her family and is survived by her five children: Peter (Tambra Zimmerman), Kirby, Elaine (Tom Peer), Lucy (David Ball), Jeff (Rachel Fortuna), and her nine grandchildren: Darcy, Cassie, Kaitlin, Ryan, Griffin, Dylan, David, Dan, and Ian.
Billie's faith remained important throughout her life and provided comfort in her final days. There is no doubt she is in heaven dancing with Peter. A beloved wife, mother, grandmother, confidante, and friend to all, she made the world a better place. 
In lieu of flowers, donations can be made in honor of Billie to the Lake Waramaug Task Force: https://www.lakewaramaug.org/. There will be a wake at McGrath Funeral Home in Bronxville, NY, on Wednesday, August 25, from 4-7 pm. The funeral mass will be held on Thursday, August 26, at 9:45 at St. Joseph's Church in Bronxville.