By the family
Aug. 19, 2021:  Some people are placed on this earth to take care of other people. If you are fortunate, you will have one of them in your life. Margie was one of those people. Margie passed away at Equinox Terrace in Manchester, Vermont on Friday, August 13th, 2021. She was 93 years old.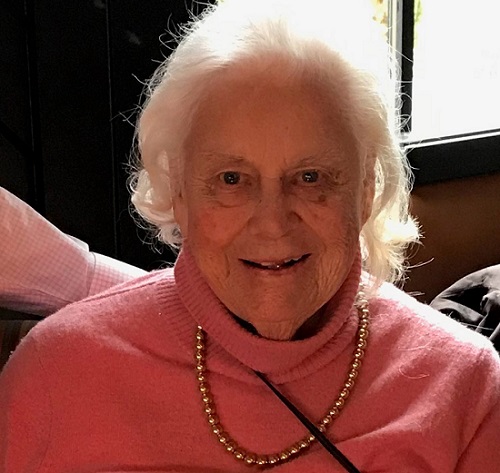 She was the second of six children of William and Asta Moore of Bass Rocks in Gloucester, Massachusetts. Her younger siblings describe her as a second mother. She graduated from Regis College, a Catholic school, in 1949 with a degree in home economics. After a short teaching career, she moved to New York City where she met Wallace "Wally" C. Latour, an investment banker with Merrill Lynch. They were married in 1952 and moved to Bronxville, New York where her focus in life was raising her children.
Throughout her life she enjoyed tennis, golf, and establishing close friendships, something she excelled at until the day she died. Margie was known as a good listener and had a genuine interest in other people. She made friends easily and never lost one. One of her greatest joys in life was cooking and entertaining for her friends and family. Many of her closest friends were from the community at Stratton Mountain, Vermont. Christmas always included a traveling celebration from house to house with the entire family, a tradition that lasted many years.  
Later in life, after her husband Wally retired from Wall Street, she moved back to her beloved Cape Ann. After losing her husband in 1992, she remained in Manchester-by-the Sea and the North Shore until she moved back to Vermont to be near her children.
She is survived by two younger siblings, Henry Moore of Gloucester, Massachusetts and Carol Graham of Manchester-by-the-Sea, Massachusetts, her three children, William Latour of Hawthorne, New York, Richard Latour (Ann Keller) of Dorset, Vermont, and Emily Bogle (Harold) of Bronxville, New York. She also leaves behind seven grandchildren.
The family will hold a private memorial service. In lieu of flowers, donations in her memory can be sent to The Carlos Otis Clinic at Stratton Mountain (www.carlosotisclinic.org).