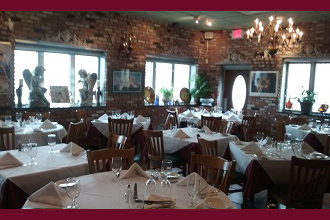 By Karen Talbot

Angelina's Ristorante
97 Lake Avenue
Tuckahoe, NY  
914-779-7944

May 31, 2017:  This family-oriented Tuckahoe favorite serves some of the best Italian food in our area and caters to just about everyone's tastes. There is a separate casual pizza parlor that is accessed through the Lake Avenue entrance behind which is a cozy bar with TV that provides a tavern-like setting. Adjacent to the bar is the main dining room and another smaller dining area. There is plenty of room downstairs for private parties. 
The restaurant was established in 1994, and, about a decade ago, the Di Napoli family took it over and kept the name Angelina's, as still depicted by the many angel pictures that adorn the walls of the restaurant. You can find Louis Di Napoli, one of the owners, always present and greeting his customers as they enter and leave. 
For appetizers, I recommend Angelina's famous stuffed artichoke--stuffed with breadcrumbs and steamed, served with garlic and oil or in a pesto cream sauce. If you like clams, go for the clams casino--baked littlenecks with roasted red peppers, crisp bacon, and fresh herbs in a light white wine sauce; clams oreganata--whole clams covered with seasoned bread crumbs; or the baked stuffed clams--chopped clams with homemade recipe stuffing. Also delicious are the eggplant dishes served three ways--parmigiana, rollatini, or Genovese. Angelina's also serves authentic Caesar salad for two, traditionally made with real anchovies and prepared tableside for $22.00.
The chef, Alfredo Torres, is a master at preparing pasta and risotto dishes. We shared a specialty of the night, risotto di Agnello, a perfect spring choice consisting of tender filets of lamb sautéed with scallions, spring peas, and shiitake mushrooms in a brandy brown sauce, slowly simmered with Italian arborio rice.  This dish was outstanding. 
You should also try their famous signature entrée for two, "The Wheel." It's spaghetti tossed in an imported wheel of Parmigiano-Reggiano cheese infused with cognac and tomato sauce, priced at $44 (which can also be ordered as an appetizer). We also shared orecchiette alla contadina, a delightful combination of broccoli rabe, chicken, and sun-dried tomatoes in garlic and olive oil.
There are many entrée choices listed under the pollo, vitello, and pesce categories. My favorite is chicken scarpariello with sausage and potatoes sautéed with garlic, hot cherry peppers, and sundried tomatoes in spicy brown wine sauce. Two chef's specialties of note are chicken Angelina, which is chicken stuffed with spinach, mozzarella, prosciutto, garlic, and pignoli nuts in a creamy cognac sauce, and chicken martini, which is medallions of chicken encrusted with Parmigiano cheese and sautéed with artichoke hearts in a lemon sauce.
Also available to order is an assortment of 12" wedges and brick oven pizza in a variety of combinations. Warm focaccia bread and Italian bread are served with every meal, and a wonderful wine choice is the Il Bastardo Sangiovese, a delicious red wine. There is also a variety of Chianti at a very reasonable price. The menu is ambitious, with many dining choices, but everything is prepared well and tastes very, very good.
Pictured here: An inside view of Angelina's Ristorante. 

Photo by Karen Talbot