By Staff
Jan. 6 2021: Below is the local Covid-19 Report for this week. 
Since December 22, 2020, active Covid-19 cases, defined as "positive cases within the last 14 days," have increased in Bronxville and nearby. For example, active cases in Bronxville have nearly tripled from 14 on December 22, 2020 to 40 on January 4, 2021. Yonkers and Mount Vernon have the largest number of active Covid-19 cases in our area, followed by Eastchester. Click here to go to the Westchester County Covid-19 interactive map for more information.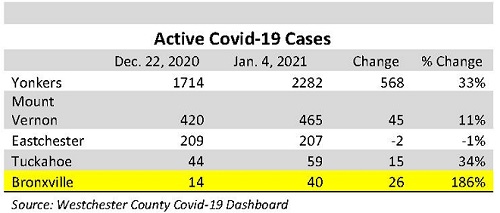 Hospitalizations and Positivity Rate in New York State
Hospitalizations in New York State for Covid-19 have also been on the rise since the beginning of the holidays.  As shown below, total active cases in the State are up 29% from December 22, 2020 to January 4, 2021.  The percent positive in the Mid-Hudson region, which includes Bronxville, has also risen from 6.8% on December 22, 2020 to 8.2% on January 4, 2021.

More Contagious Variant of Covid-19 Virus Confirmed in New York State
On January 4, 2021, Governor Cuomo's office reported that a laboratory in Albany confirmed "the first known case of the U.K. variant of the virus that causes COVID-19 in New York State."  The report said that "an individual from Saratoga County, NY, with no known recent travel, tested positive for the strain, which scientists say is more contagious than other strains. It is not believed to be deadlier or to cause more severe disease."
New York State and Vaccinations
On January 4, 2021, Governor Cuomo's office reported that "more than 2 million individuals are now eligible to be vaccinated as part of Phase 1A."  This list includes: 
 "
all doctors, nurses and health care staff who come in contact with the public; ambulatory centers staff; and all public health care workers who provide direct in-person care, including those who conduct COVID-19 tests and handle lab specimens. Beginning this week, eligibility will also be expanded to include home care workers, hospice workers, and nursing home and other congregate setting workers who have yet to receive a vaccine through the federal nursing home vaccination program. See the full list, including previously announced priority groups, 
here
."
The next phase, Phase 1B which be focused on vaccinating "essential workers and New Yorkers aged 75 and up. Roughly 2.5 million New Yorkers make up this group."
View the NY State School Covid-19 Report Card here
View the NY. State COVID-19 Tracker here.
Photo at top: Shutterfly