By Staff
Jan. 13 2021: Below is the local Covid-19 Report for this week. 
According to the Westchester County Covid-19 Dashboard, there are 72 active Covid-19 cases in Bronxville.  This is over 5x the number of active cases in Bronxville on December 22, 2020.
In a call to the community from Mayor Marvin and Bronxville Chief of Police Christopher Satriale on January 12, the Chief expressed frustration and concern that some of these cases are young adults and that "a large gathering on New Years eve of young adults has contributed to the dangerous situation that we now face."  Because of rising cases, the Bronxville High School, which has a hybrid learning model, went to 100% remote learning for this week.  
The Chief urged parents to "keep their children at home and ensure proper distancing and hygiene. We are in a dangerous period in time and desperately need your cooperation"
The number of cases in nearby communities has also continued to increase.
Click here to go to the Westchester County Covid-19 interactive map for more information.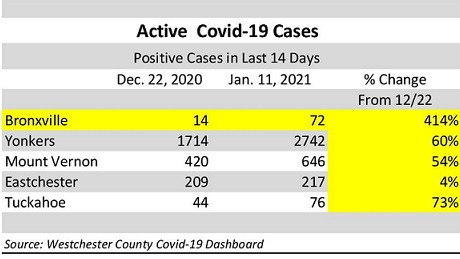 Hospitalizations
Hospitalizations in New York State for Covid-19 have also been on the rise since the beginning of the holidays.  Total hospitalizations in New York State are up 34% from December 22, 2020 to January 11, 2021.  As of January 11, 2021, there were 1,492 patients in the ICU.
In the Mid-Hudson region, which includes Bronxville, hospital capacity, defined as the percentage of hospital beds available, is currently at 39%. ICU Capacity in the Mid-Hudson region is at 40%. The percent of hospital and ICU beds available in New York City is lower at 33% and 24% respectively.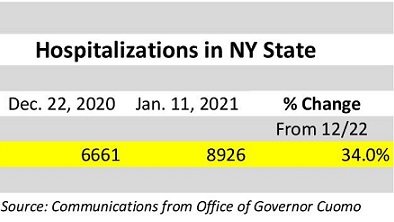 Positivity Rate
In New York State, the percent of positive tests per day (7-day rolling average) is 7.2%.  The percent positive in Westchester is 7.2%. 
Vaccinations
New York State began Phase 1b vaccinations on January 11, 2021.  Governor Cuomo announced yesterday that this Phase now includes individuals age 65 and up plus first responders, teachers, public transit workers, grocery store workers and public safety workers. 
You can
click here
to find out if you are eligible. You can also register by phone: 1-833-697-4829). 
Click here
to see the full list of those eligible to be vaccinated under Phase 1A and 1B.
View the NY State School Covid-19 Report Card here
View the NY. State COVID-19 Tracker here.
Photo at top: Shutterfly