By Staff
Dec. 23, 2020, updated 3:45 pm:  Below is the local Covid-19 Report for this week.
Bronxville News
NYP-Lawrence Hospital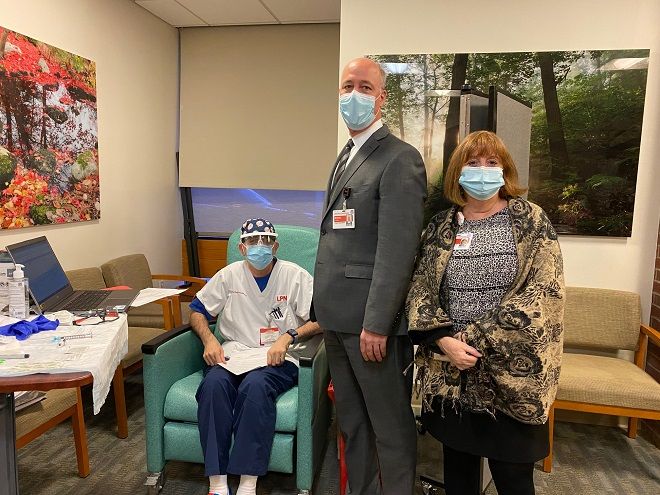 On December 18, 2020,  NewYork-Presbyterian announced that staff members across New York Presbyterian campuses received their first dose of the vaccine. 
This includes Seth Pasternak, an Emergency Department nurse, who was one of the first staff members at NewYork-Presbyterian Lawrence Hospital to be vaccinated against Covid-19. The shot was administered on December 15, 2020 in Bronxville, NY. Pasternak is a former Air Force nurse.
The hospital said it is working closely with public health officials to plan vaccine distribution for it patients. They said, "As the statewide plans for vaccine distribution become clear and supplies begin to arrive in adequate numbers, Columbia, Weill Cornell Medicine, and NewYork-Presbyterian expect to begin offering COVID-19 vaccines to our patients in early 2021."
Please see their Letter to Our Patients for the latest information. 
Local Covid Map
Westchester County just released a new interactive Covid map.  The map indicates that there are currently 14 active cases in Bronxville and that Bronxville has had a total of 219 cases.  It shows an active case count of 209 in Eastchester, 44 in Tuckahoe, 1,714 in Yonkers and 420 in Mount Vernon.  Click here to go to the interactive map.
New York State News
Task Force
On December 21, 2020, Governor Cuomo announced the creation of a NYS Covid-19 Vaccine Equity Task Force, co-chaired by Secretary of State Rossana Rosado, Attorney General Letitia James, National Urban League President & CEO Marc Morial, and Healthfirst President & CEO Pat Wang. He said, "this Task Force will break down barriers to vaccination, build confidence in the vaccine and ensure there is a fair and equitable distribution of the vaccine across the state."
Vaccines
He also said that New York State has started administering vaccines to nursing home residents and staff "as part of a federal program that partners with pharmacies like CVS and Walgreens to vaccinate nursing home residents and staff at nursing home facilities. There are 618 facilities across the state that will participate in the program."
As of December 22, 50,000 doses of the vaccine has been administered throughout New York. The state has received 630,000 doses thus far and expects to receive another 300,000 doses next week.
Hospitalizations
On December 21, there were 6,661 hospitalizations in New York State. This includes 1,126 patients in the ICU and 614 of them are intubated. The positivity rate in New York State is 5.89 percent.  The positivity rate in the Mid-Hudson region, which includes Westchester, on December 22nd was 6.8 percent.
Agreement with Three Airlines Bringing Passengers From U.K. to New York
Governor Cuomo also said that three airlines (Virgin Atlantic, British Airways and Delta Airlines) had agreed to require pre-departure Covid tests before passengers leave from the U.K. to New York.
Links
View the NY State School Covid-19 Report Card here
View the NY. State COVID-19 Tracker here.
Photo at top: Shutterfly
Photo in article (L to R): Seth Pasternak, Emergency Department nurse; Michael Fosina, President, NewYork-Presbyterian Lawrence Hospital; Laurie Walsh, Vice President Patient Care Services & Chief Nursing Officer, NewYork-Presbyterian Lawrence Hospital  
Photo courtesy NYP-Lawrence Hospital