Author Erin Gerkin
By Staff
Dec. 2, 2020: The uniqueness of Bronxville trees has not gone unnoticed by ten-year-old Erin Gerken. In particular, an unusual tree on the corner and Tanglewylde Avenue and Vine Street in Bronxville has always intrigued her. The tree, planted by former Bronxville resident Dr. David Case, has wrapped itself around a sign-post. 
Erin, a 5th grader at the William E. Cottle Elementary School, is the daughter of Bronxville graduate Peter Gerken and the grandchild of Bronxville residents, Helen and Peter Gerken. She was drawn to the tree due to its uniqueness and was inspired to write about it.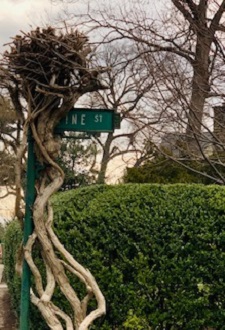 The tree on the corner of Tanglewylde & Vine
Erin's newly published book is called Mine on Vine.
Family and friends have been purchasing the book for weeks and Erin is donating a percentage of her earnings plus some of her books to St. Judes's Children's Hospital.
As this young writer says, "You have to give back."  
If you'd like to purchase "Mine on Vine," please send an email to This email address is being protected from spambots. You need JavaScript enabled to view it..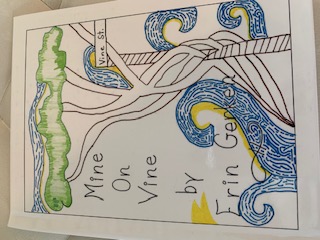 Cover of "Mine on Vine"

Photos courtesy the Gerkin family