By Elizabeth Vranka, Executive Director of OSilas Gallery at Concordia College
Dec. 2, 2020: OSilas Gallery at Concordia College is pleased to announce its December Contemporary Show and Sale, which will open this Saturday and be on view through December 18, 2020. 
This exhibition is curated from works by five artists who have very different styles but share a love of color. Approximately 50 works will be featured in this show, and all works will be available for acquisition with a portion of proceeds to benefit OSilas Gallery.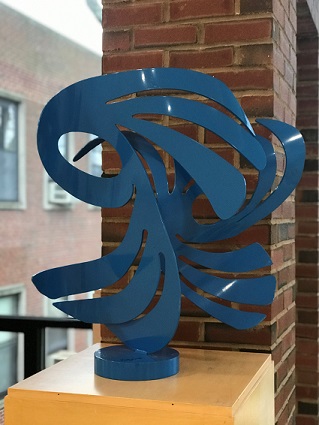 Please note that the health and safety of our community is our priority, and the number of visitors in the Gallery will be limited to no more than ten at any one time. Facemasks are also required while on campus. In addition, private viewings may be arranged by contacting  Executive Director Elizabeth Vranka at This email address is being protected from spambots. You need JavaScript enabled to view it. or  Gallery Manager Justine McEnerney 
While most Concordia students are finishing the semester remotely and no longer on campus, the Gallery remains open and welcomes visitors. The community is encouraged to take advantage of this opportunity to see a curated collection close to home, whether to brighten spirits or brighten the home with a beautiful painting or sculpture. 
Gallery hours are 1:00 – 5:00 pm on December 5 - 11 and December 14 - 18 and by appointment at all other times and days by contacting  Executive Director Elizabeth Vranka at This email address is being protected from spambots. You need JavaScript enabled to view it. or  Gallery Manager Justine McEnerney.
Featured Artists
Emily Brown: Drawing from an intuitive, creative process and a passion for color, Emily Brown has become a celebrated Southern artist. Brown uses her love for texture - layering media such as charcoal, acrylics, and oil pastels - to create beautiful works of art. She combines bold strokes of color with the starkness of innocent lines and untouched spaces to tell a unique story. Brown and her family live on Sullivans Island, South Carolina, and her inspiration is drawn from her coastal surroundings, her southern roots, as well as the creative process. She says, "I love how a piece changes with the colors I add, the value of those colors, and the positive and negative components of the piece." Brown is a member of the Charleston Artist Collective, and her work has been featured in Hamptons Designer Showhouse, Atlanta Southeastern Showhouse, Coastal Living Idea house.
Phyllis Baker Hammond: Hamptons-based artist Phyllis Baker Hammond's career has spanned seven decades. She started her professional career sculpting in clay, but in recent years has worked in metal, creating abstract works that can be displayed in the home or outside. In 2017, five of her large-scale works were created for a feature installation in Dag Hammarskjold Plaza in New York City. In addition, Hammond won an award for her work in creating a dazzling orange enameled 10-foot steel sculpture in Japan's Ube Tokiwa Museum's International Biennale sculpture competition. The "Museum of Greenery, Flowers and Sculpture Prize" was presented in Ube in October 2009, for Hammond's Redefining Space. Hammond uses an improvisational method to create her colorful sculptures from sheets of metal that are later bent, hammered, and then powder-coated in brightly colored paint. Hammond counts among her influences Alexander Calder, Mondrian, and Clement Meadmore. Among her many honors and awards, Hammond was selected to design the award for The William Shakespeare Theatre Award (the "Will") in 1988, which is given to performers in classical theatre.
Arthur Pinajian (1914-1999): Arthur Pinajian was an abstract expressionist painter who died in obscurity in 1999. His obsession with art—creating it, thinking about it, writing about it—consumed his life. When he died, Pinajian left behind stacks of canvases in a dirt-floor garage and the attic of his sister's home in Bellport, Long Island. The artist had left instructions for his collection to be discarded in the town dump, but, fortunately, the men who bought the cottage when the sister died rescued the collection just in time. The salvation story of Pinajian's life's work has been the subject of multiple stories in the New York Times and featured in Good Morning America, The Telegraph, the New York Post, and countless other news outlets. Many of the works on view have never been shown on the East Coast before this December event. The works of Pinajian were the focus of OSilas Gallery's 2017 exhibition The Pinajian Discovery: An Artist's Life Revealed.
Don Swanson: For more than four decades, Don Swanson has called The Frick Collection in New York City his professional home, rising to become the institution's Chief of Collections Preservation and Graphic Designer. Throughout his multi-faceted career at the Frick, Swanson pursued his private passion for painting. Swanson's paintings are abstract, contemplative, and vibrant and about the imagination where the viewer discovers something on the canvas and supplies the narrative. Swanson says his paintings celebrate the "joy of color and surfaces." He likes to work in "layers of glazes – the finished effect creates a sense of depth and ambiguous space." The many techniques he employs create texture and tension, evoking the viewer's interaction and interpretation of the forms along with the joy of color. OSilas Gallery presented an exhibition of Swanson's work in 2018, Color & Form: The Art of Don Swanson.
Lyndal Vermette: Lyndal Vermette is an Australian artist living in Westchester County, New York. Vermette grew up in a creative and artistic family where creativity was encouraged and role modeled. Trained in the studio of her mother's art gallery, Vermette is largely self-taught. Her favored media is alcohol ink, a type of fluid art that is manipulated with varying drying techniques to produce a rich, vibrant pop of color. She also works with resin and acrylics. Many of Vermette's works on view in the December show evoke the ocean and nature and bring the natural world into indoor living spaces.
OSilas Gallery integrates the visual arts into the cultural and educational life of the Concordia College campus and surrounding community by providing quality exhibitions and programs that are diverse in style, content, and media; memorable, thought-provoking, and spiritually enriching; and of artistic originality, integrity and excellence. Exhibitions at OSilas Gallery are free and open to the public (hours are stated above). All visitors are required to comply with the Gallery's safety protocols, which can be found here. 
Photos courtesy OSilas Gallery
Editor's note: As a public service, MyhometownBronxville publishes articles from local institutions, officeholders, and individuals. MyhometownBronxville does not fact-check statements therein, and any opinions expressed do not necessarily reflect the thinking of its staff.