By the Bronxville Green Committee
Nov. 15, 2023: The holidays are here, and we hope that as a community we can work together to reduce the amount of food we waste and send to the trash. Why is this important? Food is never trash! Even food that can't be eaten can be recycled into compost, which reduces the pollution and emissions associated with our regular trash stream.
We've all heard the shocking statistics about food waste and what it costs our economy and environment every year. To learn more, see these 25 Facts.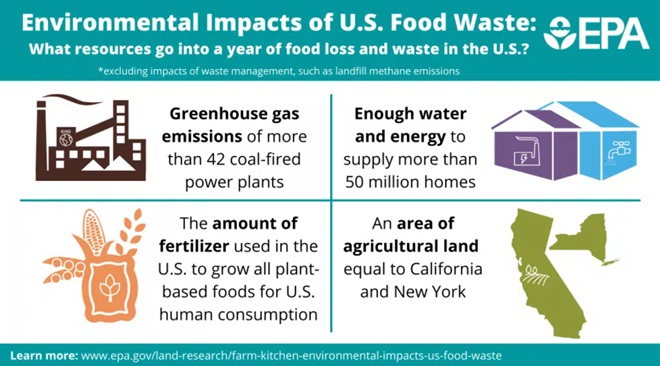 The good and bad news is that most food waste comes from households so that means WE can make a difference. Let's start this Thanksgiving! According to The United States Department of Agriculture's website, Americans waste 30-40% of the food supply, and that amount increases 25% during the holidays.
Ready to help with the solution?! Here are two steps Bronxville residents can take to make a big impact:
-Practice better purchasing, storing, and food use habits, and
-Recycle your food waste!
Let's break these down:
For Shopping
-Meal plan for the week before shopping
-Choose fresh produce that will last longer – see tips HERE.
-Add frozen fruits and vegetables to your cart – they're less expensive, already chopped, and ready to use in between shopping trips.
-Buy "ugly" vegetables. Retailers say they throw out misshapen fruits and vegetables because they think their customers won't buy them.  Prove them wrong! The "misfits" are nutritious and safe to eat.
For Storage
-Declutter your fridge on a weekly basis and store items properly to ensure they'll last longer – learn more on the USDA app
-Create an "Eat First" bin in the frig for food that's getting old
-Freeze some food now if you might not eat it soon enough; be sure to label the container with the contents and date.
-Wash and chop some fruits and vegetables as soon as you arrive home from shopping, so that they're ready to use for fast meals and snacks.
Learn What Labels Mean
-"Sell By" is the date past which food vendors must stop displaying and selling the item. It is still usually perfectly safe to eat.  
-"Best If Used By" is an industry term to indicate best flavor and quality. It is still usually perfectly safe to eat.
Recycle your food waste and don't forget your pumpkins & gourds!
Bronxville's Food Scrap Recycling Program, a turn-key residential program, makes it easy for residents to recycle ALL their food waste. This is not backyard composting; instead it's just another recycling stream in your home, created when you divert food scraps from your regular trash to a separate collection bin. Composting our food scraps creates a valuable soil amendment that is returned to the earth instead of being sent to a landfill to emit methane gas, which contributes to climate change, or from being sent to an incinerator, which creates air pollution.  Whether or not you participate in the program, you're encouraged to drop off your old pumpkins and gourds!
The process is as easy as 1-2-3! Just COLLECT your food scraps, STORE & TRANSFER in a secure transfer bin, and DROP OFF behind Village Hall for commercial composting.
Learn more about this program and sign up HERE.
For more FAQs, please visit the food scrap recycling center on our website.
Since the Village of Bronxville launched the program two years ago, more than two hundred participating families have helped turn 60 tons of food scraps into nutrient-rich organic compost.  Your neighbors transformed a waste into a resource and diverted approximately 1 1/2% of Bronxville's solid waste (based on 2021 figures) from the incineration facility in Peekskill.  Many thanks to everyone who already participates! If you haven't yet signed up, now – just before the holidays – is a great time!
The Bronxville Green Committee is a volunteer organization that is part of the Village of Bronxville. We work to propose and implement environmentally sustainable programs in our community. Visit our website to learn more. Please consider joining our efforts!