Bronxville Giving Garden Farmer Dave Philipps and Mount Vernon Community Service Associates Jared Apuzo.
By the Bronxville Green Committee
Sept. 6, 2023: The Bronxville Giving Garden is enjoying another successful harvest this summer! The vegetables grown include carrots, scallions, beets, squash, tomatoes, potatoes, zucchini, green beans, peas, lettuce, chard, basil, and garlic.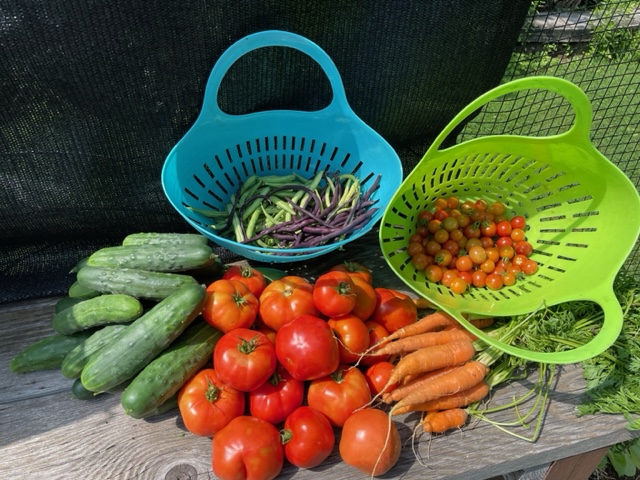 "After conducting a comprehensive soil test early in the season, Farmer Dave Phillips found some imbalances in the beds. A proper analysis of those test results allowed him to correct those issues, making the beds even more productive," said Sue Brownie, Director of the Bronxville Giving Garden. "Dave has produced a spectacular harvest this year!"
The Bronxville Giving Garden is a community-centered garden, located on Village Hall property on the corner of Pondfield Road and Gramatan Avenue, which was created to raise awareness of food insecurity in Westchester County and help mitigate it by donating fresh, organic produce to local food banks. 
It is estimated that food insecurity affects 10% of the U.S. population. Although Westchester is one of the wealthiest counties in the U.S., Feeding Westchester reports that as many as 1 in 5 people living here are food insecure.
In the 2022 growing season, we donated more than 350 pounds of fresh, organic produce to our local food distribution partners. This year we are on pace to exceed that amount!
All the vegetables grown are donated to Eastchester Community Action Partnership (ECAP) in Tuckahoe, which operates a food pantry, and Community Service Associates (CSA) in Mount Vernon, which serves 80 grab-and-go meals each day to local residents. This summer Farmer Dave, with the help of Bronxville Giving Garden Director Sue Brownie, has been hard at work growing, weeding, harvesting, and transporting the produce.  
Over the years, the garden has also run programs for the Reformed Church and Eliza Frost Nursery Schools to teach the joys and importance of gardening.  This spring, Sue Brownie along with Catherine Bradley from the Reformed Church Nursery School hosted kindergarten and pre-kindergarten classes of students who planted sunflower seeds along the perimeter of the garden, identified the vegetables growing, and learned about irrigation and the need to fence the garden to keep out rabbits. Last year we hosted Bronxville Middle School classes and discussed climate change, vegetable growing techniques, and food insecurity.
The Bronxville Giving Garden will continue to harvest vegetables deep into the fall.  Please stop by and visit any time; the latch to the garden gate is always open (but please close the gate when you leave to keep out critters).  We ask that you respect our mission to donate all the food that we raise by looking, not taking.
The Bronxville Giving Garden is a program run by the Bronxville Green Committee and supported by donations from the Rotary Club of Bronxville, the Community Fund of Bronxville, Eastchester and Tuckahoe, and local residents.
If your group is interested in holding educational programs at the Giving Garden, please contact us at This email address is being protected from spambots. You need JavaScript enabled to view it.. To support the garden, please follow us at @bxvgreencommittee and our website to learn more!
The Bronxville Green Committee is a volunteer organization that is part of the Village of Bronxville. We work to propose and implement environmentally sustainable programs in our community.