The Bronxville girls' tennis team wins the Division 2 State Championship. Photo courtesy of @BronxvilleTennis.
By S.Q. DeJoy and J. Murrer  
Nov. 8, 2023: After winning the Division 2 Section 1 Team Tennis Championship last week, the Bronxville girls continued their success at the Billie Jean National Tennis Center on Friday. They defeated Cold Spring Harbor 3-2 to capture their first New York State Team Tennis Championship.
Playing the State Championship at the National Tennis Center was a thrill for the Bronxville team.
"It was cool to play there along with the other schools," said McEnroe. "There was a lot of energy, and we could feel the excitement of the moment. After all the hours I have put into the sport, it is very rewarding, for sure."
"We didn't have a remarkable regular season," said Coach Klurfeld. "Our record was 4-3 in the league." 
The 4-3 record did not accurately represent the team's strength. A lot of matches against easier opponents were cancelled due to rain, and several players were plagued with injuries. As a result, Bronxville just made it into sectional tournament as the No. 12 seed.
"To think that we were the 12th seed and almost didn't make it into the post-season but ended up as State Champions is a tremendous accomplishment," said four-year varsity player and captain, Gabby Bici. Bici was injured and couldn't play in the state tournament but was there to cheer her team on.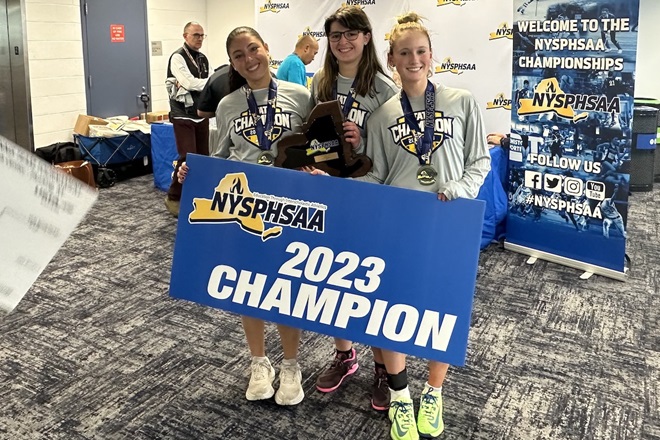 Team captains (l to r): Gabby Bici, Hannah Shammas, Victoria McEnroe. Photo courtesy of @BronxvilleTennis.
Bronxville easily won their regional round to make it to the final four. On Friday morning, the Broncos boarded the bus at 6AM to make the trip to Flushing. Five Bronxville teams, three singles and two doubles, played in the semifinal round at 7:30 and defeated Oneida High School 5-0 to advance to the state finals in the afternoon.
"In the first match against Oneida, everyone felt pretty confident," said Captain Hannah Shammas. "Before the finals, we were a little nervous but super excited and wanted to do the best we could."
In the finals against Cold Spring Harbor, first singles player Victoria McEnroe easily won her match 6-1, 6-0. The first doubles team, Isabel Haller and Madeleine Brandes, lost 6-2 6-0, tying the score at 1-1.
The remaining three Bronxville teams, Anette Dani at 2nd singles, Shammas at 3rd singles and Astrid Pulkkinen and Rose Woolery at 2nd doubles, won their first set, but lost their second sending the teams into a final third set.  
"It's the biggest match these players will ever play," said Coach Klurfeld.  "It is home to the US Open, and there are many people are watching. It was an anxiety producing moment."
After losing the second set, the second doubles team, Astrid Pulkkinen and Rose Woolery, came back and won 6-4 in the third. As soon as that match was over, those two girls headed to a lacrosse tournament in Maryland.
"They have a really great attitude and were really composed in this environment," said Coach Klurfeld. "I was really very proud of them."
The Broncos needed to win one more match to clinch the State Championship. Both Dani and Shammas still playing, and before Dani could finish her match, Shammas won the third set 6-3 and clinched the win for the Broncos.   Dani, who was playing with an injury, retired once the Broncos won. 
"One tremendous asset to our team this year were the bonds we had with one another," said Shammas.  "From the pep talks, to the practices to the on-court cheering, everyone was incredibly supportive of one another and did everything they could to help those around them, which in turn was a huge contributor to our success."
For Coach Steve Klurfeld who coaches Bronxville boys' tennis in the spring and girls' tennis in the fall, 2023 has been quite a year. Both tennis teams won their respective Division 2 New York State Championships.
"I am just proud of what both teams accomplished. They went about it in different ways, but achieved the highest award you can get in high school tennis. Dedication is the common thread, and they are also good-hearted. I am really fortunate to have players in both squads that are respectful, great athletes, and interested in competing while having fun."
Go Broncos.