Boys' and girls' cross country teams after winning their respective Class C Section 1 Championships. Photo by Arjay Jensen.
By S.Q. DeJoy and J. Murrer 
Nov. 7, 2023: After winning at the Westchester County Championships last week, both the boys' and girls' cross country teams won their respective Class C Section 1 Championships on Saturday and will head to the New York State Championships this week at Vernon Verona Sherill High School. 
Kieran McBride was first to score for the Bronxville boys' team.  He placed 4th in Class C with a time of 17:19.10 and finished 20th overall for school of all sizes.
"The race went pretty well for me. I set a PR," said Co-Captain McBride. "It was a lot of fun to go out there with my team. I do feel the stress when I am competing, but I like the pressure. I like to say pressure is a privilege."
Also finishing for the Broncos were Jack Toal, 10th, 17:51.80, Julian Gonzalez, 13th, 18:03.10, Matthew Jensen, 14th, 18:09.30, Luke Corr, 16th, 18:18.40, Nate Deutsch, 17th, 18:20:80, Will Hogue, 28th, 18:58.60, Liam Greenfield, 51st, 19:59.10, and Tommy Henningson, 59th, 20:19.10.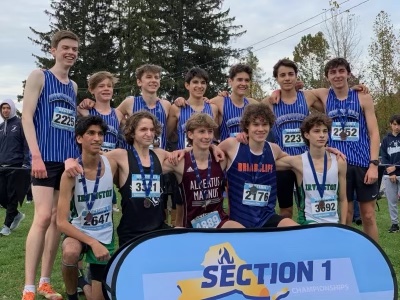 Class C Section 1 Champions. Photo by Arjay Jensen.
In addition to winning the Class C Sectional Championship, the Bronxville boys were the top Westchester team in the merge of all schools placing 4th behind Arlington, Pearl River, and North Rockland.
Bronxville's main Class C competition this fall has been Irvington, and they have raced against them multiple times. At the League Championships, Irvington defeated Bronxville by just one point, but at the Class C Sectional Championships, the Broncos edged out the Bulldogs by a score of 57-60.
"It's been an up and down battle all season," said Coach Jim Agnello. "In a race of this level, three points is nothing. It is a literally a blink of an eye."
The Broncos, who are the defending Class C State Champions, work very well together as a team. At the Section 1 meet, the frontrunners did their job, accruing as few points as possible, and the middle of the varsity team did their job by getting in front of Irvington's 4th and 5th runners."
"Luke Corr was the 5th Bronco across the finish line on Saturday and has not been there before. That really made that difference," said Coach Agnello.
"I surprised myself with my own race," said Corr, a senior captain. "After the opening 150 meters or so, I was around the middle of the pack, and I noticed three Irvington runners together. Even though the pace was uncomfortable, I pushed past the three and started to settle in just behind the frontrunners."
At the top of a hill, Irvington's 4th runner was clinging right behind Corr, who caught up to his teammate, Nate Deutsch. With Deutsch a step in front of Corr and an Irvington runner a step behind, the last mile was tense. Corr managed to hold off the Irvington runner, which was critical for the Bronxville win.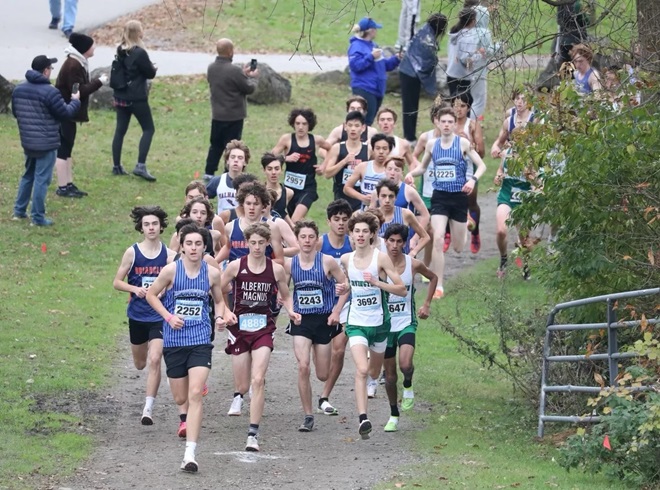 Broncos on the race course: Jack Toal (2252), Kieran McBride (2243), Luke Corr (2225), and Julian Gonzales (right side). Photo by Arjay Jensen. 
The boys' team consists of runners from 8th to 12th grade, but despite the age differences the team is very close.
"We run as a team and see each other as one group especially as the season gets more competitive," said Jack Toal, a junior co-captain.  "Age does not separate the group. We have one common goal."
The future of Bronxville's boys' cross country is looking good. At the Section One Ray Roswell Freshman Championships held last week at Clarkstown South in Rockland County, the Bronxville freshman team defended its Section 1 Frosh Championship Title for the third year in a row.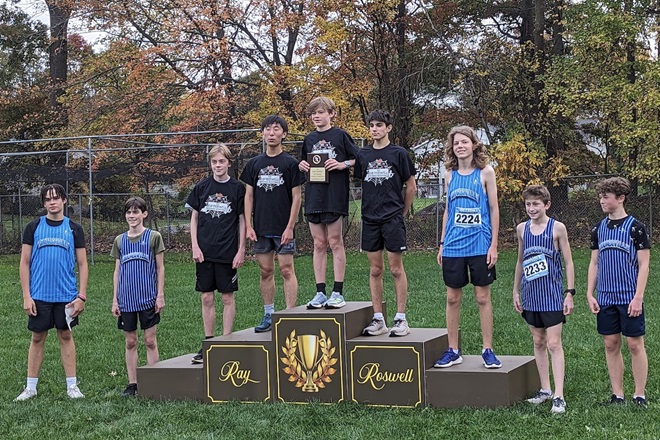 L to R Daniel Alma, Niko Stupart, Grey Gaston, Sean Ahn, Matthew Jensen, Nate Deutsch , Cooper Caruso, Charlie Greenfield, Harrison Keen, Missing, Porter Rao. Photo submitted by J. Agnello.
Last year the boys' cross country team won the Class C New York State Championship for the first time since the meet was started in the early seventies. For McBride, Toal, Deutsch and Will Hogue, it will be their second trip to states at Verona.  It will be somewhat of an advantage to have run the course before. The team leaves on Friday and will have time to review the course before Saturday morning's race.
The girls' cross country team continued their winning season with a convincing win at the Sectional Championships. They placed first in Class C scoring 36 points and were followed by Pleasantville (49) and Briarcliff (71).  Last year, Pleasantville defeated Bronxville to win the Class C Sectional Championship.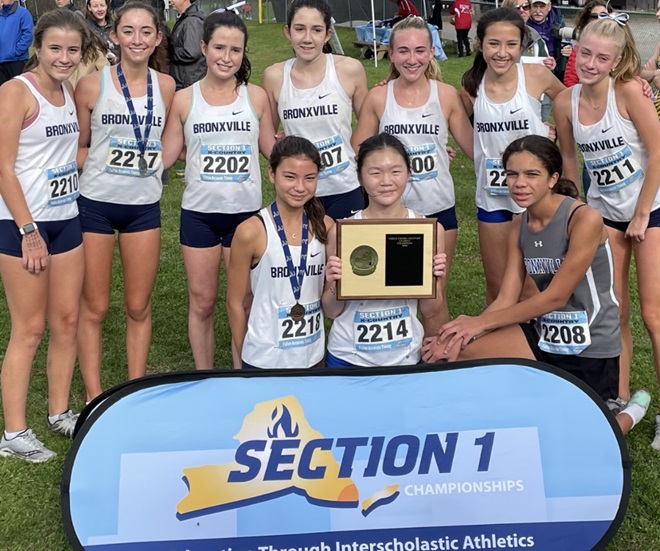 Class C Section 1 Champions. Photo by Arjay Jensen.
"We were so happy to see the continued growth of the team as they continue to lower their times and tighten their pack," said Coach Brian Halling.
Maddy Williams ran a great race placing 2nd in a time of 20:10.10. She placed 9th overall in the merge of Section 1 schools. Williams has had a standout season placing 5th overall at the Westchester County Championships and 8th overall at the Section 1 Coaches Invitational.
In cross country the top five runners count in the scoring, and in the Class C race at secitonals, the Broncos had all five scoring runner finish in the top 15: Carina Winiecki, 7th, 20:53.80, Meghan Curran SB, 8th, 21:01.20, Charlotte Black, 13th, 22:21.60, and Fiona Keveney, 14th, 22:25.50. 
Also competing at the race were Charlotte Murray SB, 20th, 23:12.50, Emerson Dennis, 21st, 23:41.50, Ella McCalla, 24th, 24:00.00, Ee-Ee Sung, 30th, 25:02.50, and Kate Outcalt, 31st, 25:03.00.
Both the boys' and girls' teams will face some strong competition at states. The East Aurora girls' team is the defending State Champ, and the East Aurora boys' team has some of the top runners in the state.
"East Aurora is main competition at States," said Coach Agnello. "They have two really good boys that could win the race. If we are going to beat them, we will have to beat them in the 4th and 5th places."
Go Broncos.