Pictured: Carol Guthrie, Mary Ann Gioeli, Matt Evans, Anne Marie Kaufman, Denise Austin, Carol Cilento. Photo by N. Bower
By Carol Ann Guthrie
Nov. 8, 2023: An explosion of Pickleball has descended on the Village of Bronxville's public converted tennis courts over the last two years. More than 50 participants are currently playing, and the list is growing.
Matt Evans, Director of Racquets, has been the catalyst for fostering play in this upward national trend. His coaching style is positive and fun. Matt has brought many players together by introducing new students to one another and encouraging them to play with others.
Playing Pickleball has introduced us to new friends who live in neighborhoods surrounding the village. These intelligent, active professionals are all ages young and "young at heart" seniors!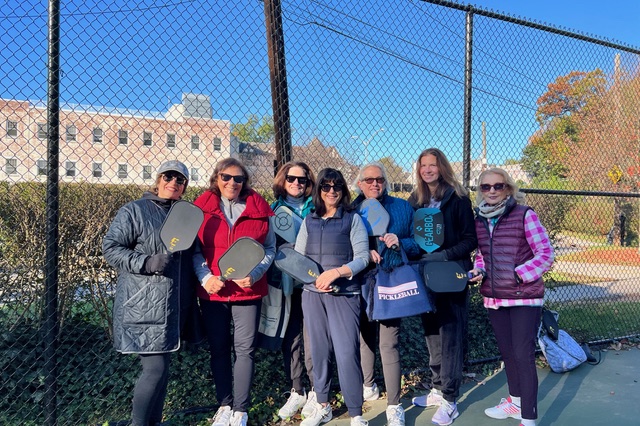 Those who have played other racquet sports might have an easier time transitioning, but it's an easy learning curve for everyone. You need to be mindful of spin serves, deadly dinks, blinding lobs in the sun, cracked balls in the cold, and "no cooking in the kitchen "! "The kitchen" is a term referring to a section of the court).
The court is smaller than a tennis court; therefore, there is less running. Keeping score is a bit of a challenge at first.
There is more to the game than competition. A group of us who were strangers became fast friends. We compliment each other on good shots, don't quarrel about close "out" balls, and enjoy the exercise. We've gathered in one another's homes for lunch, dinner, a movie, pizza & lots of laughter. We want to extend this friendship to more "picklers," too.
So, if you are looking for a social activity that exercises mind and body, Pickleball can't be beat. The ladies and gentlemen who play are very supportive.
We are especially appreciative of a few very creative ladies who plan wonderful theme parties, like Hawaiian dress-up on the courts or end-of-summer potluck.
Our "picklers" come from different backgrounds, share travel trips, have interesting experiences, or even not-so-happy pasts. But we have found non-judgmental friends on the Pickleball courts.
So to all ages: come on down & join the fun!