L to R: Coach Jim Agnello, Julian Gonzalez, Matthew Jensen, Liam Greenfield, Nate Deutsch, Kieran McBride, Luke Corr, and Jack Toal.  Photo submitted by J. Agnello.
By J. Murrer and S.Q. Dejoy
Nov. 1, 2023: At the Westchester County Championships held on Saturday at the Milton Sports Dome, both the Bronxville boys' and girls' cross country teams came out on top winning their respective Class C Championships. The Broncos seem to be peaking at the right time as they head to the Section 1 Championship on November 4th at Bowdoin Park in Wappingers Falls.  The Section 1 Championship will determine which teams qualify for states.
In the boys' race, 199 racers competed at the event, and the Broncos finished a close 2nd behind Somers in the open division, which included 32 Westchester schools of all classes.  
"We had another great day at the Westchester County Championships," said Coach Jim Agnello.  "It was our first sunny race Saturday in 8 weeks. It was a major accomplishment for Bronxville as a Class C school to beat all but one team in Westchester County."
Medal winners in the open division included senior Kieran McBride (4th, 16:33.20), 8th grader Matthew Jensen (22nd, 17:29.40), junior Julian Gonzalez (25th, 17:32.60), and 9th grader Nate Deutsch (35th, 17.44.60). Rounding out the top 5 scorers was Jack Toal who placed 39th in 17:55.70.
The freshman boys' team had a very successful race with three boys placing in the top ten for Class C:  Sean Ahn (6th, 9:11.00), Grey Gaston (7th,9:19.20), and Charlie Greenfield (8th, 9:26.30).
The girls' team paralleled the boys' team by winning the Class C County Championship and also placing 2nd overall to Somers.  The Broncos won by a significant margin beating 2nd place Hastings and 3rd place Briarcliff by over 40 points.
Medal winners for the girls' team included Maddy Williams who placed 5th overall in a season's best time of 19:33.90. Other medial winners included Carina Winiecki (18th, 20:49.60), Meghan Curran (26th, 21:13.60), and Charlotte Black (30th, 21:25.80). Also scoring for the Broncos was Ella McCalla (32nd, 21:31. 70).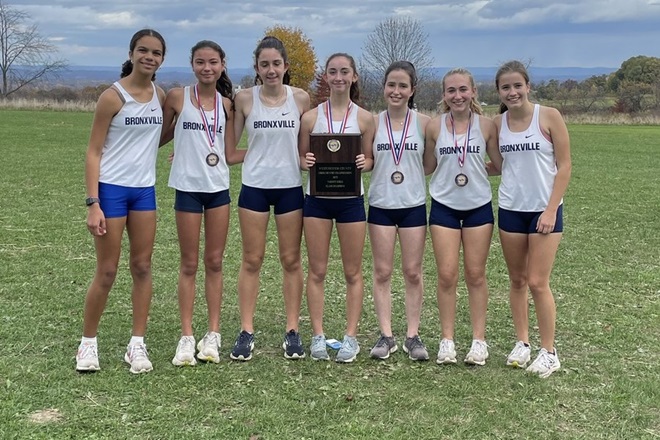 The varsity girls' cross country team holding the Class C County Championship plaque. Photo courtesy of @bxvboystrack.
The Bronxville girls also came away with a 2nd place overall finish in the JV race behind Scarsdale. Medal winners included Kate Outcault (4th, 22:35.80), Emerson Dennis (6th, 22:53.50), Ee-Ee Sung (13th, 24:11.30), Sarah Rizzo (20th, 24:53.5), Kailee Fino (21st, 25:00.70), Charlotte Dorr (24th, 25:32.30), and Linnea Hentschel (25th, 25:51.40).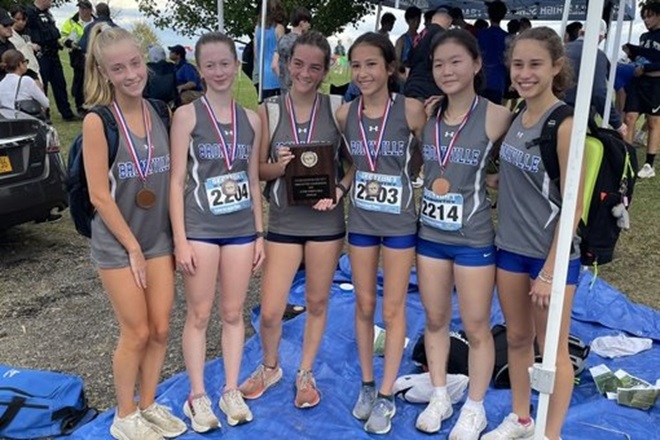 The junior varsity girls' team at the County Championship. Photo courtesy of @bxvboystrack.
"It was a tremendous day competing against some of the toughest teams in all of Section 1," said the girls' coach Brian Halling.  "It's so impressive seeing our crew compete so well against even the biggest schools in the county." 
Playoff Update
Football
After suffering a 21-8 loss to Westlake in their final home game, the Broncos head to the playoffs. Four Class C teams will compete on Saturday. No. 3 Bronxville (3-4) will play No. 2 Dobbs Ferry (4-2) at 1:30. The game will be broadcast on LocalLive. In the other bracket, No. 1 Westlake will face No. 4 Valhalla. Winners of these two games will compete in the sectional finals on November 11th at Arlington High School.  
Girls' Soccer
After receiving a bye in the first round of playoffs, the No. 4 Broncos defeated No. 5 Blind Brook 1-0 in double overtime to advance to the semifinal round.  In the semifinal game against No. 1 Briarcliff, the Broncos ended their season with a 1-0 loss. They finish the season with a 10-7 record.
Field Hockey
The girls' field hockey team received the No. 4 seed in the Class C playoffs. They defeated No. 5 Pleasantville 3-0 in the quarterfinals but lost 4-0 to No. 1 Putnam Valley in the semis. They finish the season with a 9-7-1 record.
Girls' Tennis
Victoria McEnroe, the defending State Champion and No. 1 seed, easily won in the early rounds of the New York State Tournament last week but lost 7-6, 6-4 in the semis to ultimate champion Nina Wiese from Garden City.  In the match to determine 3rd and 4th place, McEnroe was down 0-3 but had to retire due to an abdominal injury. She finished the state tournament in 4th place.
The Bronxville team will play in the New York State Team Tennis Championship on Friday at the Billie Jean King National Tennis Center. The Division 2 semifinals will start at 7:30 AM, and the finals are scheduled to start at 1:30.
Go Broncos.