Ellis Goodson and Max Dicker
By S. Q. DeJoy and J. Murrer
June 8, 2022: After a two-year pause, the Broncos finally have gotten a chance to compete at the New York State Championships. This past weekend, two Bronxville golfers competed at states, and ten track and field athletes competed at State Qualifiers and secured a spot at the State Championships this coming weekend. The girls' lacrosse team continued its journey to the State Championship with a solid win the Regional Championship.
Boys' Track and Field
Ellis Goodson and Max Dicker will both be competing at Cicero-North Syracuse High School this coming weekend at the New York State Championships.  Max placed first at the State Qualifiers setting a personal best of 12-0. Goodson placed first in the steeplechase in 10:13.90 and 2nd in the 800m in 1:56.16.
"Both of these young men are captains on our team and leaders amongst their peers," said Coach Brian Halling.  "Their hard work and dedication set the tone for our team, and we're so excited to see how they do this weekend.  They've both been working incredibly hard and are due for great performances."
Some members of the track team also had performances at the State Qualifiers that qualified them for the National Championship, which will be held at Franklin Field at the University of Pennsylvania in two weeks. Kieran McBride qualified with a 4:34.86 in the freshman mile, and Goodson qualified in the 800m. The Bronco Sprint Medley Relay also qualified for Nationals with Albert Van Ness in the 400m (53.28), both Dicker (23.98) and Gavin Benton (24.81) running the 200m, and Goodson anchoring in the 800m (1:56.16).
Girls' Track and Field
The Bronxville girls swept the relays at the State Qualifiers and will send three relay teams to the New York State Championships. Juliet Winiecki, Danielle Dragoni, Donna Napolitano, and Milly Koenig will be competing in both the 4x100m and the 4x400m relays. Their qualifying times were 50.54 in the 4x100m and 4:07.28 in the 4x400m. The Bronxville 4x800m team, Hope Hershberg, Maddy Stupart, Katie O'Hare and Ava Black, qualified for states with a time of 9:40.63.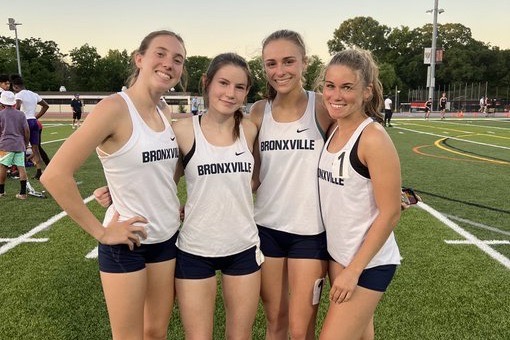 Bronxville 4x400m relay qualifies for the New York State Championships. Photo courtesy of @BXVgirlstrack.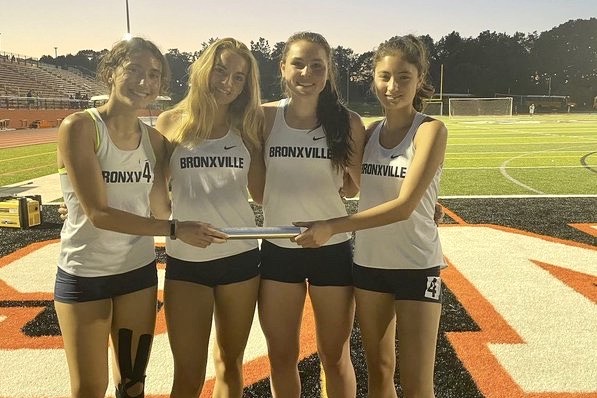 Bronxville 4x800m relay qualifies for the New York State Championships. Photo courtesy of @BXVgirlstrack.
Girls' Lacrosse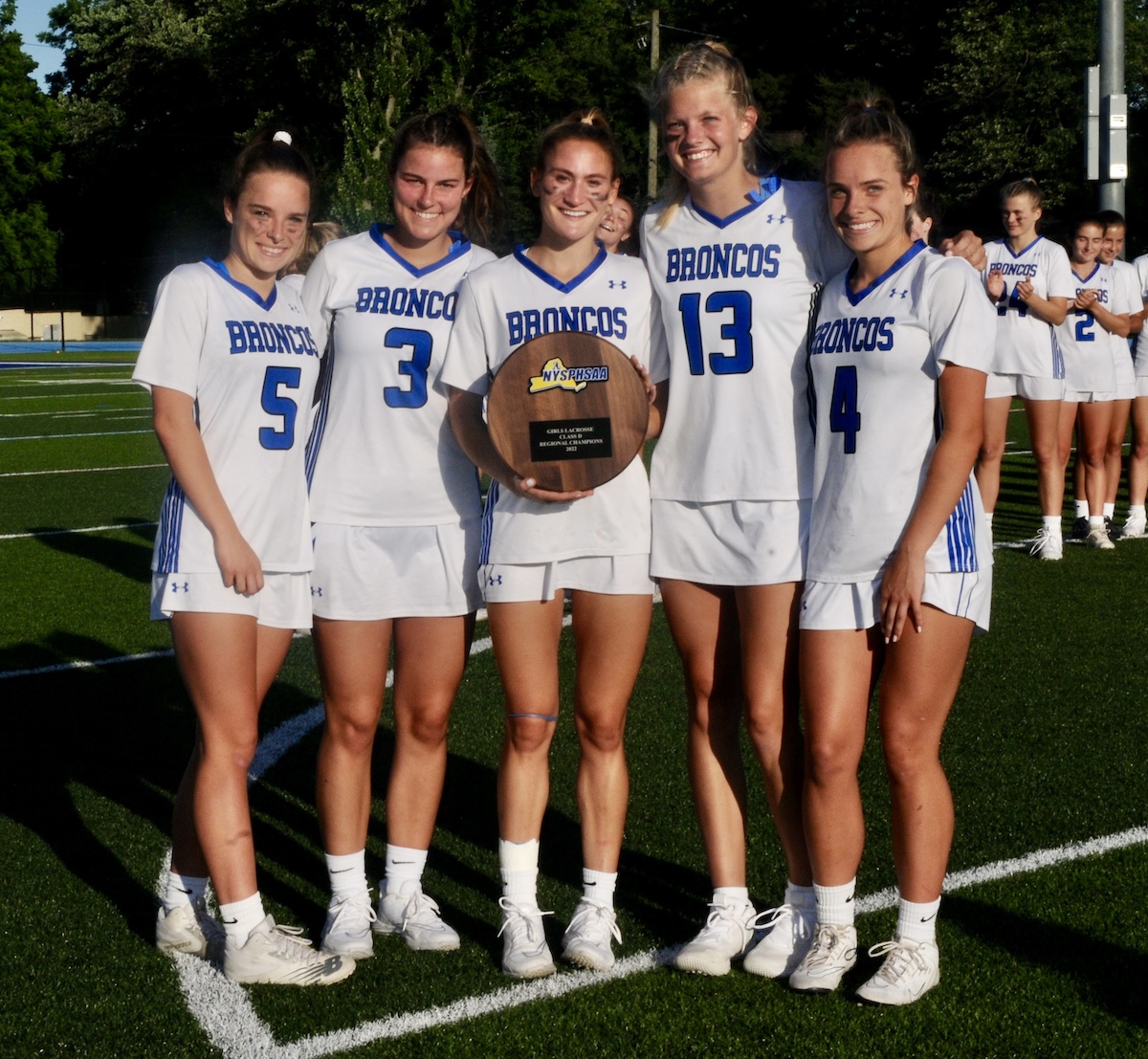 The Bronxville girls' lacrosse team advanced to the New York State Semifinals with an overpowering 18-1 win over Section 2's Schuylerville. Bronxville scored two in the first minute of the game and lead 11-0 at half. The 19-1 Broncos never let up allowing only one goal with eight minutes left in the game. The Broncos scoring was led by Caroline Ircha who scored five goals. Megan Krestinski had 4G, 3A,  Kiki Tormey and Molly Krestinski both had hat tricks, Bridget Finely, Ana Becker and Lily Crystal each scored one. Catherine Berkery had four assists.
The Broncos will play in the Class D state semifinals against Section 8's Cold Spring Harbor at SUNY Cortland on Friday at 3PM.  The other semifinal bracket features Section 3's Skaneateles against Section 5's Palmyra-Macedon. The state final game will take place on Saturday at 4:30PM.
Golf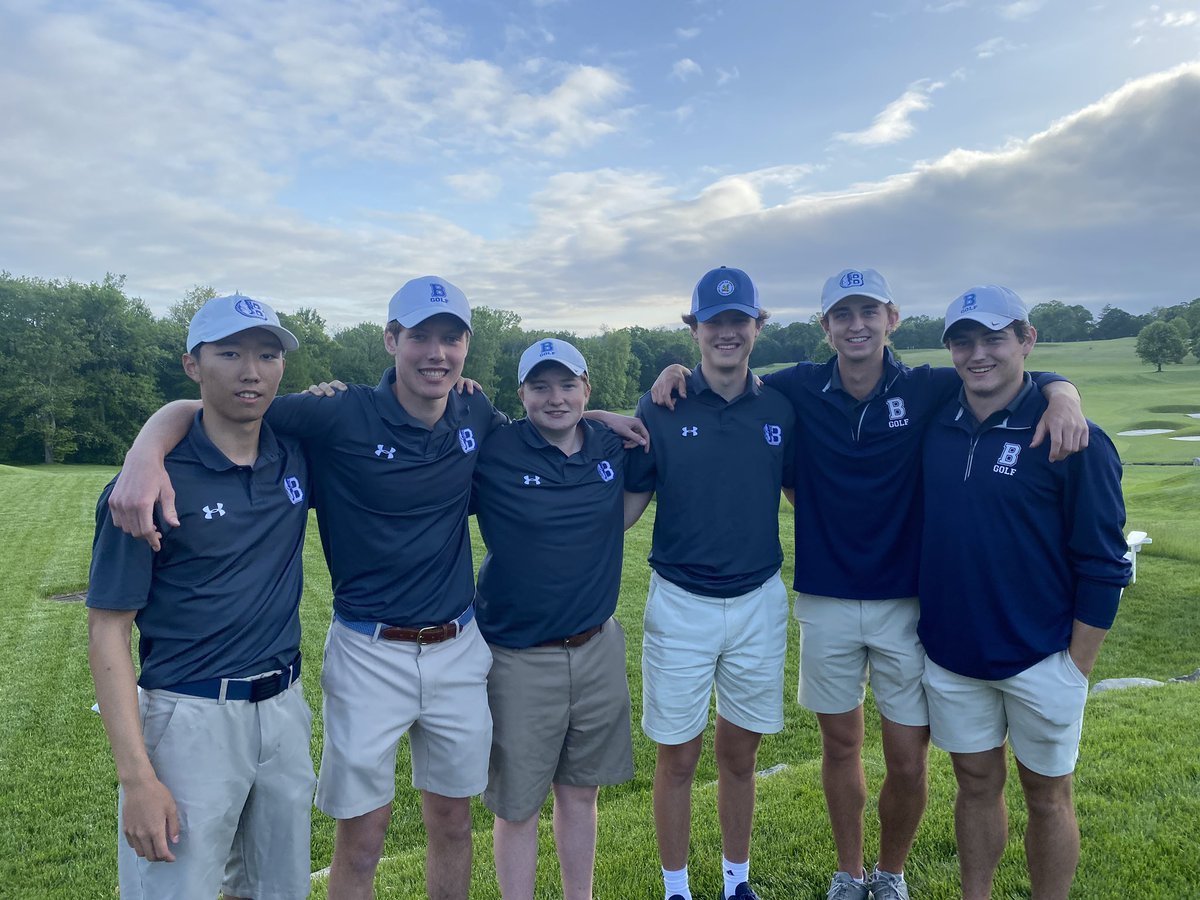 L to R: Will Fang, Charles van Tienhoven, Eddie Hannigan, Owen Atkeson, Greydon O'Keefe, and David O'Shaughnessy after winning the Team Championship in May. Photo courtesy of @BronxvilleGolf.
The Bronxville boys' golf team won the Section 1 Team Championship on May 26th. Playing at Fenway Country Club in Scarsdale, the Broncos won with a 209 over Carmel (214) and Mamaroneck and Scarsdale's 218. In the Team Championship, Greydon O'Keefe was the low scorer with 36, followed by Eddie Hannigan, 41, Charles van Tienhoven, 43, David O'Shaugnessy, 44, Will Fang, 45, and Owen Atkeson, 46.
Greydon O'Keefe competed at the New York State Championships this past weekend. At the Mark Twain Golf Course in Elmira, O'Keefe shot a 77 in round 1 and an 82 in round 2 and finished 46th overall.
At the Girls' Golf State Championship at McGregor Links Country Club in Wilton, Molly Stoltz tied for 31st place after shooting an 89 in Round 1 and an 83 in Round 2.  Stoltz and her nine other teammates from Section 1 won the Section Team Championship with a. 1102. Section 8 placed second with a 1122, and Section 5 placed 3rd with a 1182.