Pictured: Freshman on the Girls Cross County team
By Katharine Outcalt
Oct. 13, 2021: It was an exciting day at Van Cortlandt Park last Saturday as the Bronxville Girls and Boys Cross Country teams competed in the 49th annual Manhattan College XC Invitational. This event is the largest one-day high school cross country meet in the world averaging more than 300 teams and 10,000 runners annually and Bronxville runners showed up strong.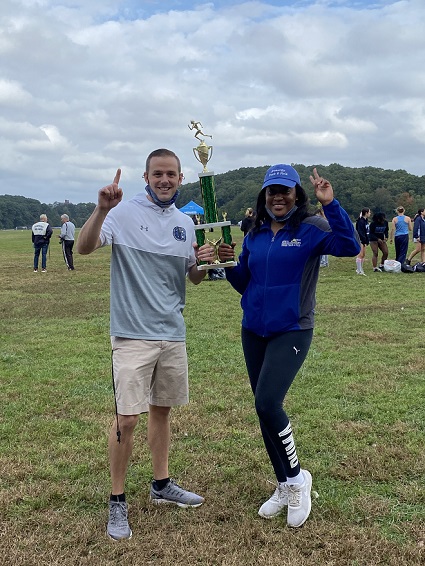 Cross County Girls Head coach Keina Samuels and Assistant Coach Brian Halling
Conditions were near perfect with cool, overcast skies as
Charlotte Murray
led the freshman girls to victory with her 2
nd
place finish in a time of 7:55.6 over the 1.25 mile course. Finishing right behind Charlotte in 7
th
place was
Linnea Hentschel
(8:05.2) followed by
Kailee Fino
, 8
th
(8:05.7),
Kate Outcalt
, 23
rd
(8:26.8) and
Juliet Winiecki
, 27
th
(8:33.2).
Bronxville Girls Varsity took second place only eight points behind top ranked Pearl River. Out of 144 participants,
Maddy Williams
, who finished first for the Broncos, placed 3
rd
(15:17.4) and
Ava Black
finished 4
th
(15:17.9). Also finishing were
Lux Burgin
, 13
th
(16:18.8),
Katie O'Hare
, 18th (16:53.1),
Rory Denning
, 35th (17:43.4),
Quinn Sheehan
, 37th (17:54.1) and
Meghan Curran
, 86th (20:00.6).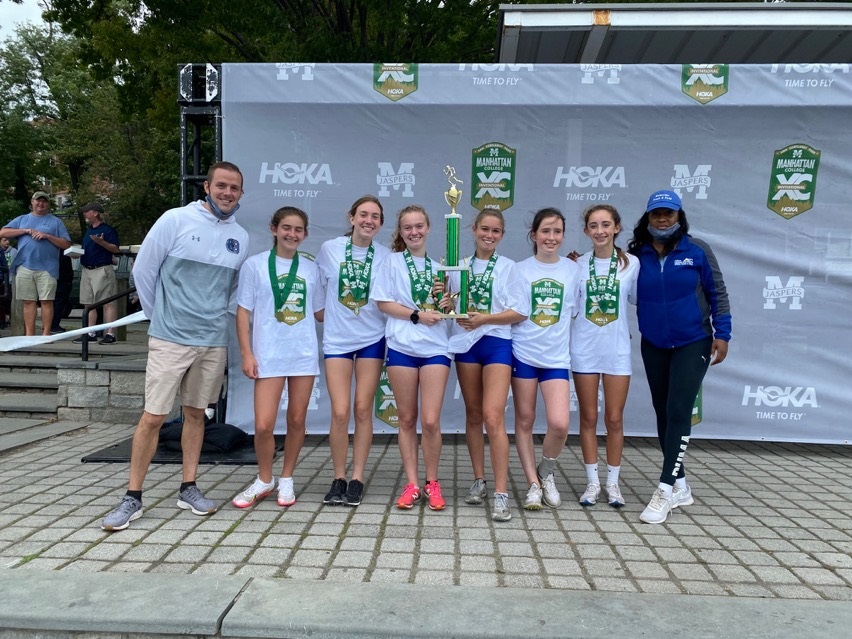 Girls cross country Varsity team
The Freshman Boys were led by Skylar Lau who placed 3rd with a time of 6:24.5. Also scoring for Bronxville were William Hogue, 7th (6:41.6), Kiernan McBride, 8th (6:43.6), Julian Gonzalez, 11th (6:50.2), Liam Greenfield, 27th (7:18.8), Kai Shubert, 34th (7:26.9), and Thomas Henningson, 44th (7:43.4). Also finishing for the Broncos were Aidan Gegenwarth (8:25.1), Gamunu Withana (8:40.8) and Roan Merluccio (9:29.2).
J.W. Henningson finished first for the Boys Varsity, coming in with a time of 15:35.7. He was followed by Andrew Jensen (73rd), Ian Gegenwarth (83rd), Luke Corr (100th), James Balseiro (117th) and John Rizzo (123rd).
The Girls Varsity team is currently ranked first in NY state for Class C. They will compete this weekend at the Section 1 Coaches Invitational at Bowdoin State Park in Wappinger Falls.