Coach Donny Lucas (left) and Coach Don Cupertino (right) after hitting 300 and 500 career wins, respectively. 
By S.Q DeJoy and J. Murrer
Oct. 13, 2021:  The Thursday night soccer games during the homecoming week delivered more than anyone could hope for. With the fans out in full force enjoying the games, both the Bronxville soccer teams picked up wins, and their coaches, Don Cupertino and Donny Lucas, hit major coaching milestones: Cupertino won his 500th career game, and Lucas picked up his 300th career win.  
In the first game of the evening, the boys' team defeated cross-town rival Tuckahoe 2-0 with first half goals from Aiden Sulmiski and Wilder Burgin. In the second game under lights, the girls' team earned a 1-0 win over a strong Irvington team thanks to an early goal from Lily Jebejian and 12 saves from Milly Koenig.
"It certainly wasn't easy as Irvington is a very tough opponent," said Cupertino, who has been the girls' soccer coach for 32 seasons. "Milly had a tremendous game saving numerous scoring opportunities for Irvington."
Lucas, who is the "newcomer" to Bronxville soccer having been the boys' coach for 24 years, was thrilled to be awarded his 300th win plaque after the win over Tuckahoe. His lifetime record is 301-123-24, and his teams have won three Sectional Championships, one Regional Championship and one State Championship.
"The Bronxville boys' soccer program has always been about family and tradition," said Lucas. "I have been blessed to be the head coach since 1997.  This is not just something that I did, this is a program achievement.  All the current players and alumni made this all possible." 
Both current AD Joe Haven and former AD Karen Peterson were on hand to present Coach Lucas with his 300th career win plaque.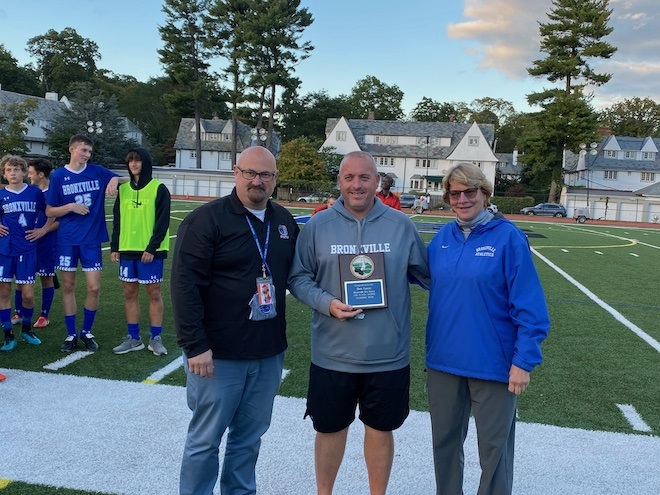 Coach Lucas after receiving the plaque on Thursday. Photo courtesy of @sports_broncos.
"Karen Peterson is a well-respected name among Athletic Directors in Section 1 and across New York State," said Lucas. "To have her at the game that night was special and means so much to me."
After Lucas received his award, the Bronco girls took the field and helped make history of their own by giving Coach Cupertino his 500th win. Cupertino's high school soccer coach, Tony Martelli, was on hand for this remarkable moment.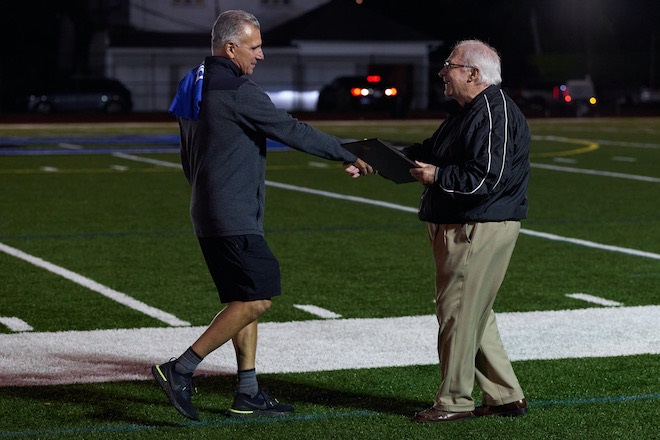 Cupertino receiving his award from his former high school coach, Tony Martelli. Photo by David Fenner.
"Tony being there was extra special," said Cupertino. "He is an amazing coach who taught me so much during the four years that I had the privilege to play for him at Washingtonville High School.   It brought tears of emotion when I saw him standing there to present me with the plaque."
Behind every soccer coach there is a supporting cast. Lucas gave special thanks to his wife Maria and his daughters, Olivia and Ella, for all the support they have given him over the years.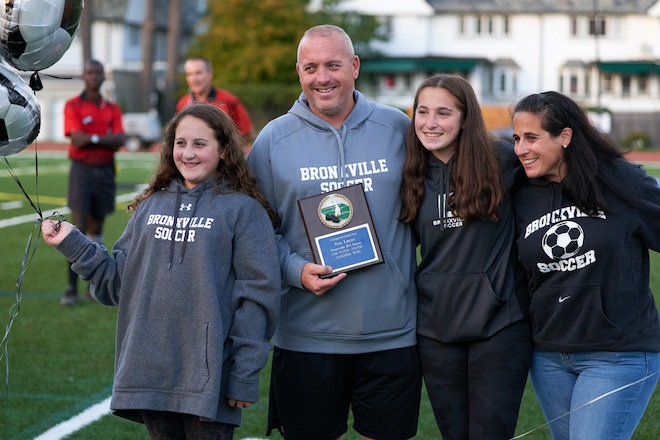 Coach Lucas with his wife and daughters after the Tuckahoe win. Photo by David Fenner.
Coach Cupertino and his wife, Eileen, have sponsored countless dinners for the teams over the years, including twelve dinners that they held the season before the pandemic. All of his children, Kathleen, Kristine and Michael, were outstanding soccer players for Bronxville, and Cupertino coached both Kathleen and Kristine. His career record of 501-82-38 includes 20 Section 1 titles, one regional title, and two state championships.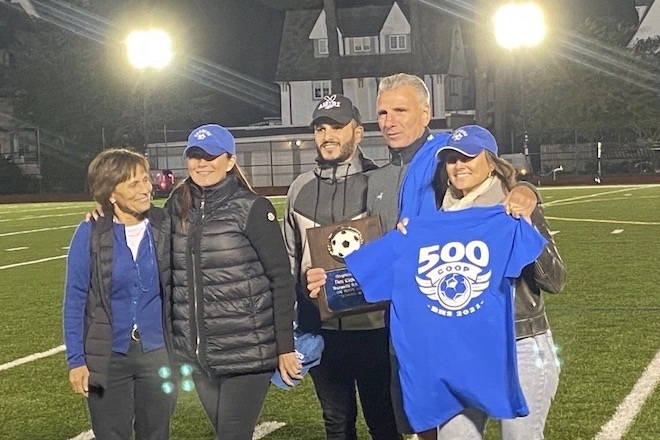 Pictured: The Cupertino family at Chambers Field after the win over Irvington. Photo by David Fenner.
Both Lucas and Cupertino have been around long enough to have coached on Bronxville's grass field and were present for the construction of both the first and second turf fields.  On the downside, they had to deal with three different floods on the turf field and, last year, the uncertainty of the pandemic. Through all of this, they were able to develop talent and keep all of their players motivated.
Retired AD Karen Peterson has great admiration for these two top-notch coaches.
"Well, I always joked that both coaches 'came with the job'," said Peterson. "I wish I could take credit for hiring such competent coaches but, lucky for me, they were both already at Bronxville when I started.  It was such a pleasure for me to work with them for 22 years.  Both Coach Lucas and Coach Cupertino appreciate how athletics helps to develop the whole student as not just an athlete but as a person, and they run their programs with that goal in mind.  I was thrilled that they both met these great coaching milestones on the same night!"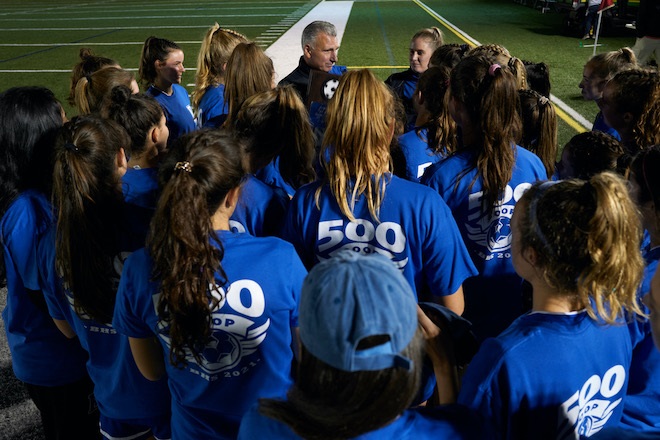 The girls' soccer team wearing t-shirts to commemorate Cupertino's career wins. Photo by David Fenner.
Go Broncos!