The Bronxville girls' lacrosse team. Photo by Jane Ircha.
By S. Quinn DeJoy and J. Murrer
May 5, 2021: The lacrosse players are back out on the field after missing the entire season last year. All ages are out practicing from the youngest of players who can barely hold their sticks to top tier varsity athletes. 
There is non-stop action at Hayes and Chambers Fields, and with the boys' and girls' varsity teams ranked in Lohud's top ten, there is an opportunity to see some really great high school lacrosse games. The Class D Broncos can compete with the best, including the much larger Class A schools.
One of the top match-ups in Section 1 took place yesterday as the Broncos faced Class A Suffern on their home turf. The Bronxville girls' team, always a top contender in Section 1, received a preseason ranking of No. 3 in Lohud's Power Rankings, and Suffern was given the No. 1 ranking.
In the game against the Mounties, the Broncos were the first to score with a goal by Captain Alex Doukas, but Suffern fought back and tied the game a minute later.  Back and forth scoring became the theme of the game and at halftime, the score was all tied up at four. 
It was not until eight minutes into the second half that the Broncos took their first two-point lead, 8-6.  Each team scored two more goals for a final score of 10-8.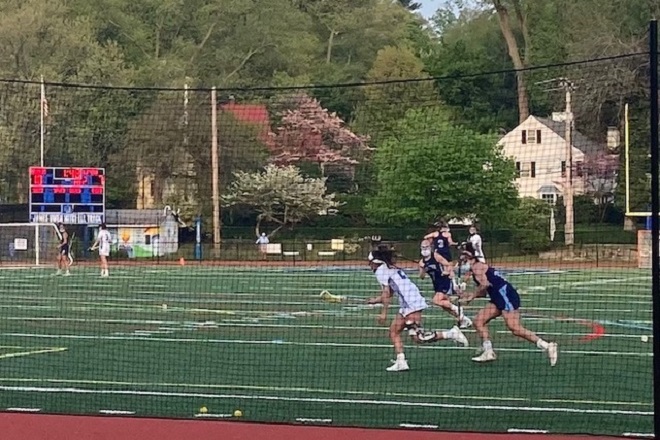 Alex Doukas taking the ball to the goal in the game against Suffern. Photo by S. Quinn DeJoy.
"Everyone brought their A game," said Doukas. "We worked hard and it paid off.  Suffern is a tough opponent and they played very well. The game could have gone either way. I'm so happy we finished strong for the win."
The girls' team, led by captains Alex Doukas, Katie Formato and Betsy Marshall, opened last week with a wins over Hendrick Hudson and North Rockland (15-7). In the North Rockland game, top scorers included Megan Krestinski (4G/1A)), Molly Krestinski (4G), and Victoria Ruffo (3G/1A). Also scoring for the team were Catherine Berkery (1G), Bridget Finley (1G), Kiki Tormey (1G), Anna Becker (1G), Caroline Ircha (3A), and Alex Doukas (1A).
The Bronco girls' team is loaded with talent. Doukas, who plays attack for the Broncos, was named to LoHud's Elite 11, a list of that includes the top players in all of Section 1. Four other Bronxville players were recognized by LoHud as players to watch:  Caroline Ircha (Jr., midfielder), Megan Krestinski (Jr., midfielder), Molly Krestinski (Jr.,midfielders) and Victoria Ruffo (Sr., attack).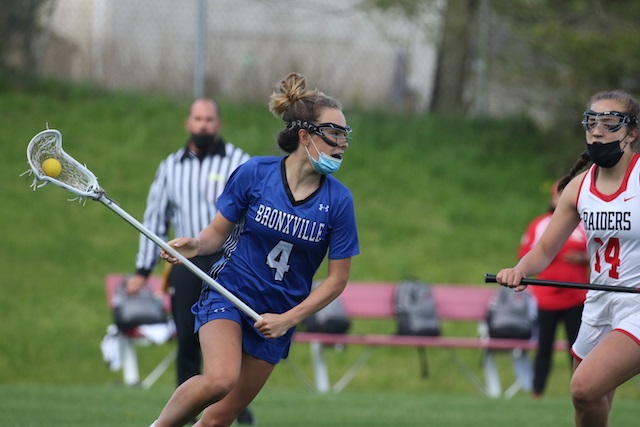 Molly Krestinski (4) in the game against North Rockland. Photo by Joe Villanueva.
The Bronxville girls' lacrosse team is always a powerhouse in Section 1 and finished as the Class D state runner-up for three straight years (2017-2019).  They have always played a tough schedule and this year is no different with games against the top ranked teams in Section 1, including the game against Suffern yesterday. During the rest of the season, they will face five more teams currently ranked in the top ten: John Jay Cross River, Yorktown, Rye, Mamaroneck, and Somers.
The girls' will play their second big game this week against No. 2 John Jay Cross River at home on Thursday.
"I'm looking forward to our season after missing last spring due to Covid 19," said Doukas.  "It really feels great to be back out on the field competing as a team again."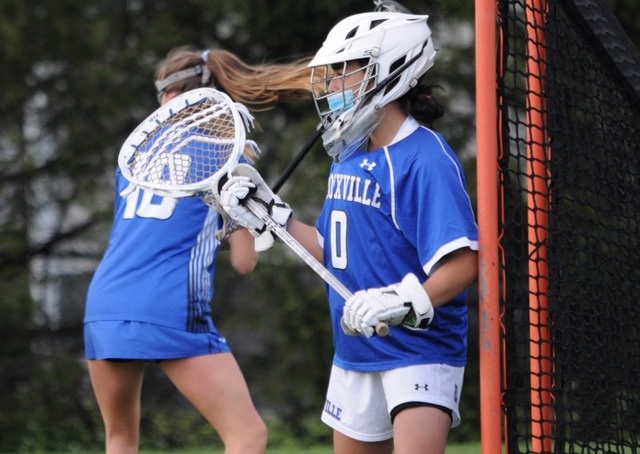 Goalie Olivia Shinsato and Betsy Marshall (18). Photo by Jane Ircha.
Boys' Lacrosse
The boys' lacrosse team, ranked No. 10 in the Lohud Power Rankings, had an 15-3 win over No. 6 John Jay Cross River in their opening game, but suffered a 15-5 loss to nationally-ranked Shoreham-Wading River on Monday.
In the John Jay Cross River game, the Broncos got off to a strong start and were up 7-0 at the end of the first quarter. Scoring in the game against the Wolves were Chris Patterson (5G, 1A), Tommy Garofalo (4G, 2A), Connor Randall (3G/1A), Henry Sheehan (2G/1A), and Ben Davis (1G). Henry Donohue, who won 15 faceoffs, was named Lohud Player of the Game.
Senior Henry Sheehan, who plays attack for the Broncos, was named to LoHud's watch list, which recognizes outstanding players in Section 1.
The Bronxville boys improved their record to 2-1 with a 17-5 win against Irvington yesterday. They will face Briarcliff at home on Saturday at 3PM.
College Lacrosse News
2019 Bronxville grad Allie Berkery plays for the Northwestern lacrosse team that just won the Big 10 Championship this past weekend. Northwestern automatically qualifies for the NCAA tournament that begins on May 14th. Stay tuned.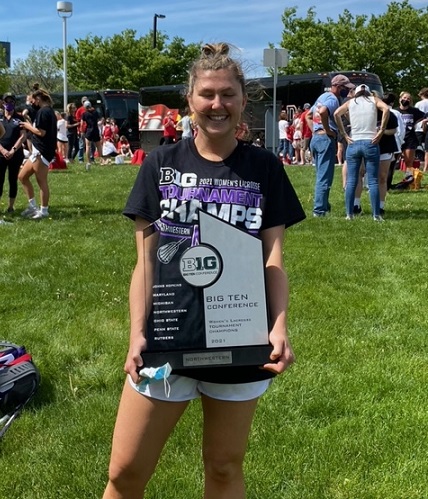 Go Broncos.