Henry Donohue running for a touchdown in the Rye Neck Game. Photo by David Fenner. 
By S. Quinn DeJoy and J. Murrer
Apr. 28, 2021: The varsity football team had one of its best performances in many years. They finished the Fall 2 season with a 6-0 record, scoring 259 points and holding their opponents to just three touchdowns. 
The Broncos had four shutouts this season, including a 54-0 win over Rye Neck on Friday. Scoring in that game were Connor Randall, Will Murray, Kyle Dillon, Riley Ramundo, and Henry Donohue. 
Donohue, who played both quarterback and running back, ran for 13 touchdowns during the season and threw for one. He finished with 943 yards rushing, which according to LoHud, places him No. 2 in all of Section 1. In the first half of the Rye Neck game, he hit 2000 career yards rushing, an impressive mark given his senior season was only six games. 
"We were a pretty run-heavy team this season," said Donohoe, "and offensive linemen George McCormick, TJ Curran, and Peyton Beldotti paved the way," 
Also running for the Broncos was senior Connor Randall, who was second in rushing yards after Donohue.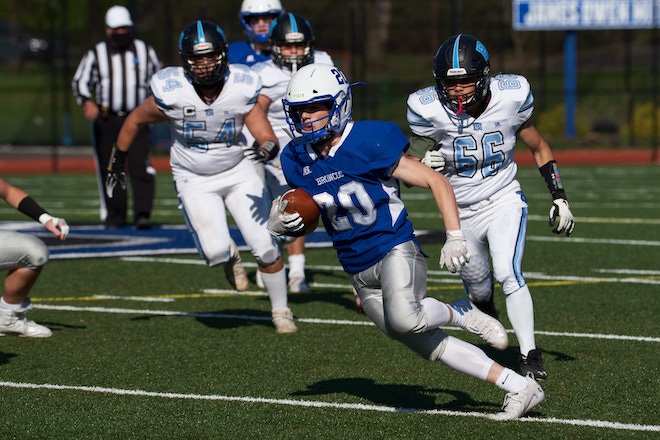 Connor Randall scoring for the Broncos in the Rye Neck game. Photo by David Fenner. 
The defense only gave up three touchdowns during the six-game season. Bronxville's defensive backs and linebackers were a key part of the team's success. 
"Teams tried to throw passes, but our d-backs, Eric Fleisig and Ben Davis, did well shutting them down," said Donohue. "Will Murray at middle linebacker had a really good season defensively, and so did Chris Kelty."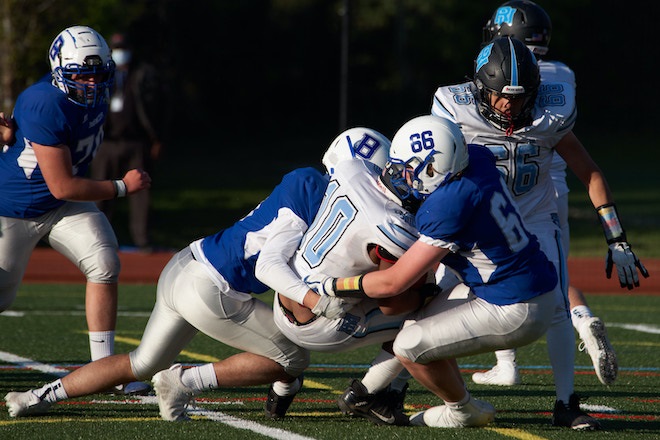 The Bronco defense at the Rye Neck Game. Photo by David Fenner. 
The 22 seniors on the Bronxville team were grateful to have had a season and were certainly happy about how the season worked out. Most of them had played together for many years, and at the end of the Rye Neck game, their emotions got the better of them. 
 "I am not going to play with these guys again," lamented Donohue. "It is definitely a special group, and I am going to miss playing with them. I don't think it has really set in yet. We were all pretty emotional after the game."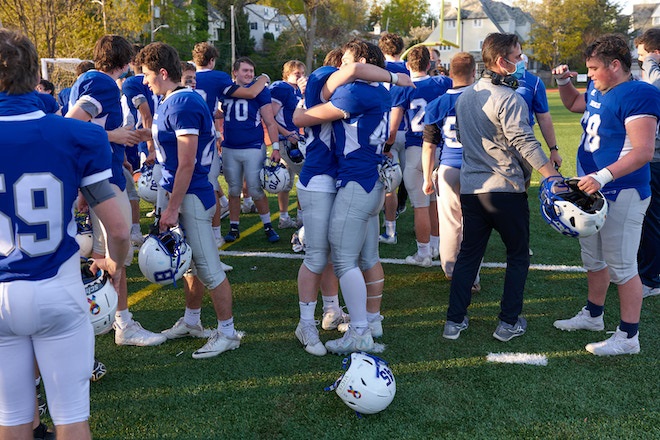 The Broncos gather after the final game of the season. Photo by David Fenner. 
Seniors: Jonty Onslow (1), Eric Fleisig (3), Duncan Roesser (6), Willie Swenson (8), Jack Pagano (9), Jack Borsch (10), Johnny Moynihan (11), Ben Davis (16), Calvin Golimbu (17), J.P. Swenson (19), Connor Randall (20), Earl Gretzinger (22), Kyle Dillon (23), Henry Donohue (24), Will Murray (45), George McCormick (55), Peyton Beldotti (66), T.J. Curran (68), Teddy Wardell (70), Mikey Weild (80), and Riley Ramundo (81). 
Swimming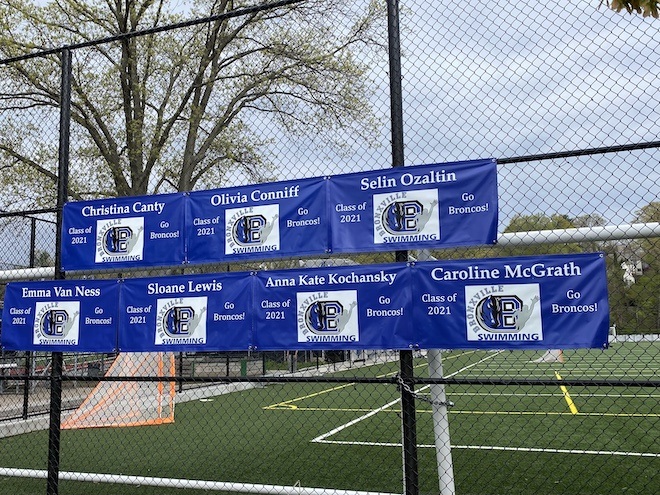 Banners for senior swimmers. Photo by J. Murrer. 
The Fall 2 season also included the girls' swim team who practiced at the YMCA of New Rochelle three days a week, but due to the pandemic, all of their dual meets, along with their one championship sectional meet, were virtual. 
It was also a very different year in that there was no preseason, and they could not have team dinners or other bonding events. 
"Despite this, I think our upperclassman did a great job of welcoming the middle schoolers and new team members," said sophomore Julia Bazinet. "Our coach Dom [Galimi] was great this season. He made sure that every swimmer got opportunities to race, pushed everybody to perform their best, and always made sure everyone was having fun."
The team finished the season with a 2-7 record, and three swimmers qualified for sectionals: Julia Bazinet 200 and 500 free (sophomore), Julia Reich 500 free (junior), Keala Schubert 50 free (sophomore).
"Throughout the season, our team has its ups and downs," noted Bazinet. "But, overall, I am proud of how our team performed. Hopefully, next year the swim season will be back to normal!"
Seniors: Caroline McGrath (captain), Christina Canty (captain), Olivia Conniff, Selin Ozaltin, Emma Van Ness, Sloane Lewis, and Anna Kate Kochansky. 
Go Broncos.