Patricia Knox, owner of Etoile.  Photos by A. Warner
By Karen Talbot
Mar. 1, 2023: A new store, owned by Patricia Knox, has recently opened in Bronxville.  Located at 5 Pondfield Road, Etoile Home sells "everything for the home." 
The store is light and airy, and filled with an array of timeless and unique items in Home Decor, Furniture, Entertaining, Art & Objects and Gifts.  The store is stocked with treasures, attractively displayed, which mainly include items that cannot be found on the internet.
Patricia also provides interior design services. and she will work on both small and large projects.  She believes in making decorating easy for her clients and states that, "Good Design Should Be Timeless."
In the Home Decor category, you can find Etoile scented candles and cone and tapered colored candles.  Both items are perfect for your home or to give as a gift.  There are also a myriad of custom-made pillows, table and floor lamps and handsome hurricane lamps, set in brass holders, which can be filled with flowers or a candle. The Led cordless buffet lamps in white, gold or silver are striking and can be used either indoors or outdoors.
Etoile Home also carries private label upholstered furniture, custom-made in Hickory, N.C.  Knox notes that these items can go in both a modern and traditional homes.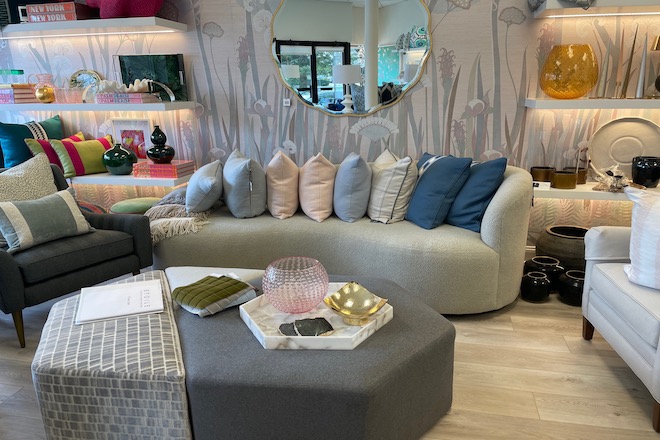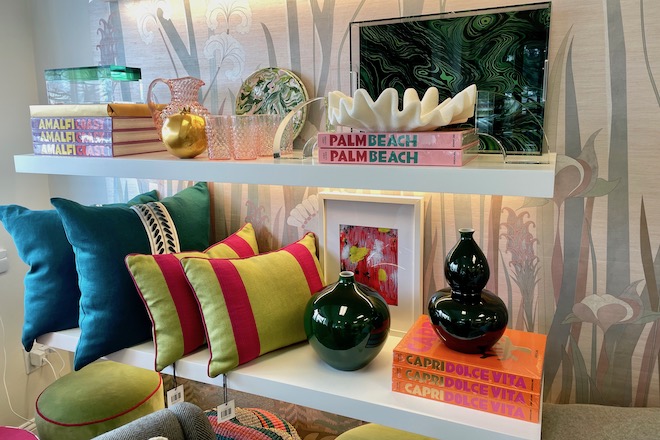 For entertaining,
Etoile Home
sells glassware and barware in clear and colors, washable linen placemats in a variety of colors, and trays in raffia, porcelain and tortoise acrylic.  The number one best seller is colorful Venetian glass vases from Italy, which are available in different sizes.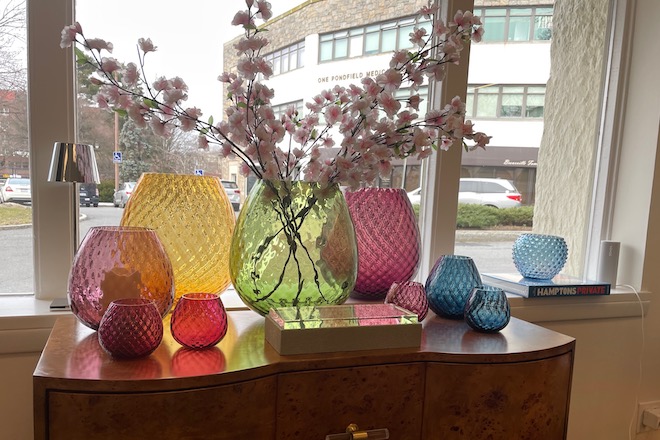 In the Arts & Objects category, you will find works from artists, including ceramic pieces and acrylic paintings, on display throughout the store.  Large Boyla Baskets from Tanzania, produced under Fair Trade guidelines, are unique and noteworthy.
The store is also the perfect place to find hostess, wedding and special occasion gifts.  For example,
Etoile Home
carries Hob Nail small bowls from the Czech Republic that are perfect for candy, nuts or votive candles, stone cheese boards with horn salad servers, paper cocktail napkins in attractive patterns, Thuja tortoise wood plates from Morocco and even Backgammon and Poker sets.
A
Design Studio
is above the store where clients can choose fabrics, wallpaper or carpets. Patricia works as a team with Maggie Sheehan and Nora Nazzaro, both local residents. She also has a
Travel Blog,
which gives travel, fashion and cooking tips, making Etoile Home a lifestyle brand.
Purchases include gift wrapping and local delivery is available.  Etoile Home is open Tues. - Sat. from 11:00am to 5:00pm.
5 Pondfield Road, Bronxville
914-202-9171
This email address is being protected from spambots. You need JavaScript enabled to view it.