By the Family
July 12, 2023: It's been said that life isn't measured in the number of years you live, but by the number of stories you can tell.  If that's true, then Carlo Vittorini, who died on June 25th, at the age of 94 on his beloved Nantucket Island, indeed had a very full life. His greatest joy was to share stories of his Philadelphia boyhood home, his years at Penn, his extended family in Italy, and his fulfilling career in the publishing business. Those stories not only were his personal history, but they also became family lore.
Carlo Vittorini enjoyed 50 distinguished years in publishing, a career that began in 1950 after graduating with a BA honors degree in journalism from the University of Pennsylvania.  
He retired in the year 2000 as chairman, publisher, and CEO of Parade Publications.  When he joined Parade as publisher in 1979, the magazine had revenue of $150 million. By the time he retired in 2000, its revenue was over $500 million. Circulation had tripled to 37 million in 750 newspapers. A total professional and a demanding boss, he was seen as a tough teacher who made people better with lessons not fully appreciated until later.
Prior to joining Parade Publications, he was president of Harlequin Magazines, Inc., New York, as well as Charter Publishing Co., where his responsibilities included the publication of Ladies Home Journal, Sport, Redbook, and several special interest publications.  Earlier in his career, however, he was one of the original "Mad Men" in New York City, selling advertising for LOOK and the Saturday Evening Post.  He launched his post-college publishing career in the promotion and production departments of the Chilton Company and Farm Journal.
Perhaps it was clear from an early age that he would be a success in the publishing field.  His first job was as a newspaper delivery boy in his hometown of Havertown, Pennsylvania.  The story goes that he persuaded other delivery boys to sell him portions of their routes to create his own direct one so that he could distribute more papers in less time.  For him, greater efficiency, more money.
Carlo cherished his parents, particularly his Italian-born father, Domenico Vittorini, who was a professor of Romance Languages at the University of Pennsylvania and a renowned Dante scholar.  As he told his parents' love story, his mother, American Helen Whitney, was in Professor Vittorini's very first class, and the day after she graduated, they married.  One of Carlo's happier accomplishments was to re-publish his father's most enduring work, a translation of Italian children's folk tales named The Thread of Life, (Crown Publishers,1995).  He well remembered his father telling those stories to him as a young boy — often in Italian, which was spoken in their home.
In his study at home one midnight, his father answered the doorbell to find a non-English speaking Italian neighbor seeking help from "Dr." Vittorini for his seriously ailing wife.  The Professor rushed her to the hospital, saving her life.  Every year thereafter, for more than 20 years, the grateful husband brought a brace of pheasants to their family's doorstep to express his thanks.  
An early adverse event led 8-year old Carlo to excel in his chosen sport of track and cross country running.  As the story was told, the doctors tapped the sick boy's spine to determine if he had polio; Carlo squirmed, the needle broke off in his back, and he had to be sedentary for months.  Once healed, he channeled his pent-up energy into running, and became a winning contender on his Haverford high school and Penn track/cross country teams, as well as at the Penn Relays, and the Pennsylvania State Cross Country championship.
His track expertise brought an opportunity for a scholarship to a mid-west university, but his father's preference for him was the University of Pennsylvania. The story goes that his father reasoned that if he took the offered scholarship, he would deprive someone else of receiving it, while no other person could be given the faculty scholarship at Penn.  He went to Penn.
Carlo preferred English to his father's native tongue, but knew Italian well.  Even so, his father insisted that he be in his graduate level Italian class at the university.  The story was told of a day Carlo ran to see the posted semester grades and saw that "Stanley Tannenbaum" was given a better grade than he.  Carlo stormed into his father's study and said with thorough pique, "I know more Italian than Stanley will ever know!"  His father's response:  "That may be true, but he learned more."  
A creative enthusiasm in early publishing positions in Philadelphia led to a promotion to New York ad sales at the Saturday Evening Post.  Carlo was sent to Detroit to work on the People's Drug Store account that required a visit to 32 stores. Expense money was limited and after visiting only two of their stores, his funds were gone.  He had noticed, however, a young man responsible for photograph film developing for each store and Carlo made a convincing argument to ride with him on his route.  He got the job done with limited expense, the story spread within the company, and shortly thereafter, Carlo was moving up and on to New York City to join the "Mad Men" of Madison Avenue.
Carlo Vittorini served on various industry councils, including the Ad Council board, the board of the Magazine Publishers Association, and as chairman of the board of the American Advertising Federation.  A frequent speaker at industry events, he was interviewed as an authority on the publishing industry on numerous radio and television programs, including the "Today" show on NBC television network, as well as PBS and Bloomberg News Network.  The industry lore was that when interviewed by Matt Lauer on "Today" about a Parade magazine feature on "Sex over Sixty," he was asked how he personally viewed the research findings on which the article was based.  "I find it very encouraging," he was said to have replied with a twinkle in his eye.
Carlo was a trustee for several years of the Jackson Laboratory in Bar Harbor, Maine, a non-profit biomedical research institution whose mission is to discover genomic solutions for disease with a focus on cancer, immunology, autoimmune diseases, neuroscience, and neurodegenerative diseases, including Alzheimer's.
For many years he was a resident of Bedford, New York, but a second marriage in 1993 prompted a move to Bronxville with his new wife, Nancy.  Those who knew him have often heard the story of how their lives had intersected in the publishing field; and how an unlikely duo found life-long happiness.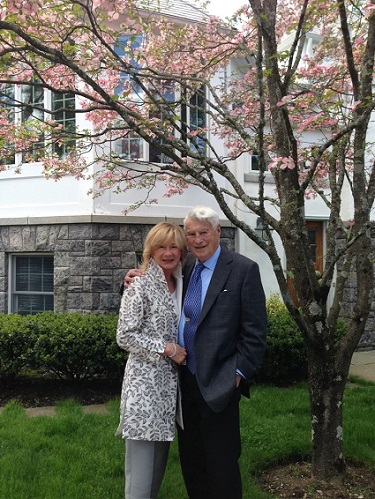 Nancy and Carlo Vittorini
In Bronxville, Carlo was involved in the community as a member of The Reformed Church of Bronxville and Siwanoy Country Club.  After retiring in the year 2000, he became an adjunct professor at Concordia College, teaching a course in the business of magazine publishing, and he was involved with several community non-profit organizations, including Graham Windham Services to Families and Children in New York City, the Bronxville Adult School, a founding board member of Gramatan Village, co-chair of The Little Forum, and as a founding member of the Bronxville Historical Conservancy.  He was also instrumental on the neighborhood team that turned a local leaf dump into The Nature Preserve of Bronxville, Eastchester, and Tuckahoe. In his leisure time he turned to a life-long love of bridge, racking up master points with his favorite group, the "Geezers."
In 2021, the Vittorinis moved to Palm Beach, Florida, where as residents they became involved in their new community as members of The Society of the Four Arts, the Preservation Foundation of Palm Beach, and the Sailfish Club of Florida -- and where as grandparents they had the frequent joy of being with family.
In addition to his wife, Nancy, he is survived by his son, Stephen Whitney Vittorini, daughter-in-law Gayle, and grandchildren Stephen and Hope of Austin, Texas; his stepchildren, Frank and wife Megan Coleman, of Atlanta, Georgia; and Ashley and husband Robert Frisbie, and grandsons Robert, Thomas, and Charles of Palm Beach, Florida. He is also survived by nephew Robert Spurck and niece, Susan Harding, and extended Vittorini family members who live in L'Aquila, Italy.  
A family memorial service will be held in Nantucket in late September.  In lieu of flowers, donations may be made to the Nantucket Cottage Hospital, 57 Prospect Street, Nantucket, MA 02554.