By Karen Talbot with photos by N. Bower
July 12, 2023: The Boulder Ledge Garden Club, located in Bronxville, was started in 1966 to stimulate the knowledge and love of gardening and flower arranging for its membership. Forty members and six sustainers pay annual dues and meet about ten times a year to listen to speakers on various gardening topics.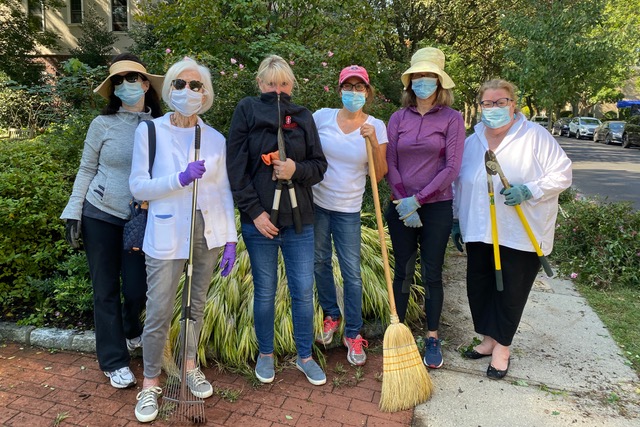 Some of the Members of Boulder Ledge Garden Club
The December and Spring meetings are held at the Bronxville Library and open to the public.  In March, the group met at Mrs. Morgan's Flower Shop where Robert Krause, the owner and master floral arranger, provided a lovely informal evening of flowers, nibbles and wine.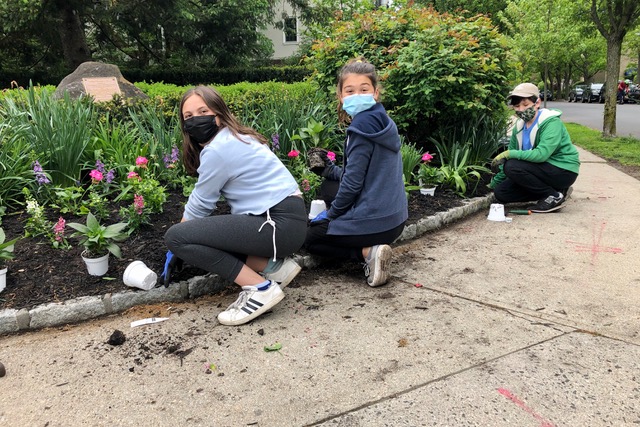 Some Boulder Ledge Garden Club members hard at work in the village
Garden Therapy is important to this organization, and for the past fifteen years in December, the members have been making and decorating wreaths for the Montrose VA Hospital and Facility, where residents, staff and visitors enjoy the spirit of the season.
Boulder
Ledge
 Garden Club is also involved in another Garden Therapy project of Bicentennial Park, located at the corner of Pondfield Road and Meadow Avenue.  They take care of this small beautiful park by planting and pruning the garden for everyone to enjoy as they walk or drive by.  One of the members also oversees her son and three other young men who are part of a community-based day rehabilitation program called "Another Step."
In 2019 and 2020, their significant Fundraiser was raising $18,000 to replace trees in the village.
As part of their World Gardening Project, 
Boulder
Ledge
 contributes to two charitable organizations:  Water for South Sudan and the Dig Deep/Navajo Water Project.  Clubs as well as individuals recognize that through their financial contributions, they are helping to provide communities with access to clean and safe water through wells and sewer lines.
Day trips have been taken by the members to visit other gardens and a yearly visit to the Orchid Show at the New York Botanical Garden takes place every Spring.
The 
Boulder
Ledge
 Garden Club is a member of the 9th District Federated Garden Clubs of New York.
KAREN TALBOT