By Eleanor Clifford, 9th Grader, Bronxville School
Jan. 29, 2020: If you were walking in the halls of Bronxville High School in January, you might well have come upon High School students carrying around crying babies in car seats....well, sort of.  
I was one of these high schoolers, and I was carrying around a baby, but not a real one. She was a "digital baby" named Riley, and she was programmed to cry when she needed a diaper change or was hungry or just fussy. This experience is part of the required "Health" class for Bronxville High School.
Our job was to take care of a baby for 24 hours - during school, in the afternoon, in the evening and through the night. I took Riley from class to class, attempting to hold her and a bottle with one hand and scribble down notes with the other (it was a struggle), I would take her out of the class when she was crying. 
After school was over, I lugged Riley in her car seat out of the school and brought her home, praying she wouldn't cry. As Riley was not a real-life baby, it was quite the guessing game to figure out what I needed to do to make her stop crying.  
My next stop was the Bronxville Field Club, and guess who came along with me? Riley. After a couple of hours, I figured out the most efficient way to take care of Riley. I kept the "chime" with me at all times. Unlike a real baby, to let these robotic babies know that their caregiver is here, the caregiver has to "chime in" every time the baby cries, or she won't accept the bottle-feeding or diaper change (this was all explained when you first get your child). 
When the day was over, I was so tired, and all I wanted was a good night's sleep. Of course, that was the last thing that I would have tonight. At 3:20 am, I was awakened by a crying baby who needed a bottle feed, and as parents know, it does not take a short time to feed a baby. So for the next 40 minutes, I was feeding Riley, who then needed to be burped.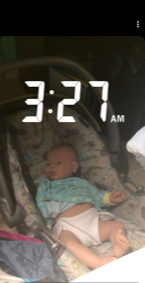 After I finished those two tasks, I was so glad to be going back to sleep and at least get a couple of hours of sleep. But no, as I tried to sleep, Riley continued to make noises that I couldn't stop with the chime (because the chime only helps if they are really crying, not just making noises). For the next half hour, I was rocking Riley back to sleep, and 30 long minutes later, she made the amazing cooing sound that the babies make when they are happy. 
For the rest of the night, I was able to sleep thankfully. For all parents reading this, you may be thinking, "try having a baby for years."  
In the morning, it was time to say goodbye. I said my last goodbyes and sadly dropped Riley off to my Health teacher, Mr. Russert. My days as a mother were over, and I was happy and sad at the same time.
When first hearing about this, you may assume that this part of the Health class curriculum is just to scare students not to have teen pregnancies.
According to Mr. Russert, the main goal of the baby project "is to have a student experience the impact an infant would have on their lives physically, socially, and emotionally."  The second major goal "is to have a student take individual responsibility for another while trying to maintain their busy life."
He says that, while some students would like to keep the baby longer and others are happy the 24-hours is over "the student response to the time commitment and the 'inconvenience' the project brings seem to be universal." 
He also says that "a side benefit is the student realization that becoming a parent is a 24 hour job which doesn't fit neatly into a busy lifestyle." 
Mr Russert says he started this project with "eggs, flour and sugar sacks" and that "the babies have been around for about five years and bring a much different dimension to the project."  
I, for one, thought this experience was truly unique and honestly a little fun (except for night time).

Photo by E. Clifford