By Josefa Paganuzzi, Thompson & Bender for NYP-Lawrence Hospital
May 26, 2021: The American College of Cardiology (ACC) has recognized NewYork-Presbyterian Lawrence Hospital for its demonstrated expertise and commitment in treating patients with chest pain. NewYork-Presbyterian Lawrence Hospital was awarded the Chest Pain Center Accreditation based on rigorous onsite evaluation of the staff's ability to evaluate, diagnose and treat patients who may be experiencing a heart attack.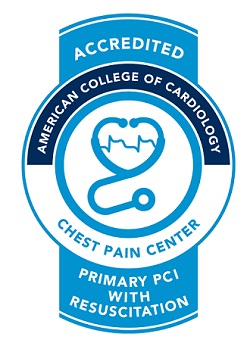 Every year, about 805,000 Americans have a heart attack, according to the Centers for Disease Control and Prevention. The most common symptom of a heart attack for both men and women is chest pain or discomfort. However, women are more likely to have atypical symptoms. Other heart attack symptoms include, but are not limited to, tingling or discomfort in one or both arms, back, shoulder, neck or jaw, shortness of breath, cold sweat, unusual tiredness, heartburn-like feeling, nausea or vomiting, sudden dizziness and fainting.
Hospitals that have earned ACC Chest Pain Center Accreditation have proven exceptional competency in treating patients with heart attack symptoms. They have streamlined their systems, from admission and evaluation to diagnosis and treatment, through appropriate post-discharge care and assistance with patient lifestyle changes.
"This prestigious accreditation is a testament to our commitment to delivering exceptional cardiac care," said Michael Fosina, president of NewYork-Presbyterian Lawrence Hospital. "Our experienced, compassionate care team is dedicated to providing the highest quality care to patients and to educating them about the signs and symptoms of a heart attack so they seek care quickly and live long healthy lives."
NewYork-Presbyterian Hospital is ranked the No. 4 hospital in the nation in cardiology & heart surgery in U.S. News & World Report's Best Hospitals rankings. In recognition of its commitment to rapid cardiac care, NewYork-Presbyterian Lawrence Hospital recently received the Mission: Lifeline STEMI Receiving Center Gold Quality Achievement Award from the American Heart Association for the treatment of patients who experience severe heart attacks. The hospital offers one of the few multidisciplinary cardiopulmonary rehabilitation programs in southern Westchester County for people recovering from a heart attack, cardiac bypass surgery, angioplasty/stent insertion, heart transplantation, or heart valve repair or replacement.
"NewYork-Presbyterian Lawrence Hospital's two cardiac catheterization laboratories combine world-class expertise with the latest technologies and perform about 160 procedures every month, making them among the most experienced catheterization programs in Westchester County," said Dr. Allan Schwartz, chief of cardiology, NewYork-Presbyterian/Columbia University Irving Medical Center and Columbia University Vagelos College of Physicians and Surgeons.. "Patients have access to Columbia physicians, who provide advanced and exceptional cardiac care," he added.
Hospitals receiving Chest Pain Center Accreditation from the ACC must take part in a multi-faceted clinical process that involves: completing a gap analysis; examining variances of care; developing an action plan; a rigorous onsite review; and monitoring for sustained success. Improved methods and strategies for patient care include streamlining processes, implementing guidelines and standards, and adopting best practices in the care of patients experiencing the signs and symptoms of a heart attack. Facilities that achieve accreditation meet or exceed an array of stringent criteria and have organized a team of doctors, nurses, clinicians, and other administrative staff that support the efforts leading to better patient education and improved patient outcomes.
Photo at top by N. Bower
Logo provided by NYP-Lawrence Hospital
Editor's note: As a public service, MyhometownBronxville publishes articles from local institutions, officeholders, and individuals. MyhometownBronxville does not fact-check statements therein, and any opinions expressed do not necessarily reflect the thinking of its staff.