Photo by A. Warner
By Staff
May 5, 2021: Click here for ideas for Mother's Day 2021!  Below is information about upcoming events in and around Bronxville. If you would like to be included in the MHTB listing of events, please send event information to This email address is being protected from spambots. You need JavaScript enabled to view it..
May 6, 2021, 9:00 AM: Interfaith Prayer Service for the National Day of Prayer:  This will be a service on the front steps of Bronxville Village Hall.  This will be a 30-minute service led by clergy from local houses of worship, including: Bronxville Community Church Christ Church Bronxville Golden Sword International Lawrence Hospital Chaplain Department The Reformed Church of Bronxville Sinai Free Synagogue Village Lutheran Church All Are Welcome
May 6 & 13, 2021, 2:00 PM Yoga & Prayer: Join Canon Harriss for Yoga for Prayer on Thursdays, May 6 and May 13 at 2:00pm, in the courtyard of Christ Church Bronxville or inside of the church, depending on the weather. These gentle chair yoga classes are suitable for beginners and older people as well as experienced yogis! No prior experience or equipment necessary. These sessions offer instruction and exercise meant to help support prayer and meditation. To register or learn more, email Canon Harriss at This email address is being protected from spambots. You need JavaScript enabled to view it..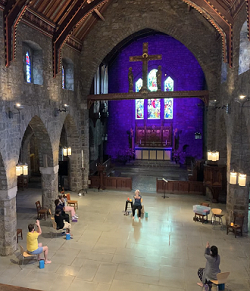 Yoga at Christ Church Bronxville
May 8, 2021, 10:00 AM - 3:00 PM: Mother's Day Raffle to benefit the Bronxville Beautification Council on 95 Pondfield Road in front of Citibank.
May 10, 2021: The Community Fund Annual Golf Outing at Siwanoy County Club. Click here to learn more about the Community Fund.
May 18, 2021, 7:00 AM - 9:00 PM: The Annual Bronxville School Budget Vote and Election of Bronxville School Board Trustees. The polling location is the Blue Gym at the Bronxville School (through the Meadow Avenue entrance). Further detailed information about the election, including how to obtain and vote by absentee ballot, is available on the District website.
May, 2021: Gramatan Village May Magic Event Honoring Mary Marvin. Click here for more information.
Ongoing: Free Face Coverings from the Rotary Club of Bronxville: The Rotary Club of Bronxville has generously donated face coverings to assist our community with the ongoing battle against COVID-19. If you are in need of a face mask please stop by the Village Hall lobby or Bronxville Library and help yourself. Their donation included face masks for children - we have shared those masks with the Bronxville Elementary School. 
Ongoing: Value Drugs Bronxville provides Covid-19 testing and vaccination. Appointment required.
Month of May: The Bronxville Adult School. Click here to go to their catalogue and learn more.
Month of May: The Bronxville Senior Citizens offers Numerous zoom activities.  Click here to go to their website.
Month of May: Gramatan Village will offer many virtual activities for senior citizens this month. Click here to learn more.
Month of May:  Event for Adults, Teens and Children at the Bronxville Public Library in March.  Click here.
June 8, 2021, 7:00 PM: Author Talk with Laura Dave brought to you by Friends of the Bronxville Library. Laura Dave is an international best selling author of several novels. Her latest novel, The Last Thing He Told Me is about mothers and daughters, about the family you create, and how we all have secrets we bury.  The event will be moderated by Jonathan Tropper. Click here to register.
October 14, 2021: Senior Citizens Council 50th Anniversary Benefit