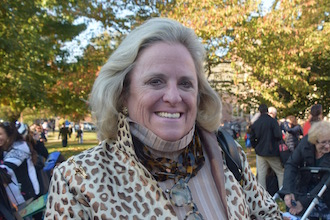 By Mary C. Marvin, Mayor, Village of Bronxville

Oct. 31, 2018:  As you read this, the 2018 election cycle is winding down. The last-minute saturation of the airwaves got me to thinking about all the aspects that prompt us to vote or not vote as Americans.
As a nation, we have a dreadful voting record, as judged by the eligible voters who actually cast a ballot. We rank 31st of 34 nations when compared with developed countries.
Recent national elections in Belgium, Turkey, and Sweden brought out above 80% of the voting public. To be fair, Belgium and Turkey are two of the 28 nations where voting is compulsory. Though not at all strictly enforced, with many excuses accepted, the law does have a dramatic effect on participation. As an example, Chile switched to voluntary voting and the percentage of voters plummeted in one year from 87% participation to 42%. 
High voter turnout in Germany and Sweden is credited to automatic registration by the government when one reaches voting age. Registration, a personal responsibility in the U.S., results in only 65% of those eligible doing the paperwork required.
The date of voting seems to have a great correlation with participation. 
In Australia, Brazil, and Belgium, where voting is always on a weekend or national holiday, participation is above 80%.
Our Tuesday voting is anachronistic, dating to a Congressional decision from 1845. As a predominantly agrarian society at the time, with travel by horse and buggy, voters needed a day to reach the county seat, a day to make their voting selections, and then a day to travel back home, all without interfering with the three days of the week dedicated to religious worship. That left only Tuesday and Wednesday, and Wednesday was the traditional market day, so Tuesday was chosen.
The month of November was chosen because spring and early summer voting would interfere with the planting season and late summer and even early fall overlapped with the harvest. The only window open was early November before the arrival of potentially harsh winters.
Since every survey points to inconvenience as the number-one reason Americans do not vote and Congress has managed to move Columbus Day and Martin Luther King Day and carve out a Presidents Day, the precedent is there, if not the inclination, to move from Tuesday voting.
According to the Census Bureau, 245.5 million Americans age 18 and older are eligible to vote, yet only 157.6 million are currently registered. Conversely, 91% of Brits and Canadians and 96% of our Swedish counterparts who are eligible to vote are registered.
According to national surveys, Americans don't vote for the number-one reason of inconvenience. Following closely behind are reasons ranging from lack of interest, too busy, can't miss work, think their vote has no impact, illness, dislike of the candidates, out of town, or simply forgot.
The data reveal that if you are young, a minority, less affluent, or less educated, you vote in record low numbers.
Financial security, in particular, is strongly correlated with nearly every measure of political engagement. Citizens earning over $100,000 vote in double the numbers of those with incomes below.
As to the correlation with education, 44% of eligible voters without a high school diploma voted in the 2012 presidential election vs. a 77% turnout rate by those with a college degree.
The surveys also uniformly confirm that our young people do care about politics, but a majority of them just dislike it! Less than a third of eligible voters ages 18 to 30 think running for office is an "honorable thing to do," and 75% of them didn't even vote in the most recent presidential election.
In what was a major surprise to me, we, as New Yorkers, have dreadful participation numbers. For the 2014 election, we ranked 48th out of 50 states in voter turnout despite having the fourth most registered voters in the nation. Even during the 2016 presidential election year--election years always garner the highest turnout--only 57.2% of those eligible voted, ranking us eighth worst in the country.
Maine leads in voter participation, with 72%, while Hawaii is last, with just 47%. Daniel Webster's words from two centuries ago perhaps resonate now more than ever. "Impress upon ... children the truth, that the exercise of the elective franchise is a social duty, of as solemn a nature as man can be called to perform; that a man may not innocently trifle with his vote; that every free elector is a trustee, as well for others as himself; and that every man and every measure he supports has an important bearing on the interests of others, as well as on his own."
Editor's note: As a public service, MyhometownBronxville publishes articles from local institutions, officeholders, and individuals. MyhometownBronxville does not fact-check statements therein, and any opinions expressed therein do not necessarily reflect the thinking of its staff.