By Staff
May 10, 2023: On May 16, 2023, Bronxville residents will have the opportunity to vote "yes" or "no" to adopt the Bronxville School Budget for 2023-24 and also for two trustee positions for 3-year terms and two propositions.  More information on all of these items is below.
Polls are open from 7:00 a.m.—9:00 p.m.  Voting will take place in the Bronxville School Blue Gym (use entrance on Meadow Avenue).
BUDGET INFORMATION
The proposed Bronxville School Budget for 2023-24 is $52,797,532. 
The total budget is up approximately 3.5% from 2022-23; however, the tax levy is estimated to be up only 2.5% because the school will use $500,000 in fund balance to cover expenses in the proposed budget. 
The largest expense item is Salaries & Benefits, which represents nearly 75% of the budget.  The largest dollar increases in the Budget are in "Teaching" and "Employee Benefits" which together represent $1.3 million of the $1.778 million increase in the budget compared with the current year actual.  The school is adding a school psychologist, guidance counselor and a K-8 math coach, who among other things will help students who got behind in math during COVID.
Other key items discussed in the budget presentation by Dan Carlin, Bronxville School Assistant Superintendent for Business, include contractual and inflationary increases, funding for summer interdisciplinary work, new and replacement cameras in the school and a new 4-wheel van.  
Click here to see the detailed budget.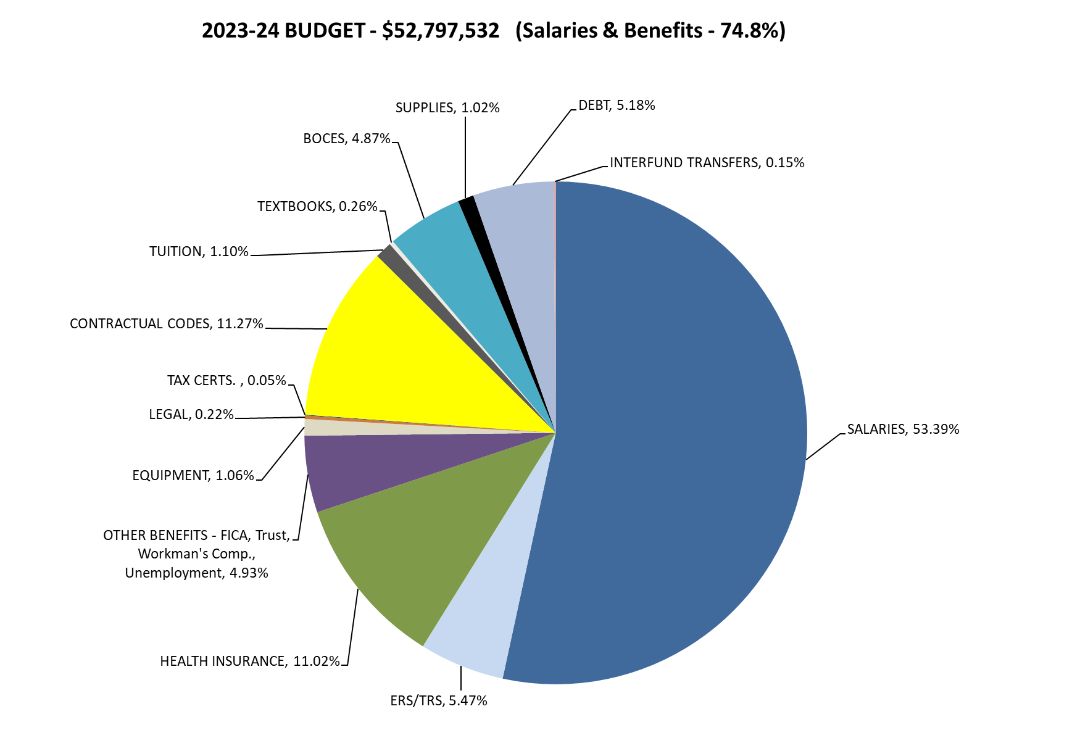 CANDIDATE INFORMATION
On May 16th, residents will also have the opportunity to vote for two trustee candidates for 3-year terms.  These candidates will replace two trustees who have completed their terms. 
Two candidates are running for the seat currently held by Michael F. Finley. They are Jason Curran and Christina Skinner. Residents can vote for one of these candidates.  
One candidate is running for the seat currently held by Jennifer Russo. This candidate is Sara Kenny
Click here to see a sample ballot. 
Here is more information the candidates.
VOTE FOR ONE
Jason Curran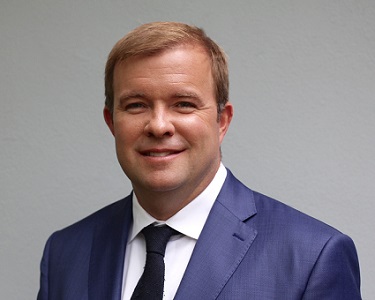 Raised in New Jersey, Jason attended public schools before earning a bachelor's degree in International Economics from Georgetown University.  He has volunteered to interview students applying to Georgetown as part of its Alumni Admissions Program for the last five years. He is a trader at Redmile Group, a healthcare focused investment firm. Previously he worked for a number of other hedge funds, including Eton Park Capital Management. He began his career at Morgan Stanley in their Private Wealth Management Group.
Jason Curran's family moved to Bronxville in 2013, drawn principally by the quality of the school and the community's commitment to its continued excellence.  His wife, Amy, and he have two children who have attended Bronxville School since kindergarten--daughter, Grayson, is in ninth grade, and son, Ryan, is in seventh grade.  He notes that his children "have benefitted greatly from the superb academics and the breadth and quality of the extracurricular offerings, having participated in the athletics, music and drama programs at the elementary, middle and high school levels."  
Jason has been an active member of the community, serving on the board of the Community Fund of Bronxville, Eastchester and Tuckahoe from 2018 to 2021, including two years as co-chair of TCF's Grant Evaluations Committee. 
Jason notes that "the Bronxville School is undeniably excellent, and maintaining and building on that standard is our community's shared responsibility. It depends largely on the community's unwavering support of the school through the various channels that differentiate it from other public schools—the PTA, the Bronxville School Foundation and the Bronxville Promise to name just a few. It also requires a willingness to critically assess every aspect of the school, to identify areas in need of improvement and to move swiftly to address them.   Most importantly, it demands the community's commitment to consistently put the interests of students and faculty first."
If Jason is elected, here is what he says you should expect of him as a Board member:
-I will listen and take the time to fully understand the issues that come before the Board
-I will do my best to lower the temperature around the most contentious issues that come before the Board
-I will be judicious and always put the interests of students and faculty at the center of the Board's business
Jason Curran Phone Number: (917) 756-6079
Christina Skinner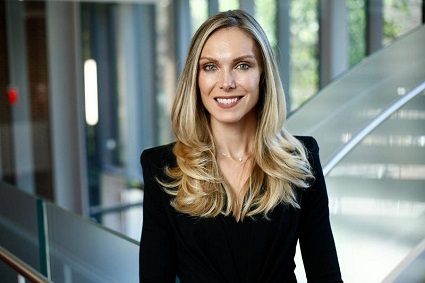 Christina Skinner is an Assistant Professor at The Wharton School of the University of Pennsylvania, where she specializes in financial regulations with a focus on monetary and fiscal governance, corporate governance, and risk management and culture in financial institutions. Christina has an extensive background in the legal profession, having served as Legal Counsel to the Bank of England, where she was responsible for Brexit-related statutory drafting and advised the Financial Policy Committee on financial stability issues.
​Christina's academic qualifications include a post-doctoral fellowship at Columbia Law School, where she focused on financial regulations, and a Juris Doctor degree from Yale Law School. Christina began her legal career as a judicial law clerk to two federal judges before practicing law at the law firm Zuckerman Spaeder, where she specialized in commercial litigation. During her career, Christina has also held positions at the U.S. Department of Justice, Arnold & Porter LLP, and Goldman Sachs. 
​Christina has demonstrated a strong commitment to community service in Bronxville. She served on two Bronxville School parent committees, including the DEI Committee, which is focused on diversity, equity, and inclusion efforts, and has served as a PTA class parent for three classes. Christina also served as Treasurer for the Bronxville Skate Club. She is an active parishioner of the Church of Saint Joseph, and member of the Bronxville Field Club. Christina volunteers each year as an interviewer for prospective students on behalf of the Princeton Alumni Association.
Christina and her husband, William Skinner, Jr, moved to Bronxville in 2018 and have 4 children, two of whom attend the Bronxville School and 2 who attend the Reformed Church Nursery School.
VOTE FOR ONE
Sara Kenny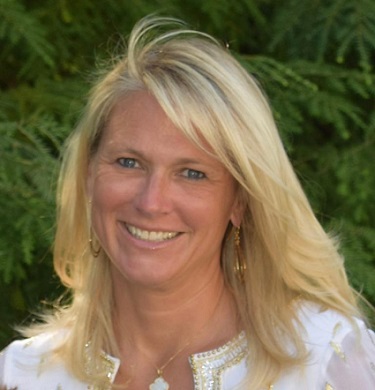 A Bronxville resident since 2011, Sara has extensively dedicated her time to volunteering for her childrens' schools and the Bronxville community. Sara has volunteered in many different school leadership roles from Treasurer of the Reformed Church Nursery School, Bronxville Elementary School Chair, Middle School Grade Chair and presently Athletic Council Treasurer, Vice Chair and Chair Elect of the High School while also serving on various other school councils and PTA committees. In the broader community, Sara has served on the Bronxville Non-Partisan Committee from 2014-2017, is a member of the Jansen Hospice Board, member of the Bronxville Youth Lacrosse Association Board and serves on Siwanoy's Racquets Committee.
​Professionally, Sara started out in Asset Management and transitioned to become a trader on both the buy and sell side for various financial institutions in New York City for 10+ years. Sara ended her career at Arience Capital, a hedge fund, where she ran their equities trading desk.
​Sara and her husband, Ryan, have four children who all attend the Bronxville Schools; one son is in eleventh grade, a son in ninth grade, a son in eighth grade and a daughter in fifth grade. Her vast experience volunteering and having children in all three schools, provides Sara with unique knowledge and perspective. She is well informed on current issues within the school and has strong relationships with the administration, teachers, coaches and community members. Sara attended Lehigh University, majoring in finance. 
PROPOSITIONS
Additionally, residents will have the opportunity to vote Yes or No for the following propositions:
Proposition 2: To raise the cap of the existing "Capital Reserve Fund" to $20M and to remove the $1M limit on annual contributions to said fund.
Proposition 3: To change the method of conducting School Board Elections from "specific seat" to "at large".  The seats shall be filled by candidates receiving the most votes.