Dan Carlin. Photo by N. Bower
By Staff
Jan. 25, 2023:  Anyone who attends Bronxville School Board of Education meetings or has a business question about the school will likely be acquainted with Dan Carlin, Assistant Superintendent for Business at the Bronxville School. He has been at the Bronxville School for 15 years and is a regular presence at Board Meetings where he often reports on the school's financial matters.
Dan Carlin grew up just 35 miles north of Bronxville in Mahopac. He graduated from Mahopac High School and went on to Hobart College ('87), where he majored in economics and was on the basketball team. After Hobart, Carlin went through the credit training program at Bank of New York and became a commercial lender at the Bank for seven years. While there, he went to school at night and received an MBA in finance and master's in education from Fordham University ('95).  He also married his wife Carolyn and had two children, who are now 26 and 24 years old.
Dan enjoyed his commercial lending career, but he was also interested in exploring the business aspect of schools. In 1997, he became the Assistant Business Manager for the Putnam Northern Westchester Boards of Cooperative Educational Services, known as BOCES. BOCES provides shared educational services to schools such as adult education, professional learning, resources about school safety and Covid-19 and much more.  BOCES works with 20-30 school districts.
In 1999, Dan decided to move into school finance and became Director of Financial Planning & Operations at the Wilton Public Schools and then in 2003 moved to a job in the Dutchess County BOCES.
Dan found that he most enjoyed his work in school administration and in 2006 became Financial Director of the Ridgefield Public Schools, and then in 2008 moved to the Bronxville School, where he became Assistant Superintendent for Business.
Dan arrived at Bronxville following the huge 2007 flood.  At the time, the school was undertaking changes to mitigate the impact of future flood events.  The school ultimately installed the five-pump system that now sits on the Midland Avenue side of the school. These pumps, along with a new stormwater system, move excessive rainfall away from the school and surrounding neighborhoods out to Laurel Brook where the water makes its way to the Bronx River.  The system works remarkably well.
Take a look at the photos below of the massive flooding the occurred at the school prior to installation of the flood mitigation pump system.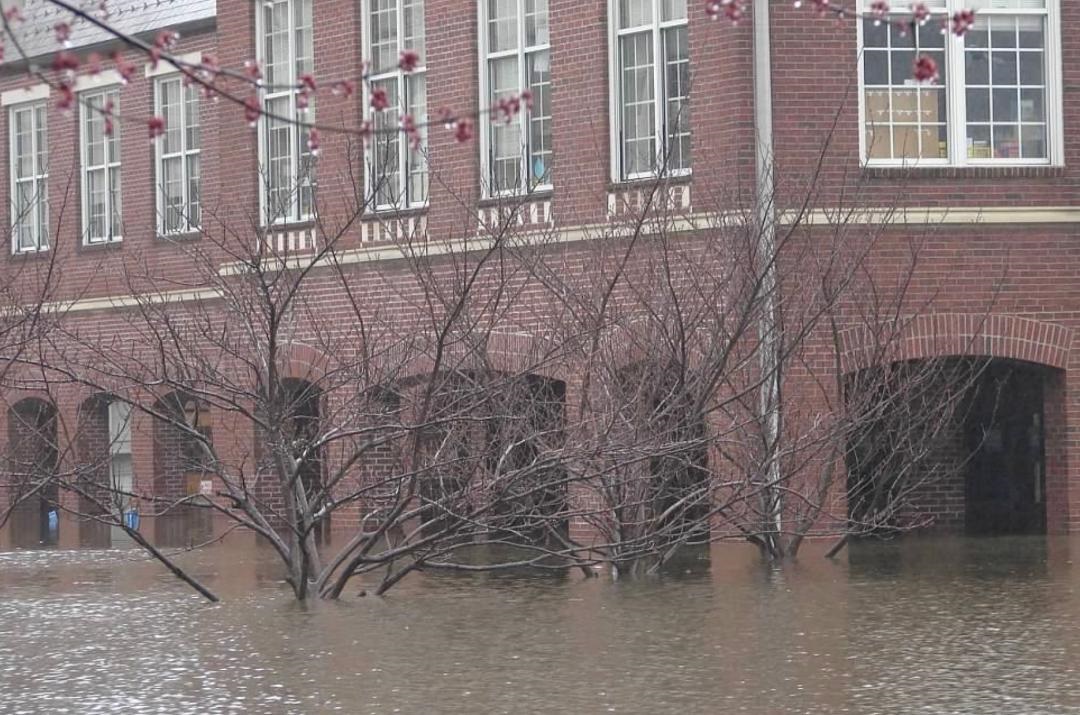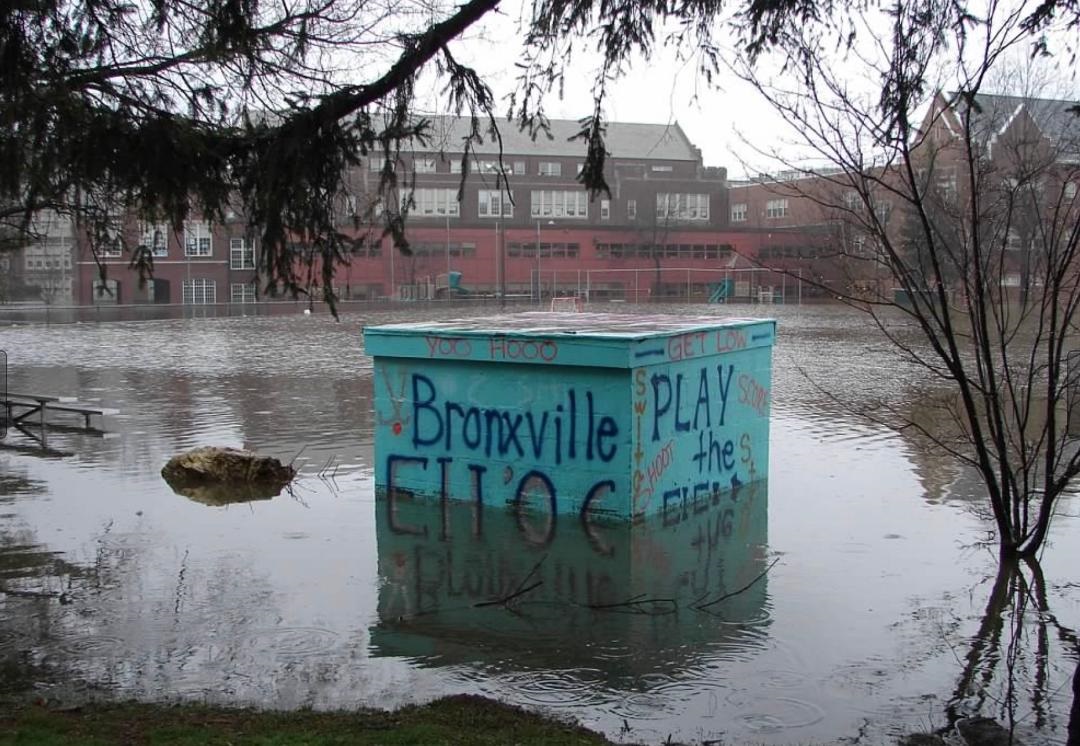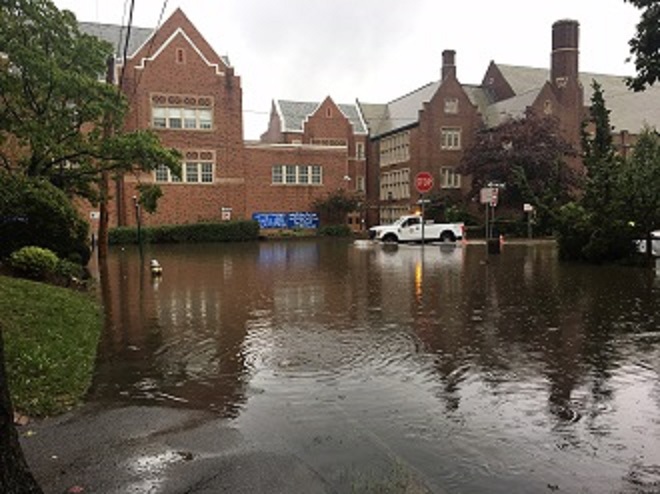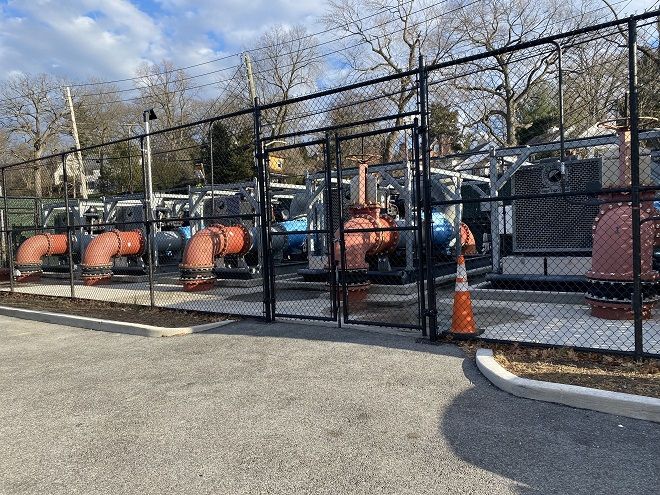 Flood mitigation pump system located on the Midland Avenue side of the Bronxville School.  This system is now surrounded by fencing and greenery. Photo by K. Outcalt
During his tenure, Dan has also worked on creating a 5-year facilities plan, which has provided a roadmap for school improvement.  For example, in 2014, the school constructed the beautiful new auditorium that we all enjoy. In 2020 it added an atrium lobby and collaborative classroom spaces and also replaced the old "curtain wall" on the elementary school building with brick.  There has also been a lot of infrastructure work on the school throughout this time. All of these projects have enabled the school to move forward with the times.
The school is now doing an updated 5-year plan that will include more infrastructure work.  There are also plans for two outdoor classrooms that will be funded by the Bronxville School Foundation. 
When asked about his biggest challenges, not surprisingly, Dan will say water and parking. "We finally have water under control in both the village and the school," he says.  He explains that the village and school are vigilant in keeping the drains clear and the school's pumping system well maintained.  With respect to parking, the small lot on Meadow Avenue has helped alleviate some of the parking pressure for the school but parking remains a challenge.
When asked how his role has changed over the years, Carlin says that there is more reporting to the state than years ago but sees that as a good thing. "We don't mind being overseen," he says.  He also explains that the school get audited every year by an independent accounting firm.
When not working at the school, Carlin enjoys time with his family, playing or working on one of his 15 guitars, woodworking projects, and "tinkering with his John Deere tractor."
In summing up his experience at Bronxville, Carlin says, "it's been a fantastic 15 years and I look forward to many more."