Dr. Roy Montesano
By Staff
Feb. 16, 2022:  This past week, the Bronxville School Board of Education announced that Dr. Roy Montesano, Bronxville School Superintendent, will retire effective January 1, 2023.

Dr. Montesano graduated from Rutgers University with a BA in Environmental Science, from Seton Hall University with a masters in Administration, and from Fordham University with a Doctorate in Administration. His career in education began as a science teacher in Ridgewood, New Jersey. After five years in the classroom, he was named assistant principal of George Washington Middle School in Ridgewood, and his career was off and running. He became the Superintendent of several other New Jersey schools and was named New Jersey Superintendent of the Year in 2012.  He then become Superintendent of the Hastings-on-Hudson School District, and then Superintendent of the Bronxville School in 2017.

Interestingly, Dr. Montesano's father was a school Superintendent, and his three older brothers are school Superintendents. His wife Lisa also recently retired as a school Superintendent. As Dr. Montesano says, "It's been a family business."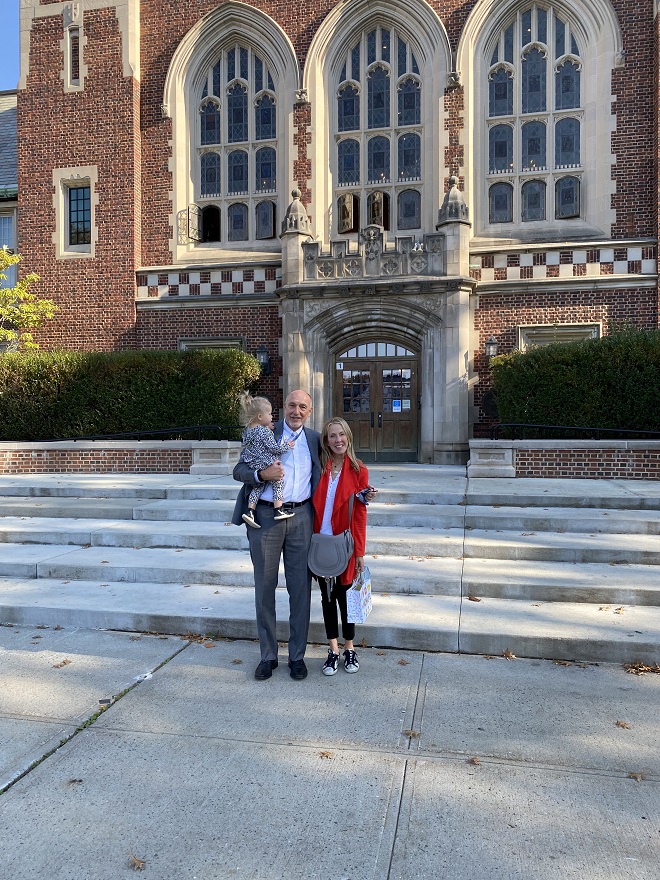 Roy and Lisa Montesano with their grandaughter Spencer

When asked about challenges he has faced in his Superintendent roles, it's not surprising that Dr. Montesano says that Covid has been the biggest. "Trying to balance safety with getting the school open was extremely challenging," he says. Now, the focus is how to best emerge from the pandemic. "We have to understand what's changed," he says, "and plan for that."

The most rewarding part of his Bronxville School job has been the support he has received from the community. "I really feel that the school is the most important part of the community," he says, "people want our schools to succeed, and it's rewarding to be part of that."

Dr. Montesano is not one to talk about his accomplishments, but when pressed about what he is most proud of over his tenure, he will talk about the school's facilities project. Montesano describes how the school's updated building "supports students in learning" with new rooms where students can work in small groups, places to do independent work and classrooms that are more student-centered.

Dr. Montesano also says that perhaps one of the silver linings of the pandemic is that it has highlighted the need for more focus on mental health in our schools. The Bronxville Elementary School has launched a "Cares" program in which teachers provide lessons on empathy, respect, and other "soft skills." The Elementary School principal also has a theme word of the month that dovetails with these lessons.

Throughout his tenure at Bronxville, Dr. Montesano has been amazed at the many ways the community supports the school, including the Bronxville School Foundation and the dedicated Board and parent community. These resources were critical in enabling the school to navigate the pandemic successfully.

When asked why he is retiring at this time, Dr. Montesano says, "the timing is right." His wife Lisa recently retired as a school Superintendent. In addition, he has two grandchildren and another on the way, and he and his wife feel that it's time to step back and "be grandparents for a while." He also said he announced his plans early to "make sure the Board has time to properly plan and transition." He wants to leave the school in "as good a place as he possibly can."

As far as his retirement plans, Dr. Montesano said that he and his wife look forward to spending time on the Jersey Shore and possibly in Florida, where he'll have some time to work on his golf game while his wife enjoys more tennis and pickleball.

Down the road, Dr. Montesano envisions doing some consulting or teaching in the educational leadership field. But, for now, he isn't making too many plans. It's time to "step back and take a breather," he says.
Photos courtesy Dr. Montesano