Helena McSherry
By Katharine Outcalt
May 26, 2021: March 16, 2020 marked Helena McSherry's first day as Executive Director of the Bronxville School Foundation. This was the same day the number of coronavirus cases in the U.S. passed 14,000, Governor Cuomo announced the immediate closing of all movie theaters, restaurants, and bars, and the Bronxville School announced they were transitioning to a remote learning environment for "the foreseeable future."
"It was a highly unusual time," says McSherry, a former attorney for the Securities and Exchange Commission. "I was learning a new role and learning ZOOM at the same time!"
As Executive Director of the Bronxville School Foundation, McSherry is charged with managing an extensive grant proposal process that supports all three Bronxville schools in the areas of academics, arts, athletics, student support services, and faculty. Each year the Foundation funds around $500,000 in grants that directly impact the educational experience of Bronxville students. These grants fill in the gaps that the District budget cannot meet.
Most years, the Foundation follows a five-month grant cycle. However, in McSherry's first month as its Executive Director, she found herself seeking the approval of several off-cycle grants that were formulated to help the school reopen safely due to the COVID-19 pandemic. Emergency funding was needed to provide innovative technology systems for live, hybrid, and virtual instruction. As the school year progressed, there were further needs for health and wellness and for creating new paths of connectivity.
McSherry works closely with a 30 member volunteer board and a network of school families, alumni, community members, school administrators, and students. As a longtime Bronxville resident and former Bronxville School parent herself, McSherry feels a deep connection to her job. Following the graduation of her youngest child in 2020, McSherry reflects, "My husband and I were feeling a lot of gratitude at the time for how our children developed at Bronxville School and how it had prepared them so well to move on in their lives, and I wanted to maintain a connection to the school and the people here."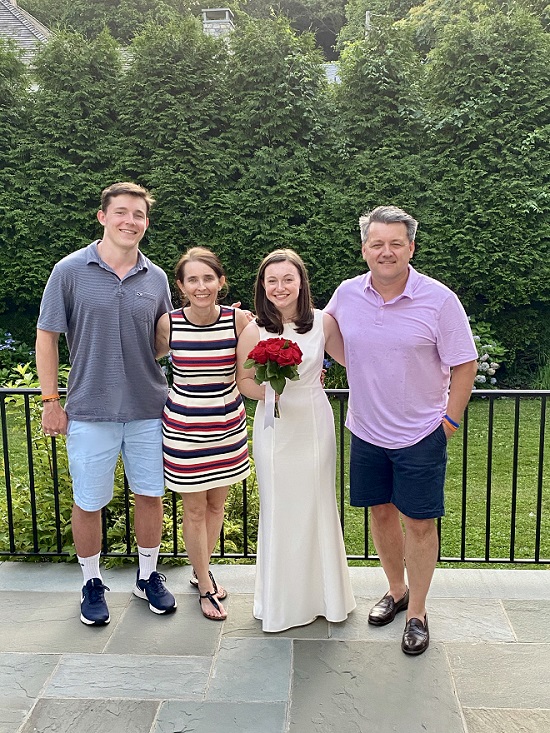 The McSherry family on Graduation Day in 2020
As the daughter of two teachers, McSherry grew up in a household where education was a constant focus and curiosity of the mind was always active and encouraged. It is only fitting that she has found herself in a position of educational impact. In her approach to the work, McSherry notes, "the most important part is that all of the resources that the Foundation delivers allows the students to get the most they can from each other. That's the real strength of the grants process. It's pretty amazing that in this K-12 program, the students are so uniquely situated to learn and benefit from each other. Everything the Foundation does enables those relationships to be forged and the Bronxville Promise to be realized."
McSherry is grateful to see things slowly returning to normal. Having navigated a pandemic in her first year on the job, she's pretty sure that she can handle just about anything that comes her way now.
Photos courtesy McSherry family