By Katharine Outcalt
Mar. 31, 2021: Growing up in Saginaw, Michigan, Bronxville Elementary School principal Tricia Murray had one goal – to become a teacher. The first and only in her family to follow a career in education, Murray reached her goal and has pushed beyond.
Earning her undergraduate degree from the University of Michigan, Murray found her dream job in Boston, MA as a 7th grade math teacher and eventually a 5th grade teacher. She went on to receive a Masters in Education from New York University's Steinhardt School of Education, where she simultaneously served as a field researcher for an after school math program.
Murray's career as a teacher was set and in motion. Settling in at PS 11 in Manhattan, Murray was not sure things could get any better. But, when her principal recommended her for Baruch College's Aspiring Leaders Program, she suddenly found herself on a new career path.
Continuing to work as a 5th grade teacher at PS 11, Murray completed her 2nd masters in two years and was hired to serve as the Assistant to the Principal at Putnam Valley Elementary School.
According to Murray, "I had thought about school leadership prior to that but was not looking to begin a program at that point. However, I was fortunate that my principal recommended me because it has led me down a great path since then."
It was that path that would eventually lead Tricia Murray to the Bronxville School. In 2014, she was selected from 179 applicants to fill the role of Bronxville's Elementary School principal. Murray would replace Tom Wilson, who was transitioning to become the principal of the middle school.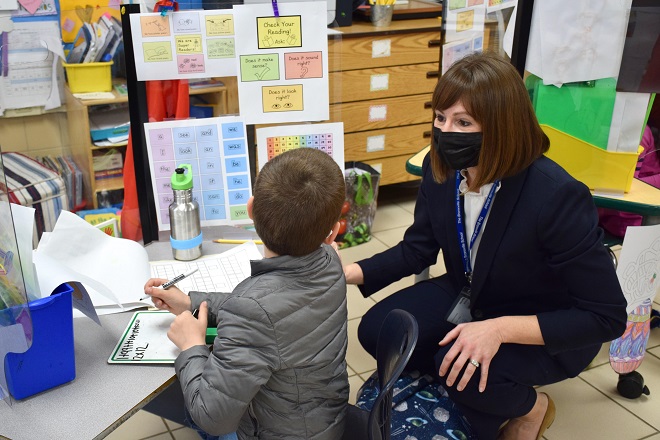 This is Murray's 7th year at Bronxville, and she finds relationship-building to be the easiest part of her job. "There are some great people here – teachers, parents, students. I've made some really strong relationships, and I think that makes the job easier."
What she finds most challenging is the task of taking what she considers an already good school to the next level. "Bronxville is a good school; it was good when I got here," says Murray. She credits strong collaboration with teachers in allowing her to make positive changes in curriculum and curriculum alignment – two areas that she had hoped to improve. "Curriculum alignment can be challenging because it really brings multiple voices into the picture. But I think we've done an outstanding job. I'm proud of the curriculum work that we've done," says Murray.
Murray is inspired every day by her students' resilience and undeterred enthusiasm in the face of challenging times. She is looking forward to the day when her students can return to the rugs, sing songs, share celebrations in person, build something together and go on class trips.
Her advice to her students if they were to ask her is "to be kind and empathetic towards others."
Good advice, particularly in this day and age.
Photos courtesy T. Murray