By Margaret Mager, President, Bronxville Library Trustees
Dec. 1, 2021: On December 2, 2021, Marianne Wingertzahn, a true daughter of Bronxville, will celebrate 35 years of working at The Bronxville Public Library.  Marianne was born and raised in the Village of Bronxville. She was born in Lawrence Hospital and grew up in Alden Place, where she continues to reside.  Marianne's Mom also grew up in Bronxville as well. She and her sister (Marianne's Aunt) graduated from the Bronxville School. Marianne's Dad grew up in New Rochelle.
Marianne is one of five children; she has three older brothers and one younger sister.  They all remain in the tristate area. Marianne is the proud Aunt of seven nieces and three nephews ranging in age from 9 to 29.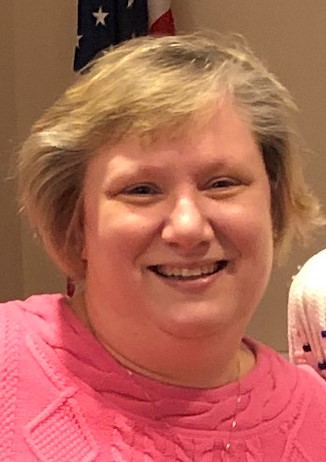 Marianne Wingertzahn
Marianne is a lifelong parishioner of St Joseph's Bronxville. She attended St. Joseph's School from kindergarten through sixth grade. She subsequently attended Bronxville School from seventh through twelfth grade, graduating in 1987. Of note, Marianne was a student in Mr. Gene Orsenigo's math class, Bronxville's longest standing teacher of 46 years, who just retired in June 2021.
While still a senior in high school, and only 17 years old, Marianne was hired by Library Director Jane Selvar.  Marianne had been referred to Ms. Selvar by the reference librarian Vivian Shea whose son was friends with Marianne's brother.  Jane Selvar clearly had an eye for Library talent and hired Marianne on the spot. A most prescient decision!  At first, Marianne worked part time as a page shelving books and learning how the Library operates.  After only 3 months Marianne moved up to Part Time Library Clerk.
After graduating from Bronxville high school, Marianne attended Marymount University in Arlington, VA, with a focus on fashion merchandising. This would not be a surprise to Library patrons who are always delighted by Marianne's spirited collection of holiday tops and sweaters!
Attending college did not stop Marianne from working at the Library. In fact, she returned to the library to work during all holiday and summer breaks.
During her college years, Marianne transferred to Westchester Community College. This is when a full-time position opened up at the Library and Marianne became a Senior Library Clerk after passing the required Civil Service exams.
In 2003, Marianne was promoted to Head of Circulation, becoming the warm and welcoming face of The Bronxville Public Library.
In addition to managing circulation, one of Marianne's current responsibilities is buying the DVD's in the adult collection, as well as running the very popular movie matinee program in the Yeager Room.
What does Marianne love about The Bronxville Public Library? She loves meeting and talking with many different people from all walks of life. She loves helping them find whatever they need in the Library. She also loves the beautiful building and grounds and considers it a wonderful place to work.  A short commute from Alden Place is also a big plus! Most of all, Marianne enjoys the numerous colleagues she has worked with over the past three and a half decades, many of whom have become good friends.
In the opinion of many Villagers, Marianne is truly the heart and soul of our fabulous library. No question, she is the Library historian, with great stories to tell about unusual events in the Village that have impacted the Library including hurricanes, snow storms, renovations, among others.
Marianne Wingertzahn can always be counted on to brighten even the dullest day with her signature smile, her wonderful laugh, her genuine kindness, and her can do spirit. She is one of the people that truly makes Bronxville Village a special place to live. Bronxville Library is blessed to have had Marianne Wingertzahn on the team for 35 years. We look forward too many more years of seeing Marianne's smile behind the Library Circulation desk, and knowing we can count her to brighten our days!
Photo by Margaret Mager