Pictured: Bronxville Adult School art teacher, Ron Ramsey
By Jane Moynihan
Nov. 17, 2021: Adults from Bronxville and its neighboring communities flock to the Bronxville Adult School's creative arts classes to learn new skills, hone their technique, meet other creative people, or, as is most often the case, to try their hand at painting for the first time. Local artist Ron Ramsey brings the joy of creating art to all of them. 
Ron has been teaching acrylic and watercolor classes at the Bronxville Adult School for the last eight years. After a 20-year career as an illustrator for Golf Magazine (golf is his other passion), Ron began teaching after taking a watercolor class himself at the Bronxville Adult School. Ron is also well-known in Bronxville as the art teacher at the Reformed Church Nursery School, where he has taught for 12 years.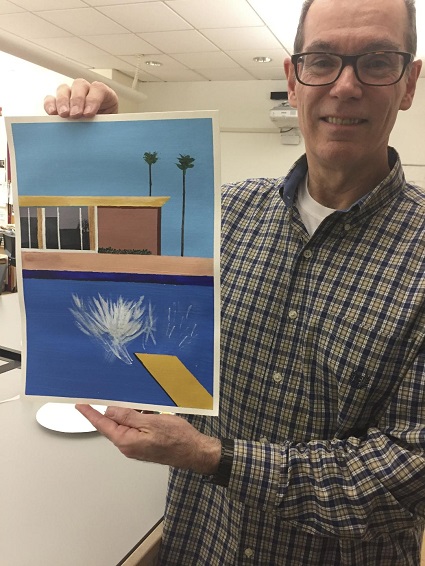 Art student Tom Falconi holding his copy of a painting by artist David Hockney.
Ron loves the challenge of figuring out how to make painting accessible to all students. By breaking down the creative process into manageable steps, beginners are not intimidated. Each class teaches a new technique. Students walk into the classroom, and all of the materials are set up for them--no need to worry about bringing your own brushes or paint. Ramsey demonstrates the technique, and the students follow the steps, finishing with a completed painting by the end of each class. According to Ron, the veteran students often tell the newcomers to "get a matte and put it over your painting. You won't believe how good it is." Seeing his students' pride in their finished paintings is "the ultimate compliment," says Ramsey, especially "when a student tells me how impressed their spouse is with a painting."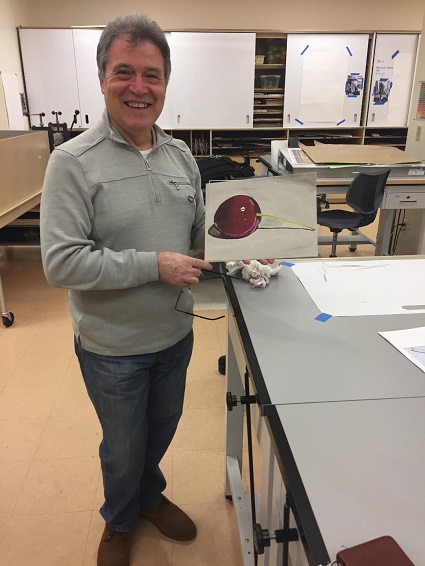 Art student Carmine Camacho holding his acrylic painting of a cherry.
Lourdes Guerrero has been taking Ron's art classes at the Bronxville Adult School for seven years. "Taking Ron's art class is what grounds me," says Lourdes. "The two hours of class each week is the time where you don't think about anything but the picture you are painting." 
Guerrero says the relaxed and comfortable atmosphere encourages students to get to know each other. "The atmosphere in the class is great. Ron plays soft jazz music in the background. We sit with our group of friends. Our conversation as we paint is friendly and lighthearted. Since we all interpret and paint in our own style, there is joy seeing the others work and sharing the time together as a collective group." 
Luchy Camacho started taking Ron's art classes in 2015, and the classes are a family affair. She explains, "Ron sparked my interest in painting which has become a passion, not only for myself but also for my husband who, amazed at what I learned and knowing how much I enjoy Ron's lessons, decided to join the class." 
"Ron's unpretentious demeanor, his stimulating approach to teaching, his caring attitude, and his artistic skills make him a great art instructor. His classes are an oasis to learn and to relax at the same time after hectic days," says Camacho. "I enjoy the jazz music, meeting new people and spending time with dear friends. I missed his classes during 2020 and am happy Ron is back!!"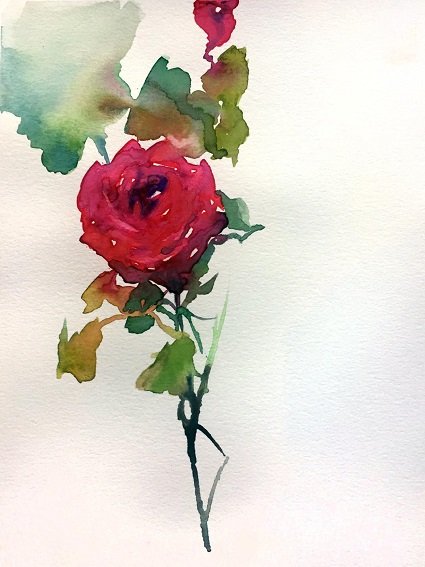 Student watercolor painting of a rose.
Ron and his wife, Mary, have lived in the Bronxville community for over 20 years. Ron graduated from the University of Florida. He worked at the Saturday Evening Post before starting his career at Golf Magazine. Ron is also a successful portrait artist, most recently focusing on children's portraits. He is a member of the Society of Illustrators in New York City.
Ramsey's fall semester watercolor classes sold out quickly, but a new session begins in January. Bronxville Adult School winter registration opens December 6th. The classes are held in the evenings in-person at The Bronxville School along with over 100 other classes (in-person and virtual) such as fitness, history, technology, languages, and more.
To sign up for Ramsey's classes or browse the catalog, visit bronxvilleadultschool.org or call 914.395.0516 or email: This email address is being protected from spambots. You need JavaScript enabled to view it.. In addition, you can follow the BAS on Instagram and Facebook. The Bronxville Adult School is a not-for-profit organization incorporated in 1957 and chartered by the New York State.