By the board of the Friends of the Bronxville Public Library
Mar. 17, 2021: The Friends of the Bronxville Public Library (FOBPL) is pleased to host New York Times best-selling author Janice P. Nimura, who will discuss her new biography The Doctors Blackwell: How two pioneering sisters brought medicine to women- and women to medicine. This event will be held online on Thursday, April 15, at 7:00 pm. It will be moderated by Bronxville's Dorothy Wickenden, executive editor of The New Yorker and author of The Agitators.  Register Here
Janice P. Nimura received a Public Scholar Award from the National Endowment for the Humanities for her work on The Doctors Blackwell. Her previous book, Daughters of the Samurai: A Journey from East to West and Back, was a New York Times Notable book in 2015. Her essays and book reviews have appeared in the New York Times, the Washington Post, the Los Angeles Times, Smithsonian, The Rumpus, and LitHub, among other publications.
Dorothy Wickenden is the author of Nothing Daunted and The Agitators and has been the executive editor of The New Yorker since January 1996. She also writes for the magazine and is the moderator of its weekly podcast The Political Scene. 
"The Doctors Blackwell" is a fascinating and informative story. Elizabeth Blackwell believed from an early age that she was destined for a mission beyond the scope of "ordinary" womanhood. Though the world at first recoiled at the notion of a woman studying medicine, her intelligence and intensity ultimately won her the acceptance of the male medical establishment.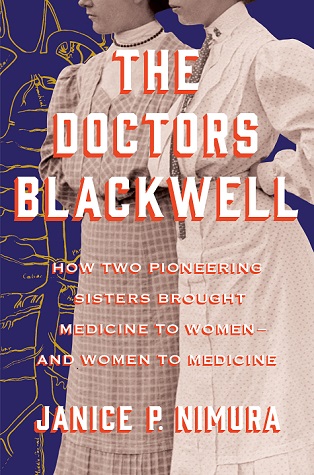 In 1849, she became the first woman in America to receive an M.D. She was soon joined in her iconic achievement by her younger sister, Emily, who was actually the more brilliant physician. Exploring the sisters' allies, enemies, and enduring partnership, Janice P. Nimura presents a story of trial and triumph. 
As Jennifer Szalai from the NYT book review said, "It's tempting to presume a clear line between intention and accomplishment, but Janice P. Nimura, in her enthralling new book, "The Doctors Blackwell," tells the story of two sisters who became feminist figures almost in spite of themselves."
The book is available at Womrath's Bookshop in Bronxville, NY, as well as other booksellers.
Pictured at top: Janice Nimura
Photos courtesy Friends of the Bronxville Library
Editor's note: As a public service, MyhometownBronxville publishes articles from local institutions, officeholders, and individuals. MyhometownBronxville does not fact-check statements therein, and any opinions expressed do not necessarily reflect the thinking of its staff.