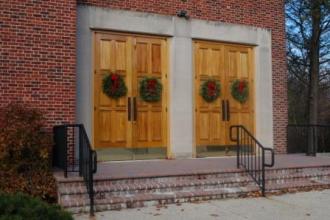 By Susie Reisinger, Member, West Center Congregational Church

Apr. 27, 2016:  West Center Congregational Church will hold a spring tag sale on Saturday, April 30, from 10:00 am to 3:00 pm and Sunday, May 1, from 12:30 pm to 3:00 pm. The church address is 101 Pondfield Road West at Chatfield Road in Bronxville.
The sale, to be held in the Bodge Lounge, will offer a large variety of goods for sale, including jewelry, bric-a-brac, plants, baked goods, gifts--some suitable for Mother's Day and Father's Day--compact discs, records, books, toys, and raffles. 
There will be a "Tiffany Table" featuring gifts and high-quality items and another area with some gently used and vintage clothing and accessories. It's a good time to enjoy the spring, shop for some nice bargains, and greet friends and neighbors. Proceeds from the tag sale will help support the work of the church. 
There is no admission charge and all are welcome to browse and shop. Bodge Lounge is accessible to wheelchairs and strollers and there is parking on the street. 
For more information, please call the church office at 914-337-3829, email the church at CLOAKING , or go to its website at www.westcenterchurch.org.

Pictured here:  West Center Congregational Church.

Photo by N. Bower