The girls' lacrosse team after winning the Class D Section 1 Championship. Photo courtesy of @BXVGVL.
By S.Q. DeJoy and J. Murrer
May 31, 2023: It has been an exciting two weeks of Section 1 playoffs, and the Broncos were greatly rewarded for their hard work and dedication.
The girls' lacrosse team powered through playoffs to win the Class D Sectional Championship on Friday, and the boys' and girls' outdoor track and field teams outscored the competition to win their respective Class C Sectional Championships. The boys' tennis team competed in the Division 2 Sectional playoffs and defeated Byram Hills in the final round to capture the Section 1 Title.
Also competing last week was the boys' lacrosse team who put up a valiant effort in the Class D Sectional semifinal last Friday, but eventually lost to Pleasantville 10-8. Section 1 has some of the toughest competition in the state, and Pleasantville has a 21-1 record and is ranked No. 1 in New York by the New York Sportswriters Association.
The golf team qualified for the Section 1 Golf Team Tournament for the second year in a row along with Rye, Scarsdale, and John-Jay Cross River. Scarsdale was the eventual winner.
The season continues for girls' lacrosse, boys' tennis and track and field. The girls' lacrosse team easily won their subregional contest yesterday against Schuylerville (18-4) and will play in the regionals on Saturday against Section 9's James O'Neill High School.
The boys' tennis team will compete in the state semifinals on June 9th in Flushing, and the track and field teams will compete in the State Qualifiers on Thursday and Friday in Suffern.
Girls Lacrosse
The Bronxville girls' lacrosse team's 8-7 record at the end of the regular season was likely responsible for their No. 2 seed in the Sectional Championship, but it certainly did not tell the whole story. The Broncos, the Class D defending State Champion, had an incredibly tough regular schedule that included games against six of the top ten teams in Section 1, and three games against teams ranked in the top 20 nationally.
The Broncos cruised through the playoffs with wins over Putnam Valley (14-2), Westlake (16-5), and Pleasantville (15-5) and faced No. 1 Briarcliff in the Class D Sectional finals.
In the championship game played last Thursday, the Broncos overpowered the Bears, taking a 9-1 lead at the half, and winning the game 13-3. Catherine Berkery had four goals and four assists, and Linnea Hentschel also scored four goals for the Broncos.
Other Broncos who contributed were Aiden Martinelli (2G) and Rose Woolery (1G), Amy Villanueva (1G), Anna Becker (1G), and Charlotte Murray (1A). Olivia Shinsato had four saves.
The Broncos defeated Section 2's Schuylerville yesterday 18-4 and will play in the regional game against James O'Neill High School on Saturday. The State Championships will be held on June 9th and 10th in Cortland.
Outdoor Track and Field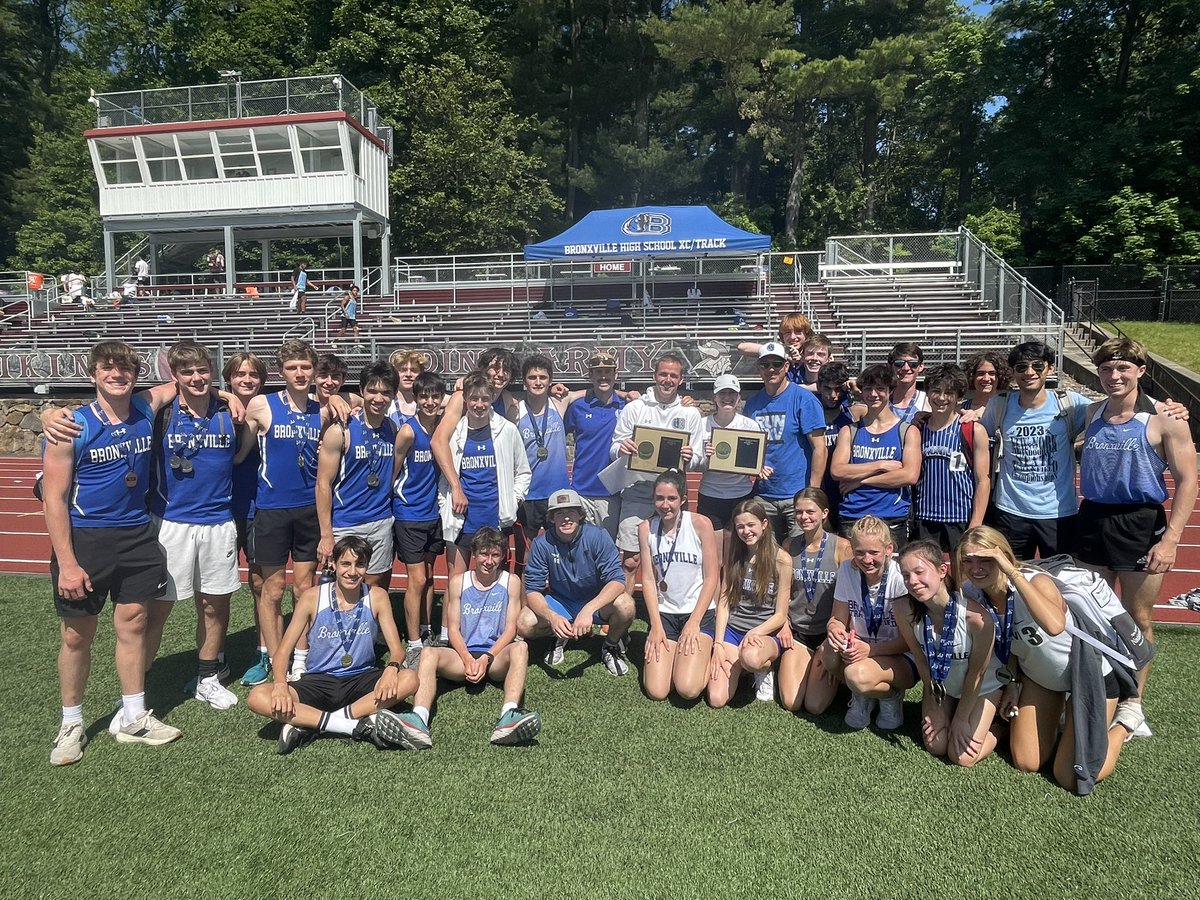 The boys' and girls' track and field teams holding their sectional plaques. Photo courtesy of @bxvboystrack.
Both the boys' and girls' track and field teams won their respective Class C Sectional Championships last Saturday at Valhalla High School. The boys' scored 149 points and were followed by Rye Neck with 59 and Irvington with 47.5. The girls' team scored 143, with Briarcliff in second place with 98 and Rye Neck in third with 77.
The boys' team took first place in six events and the girls' team swept the relays and won the 400m dash.
"A few ultra-notable accomplishments were school records set by Danielle Dragoni in the 100m dash (12.48) and Max Dicker in the triple jump (39-11)," said Coach Brian Halling. "While we really anticipated the girls winning the meet, the boys' side was predicted to be extremely close among the top three teams. We were blown away by just how well the boys performed, and they stepped up again in the most important moment of the season."
While many Broncos have already qualified for States based on time, they will head to Suffern tomorrow to compete in the State Qualifiers. The New York State Championships will take place on June 9th and 10th.
Boys' Results
200m dash: Davis Patterson, 1st, 22.82
400m dash: D. Patterson, 1st, 50.28
800m run: Ellis Goodson, 2nd, 1:59.22
1500m run: Sam Becker, 2nd, 5:20.12
1600m run: E. Goodson, 1st, 4:33.18
3200m run: Kieran McBride, 2nd, 9:59.99
110 Hurdles: Aidan McBride, 2nd, 15.96
400m hurdles: A. McBride, 2nd, 1:00.75
300m steeplechase: Andrew Jensen, 2nd, 10:07.90; K. McBride, 3rd, 10:13.30
4x100m relay: Dash Kwan, Max Dicker, J. Tomala-Reidel, D. Patterson, 1st, 44.48
4x400m relay: D. Kwan, Gavin Benton, J. Tomala-Rediel, D. Patterson, 2nd, 3:35.78
4x800m relay: E. Goodson, J.W. Henningson, L. Corr, Ian Gegenwarth, 1st, 8:40.66
Pole vault: Max Dicker, 1st, 12-6
Girls' Results
100m dash: Danielle Dragoni, 2nd, 12:48; Mai Ly Reinking, 3rd, 12:92
200m dash: Mai Ly Reinking, 2nd, 26.28; D. Dragoni, 3rd, 26.72
400m dash: Kara Kochansky, 1st, 1:00.31
800m run: Hope Hershberg, 2nd, 2:20.80
1500m run: Maddy Williams, 2nd, 4:55.46
100m hurdles: Charlotte O'Friel, 2nd, 18.60
400m hurdles: C. O'Friel, 3rd, 1:12.23
4x100m relay: J. Winiecki, M. Reinking, K. Kochansky, D. Dragoni, 1st, 50.00
4x400m relay: J. Winiecki, M. Reinking, K. Kochansky, D. Dragoni, 1st, 4:23.14
4x800m relay: H. Hershberg, Maddy Stupart, Katie O'Hare, M. Williams, 1st, 4:23.14
Long Jump: Juliet Winiecki, 3rd, 16-5
Triple Jump: Alessa Johnson, 2nd, 33-5.75
Golf
The Bronxville golf team concluded its regular season by qualifying for the Section 1 Team Sectional Tournament. This event was hosted at Rye Golf and included Rye, Scarsdale, John Jay Cross River and Bronxville. Scarsdale won the day, but it was a tremendous accomplishment for the Broncos to qualify for this event two years in a row. Overall, Bronxville's record for the 2023 season was 13-3, and they were 6-0 in the league making them League Champions for 2023.
Four Broncos qualified for the Section 1 Individual Tournament as well: Seniors - Graydon O'Keefe, David O'Shaughnessy, Charles van Tienhoven and Junior, Walker Liggitt. As a result of their phenomenal play all season, they have been named All-League and were among the top 60 golfers in all of Section 1.
After round 1 of the Sectional Tournament at Waccabuc Country Club, O'Keefe, O'Shaughnessy and van Tienhoven qualified for Round 2 held at Trump National Hudson Valley. O'Keefe finished 4th overall and O'Shaughnessy finished 8th, earning them each a spot on the Section 1 State Team that will compete in Elmira, New York on June 4 - 5 at the Mark Twain Golf Course.
"I would also like to acknowledge the other seniors on the team this year," noted Coach Chris Lockwood. "Dallas Agnew, Remy Bhatia, Will Fang, and Jack Martin have been great role models and leaders for the younger golfers. They have set an expectation of competitiveness, pushed each other to get better each day and are leaving the Bronxville golf team with an admirable legacy."
Tennis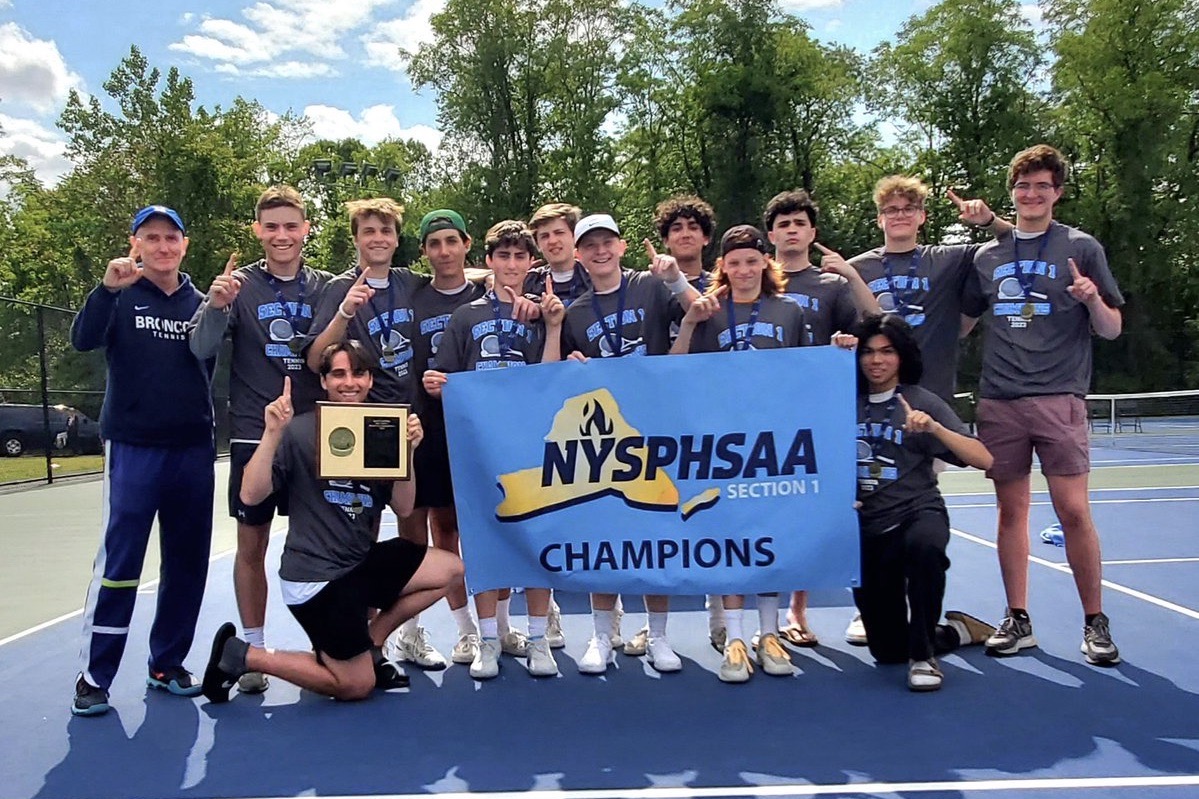 The boys' tennis team after winning the Section 1 Championship. Photo courtesy of BronxvilleTenn1.
The high school Team Tennis Tournament was in the works for years, but the inaugural Team Tennis Championship took place last spring. Byram Hills won last year and was given the top seed in the tournament this spring.
During the Team Tennis Championship, the Broncos, seeded No. 6 in Division 2, defeated higher seeds Briarcliff (No. 4), Edgemont (No. 2) and Byram Hills (No. 1) to win the Sectional Championship.
Competing in the regional rounds this past week, the Broncos easily defeated Spackenkill and Delaware Academy to earn a spot in the state semifinals.
The state semifinals will take place on Friday, June 9th at the USTA National Tennis Center in Flushing. This Championship brings together the winners of the East, West, North and South regions of New York.  It will be played at the USTA Billie Jean King National Tennis Center.
The Broncos will also be represented at the Individual State Championship on Friday, June 2nd. Freshman Patrick Kenny qualified for states after finishing 2nd in the Sectional Tournament.