Varsity golf team at Siwanoy. Photo by Chris Lockwood.
By S.Q. DeJoy and J. Murret
April 26, 2023: With a 4-2 win over Fordham Prep on Monday, the Bronxville golf team improved its record to 7-1. With the season in full swing the Broncos have been playing 3-4 matches per week, and over a 5-week season will ultimately play 15-16 matches.
In the win over the Fordham Rams, Captains Greydon O'Keefe, David O'Shaughnessy, and Charles Van Tienhoven were the top scorers for the Broncos.
"We had an awesome win," said O'Shaughnessy. "It is not often you see a small public school take down a large private school, and now we have done it two years in a row."
The Broncos were busy last week.  On April 17th, they had a win over Edgemont (211-230) with low rounds by Walker Liggitt (38), Van Tienhoven (39), and O'Keefe (42). The next day, Bronxville had a win over Blind Brook (211-225) with both O'Shaughnessy and Van Tienhoven shooting 39 and Liggitt shooting a 40. In their third consecutive game last week, the Broncos defeated Rye Neck (211-251) with Will Fang and Liggitt leading the charge with 41, followed by O'Shaughnessy and Dallas Agnew with 42, and Alex Savoy with a 45.
While it is a senior-heavy team with strong contributions from Captains O'Keefe, O'Shaughnessy, and Van Tienhoven, Liggitt and Savoy have also made an impact.
"Junior Walker Liggitt has improved his game tremendously and has also been instrumental in the team's success," said Coach Chris Lockwood. "Alex Savoy, our rookie freshman, has also shown great promise and has appeared in many of our matches."
Just this week, O'Keefe, O'Shaughnessy, and Van Tienhoven were named to Lohud's list of top golfers in Section 1.  All three were named All-League last year, and O'Keefe, who was also named All-Section, competed at the New York State Championships.
"Last year, I was surprised I qualified for states," said O'Keefe.  "It was the first time I had qualified for the initial Sectional Round, and then I moved on to the second round. You get lucky with when your game is working, and it just happened."
O'Keefe and O'Shaughnessy joined the team as sophomores. They had played golf casually, but during the pandemic they found themselves with nothing to do and started playing together every day at Siwanoy Country Club.
"The upcoming weeks will be quite competitive for the boys as they take on Rye, Harrison, and Scarsdale who are always right at the top of the team leaderboards each season," said Coach Lockwood. 
Last year, The Broncos defeated Scarsdale to capture the Section 1 Team Championship, and the goal of this season is to make it back to the Sectional Final. Bronxville will face Scarsdale for the first time this season tomorrow at their home course Siwanoy. 
"Scarsdale is always a phenomenal team," said O'Keefe. "They are a little young but will have improved since last season and should play well. We have to bring our best game."
Go Broncos.
Varsity Team Members
Seniors:
Greydon O'Keefe, David O'Shaughnessy, Charles Van Tienhoven, Remy Bhatia, Will Fang, Dallas Agnew, Jack Martin
Senior Captains: Greydon O'Keefe David O'Shaughnessy Charles Van Tienhoven (pictured below).  Photo by Chris Lockwood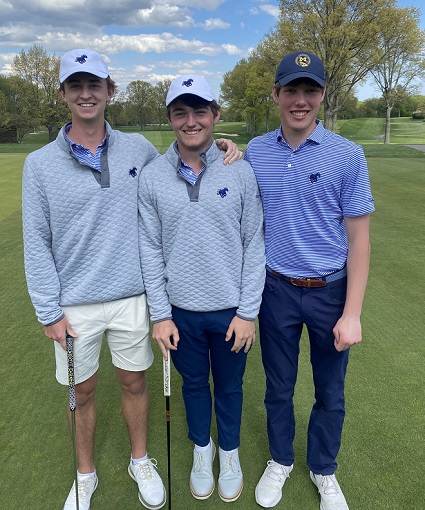 Junior:
Walker Liggitt
Sophomore:
Jack O'Hara
Freshmen:
Andrew Gay, Alex Savoy, Alex Nazarro