The Bronxville boys' basketball team in a home game against Ardsley. Photo by Walker Liggitt.
By J. Murrer and S. Q Dejoy 
Jan. 19, 2022: Things are heating up for the Bronxville basketball teams.  With the regular season ending in just three weeks, the boys' and girls' teams will play a combined 23 games to complete their schedule. It is a lot of time on the court, but the teams are up to the challenge. The boys' team, currently 7-1, has had a great first-half run, and the girls' team (7-3) is starting to show its strength, especially in Saturday's win against North Salem.  
"We started off the season pretty rocky," said Co-captain Kiki Tormey.  "We lost to Tuckahoe and Briarcliff, a strong team. Now, mid-season, we are starting to get in the groove. Some of the games we played were tighter than we wanted, but the North Salem game was a turning point for us. I think that was one of our best games yet. Everyone put some points on the board, and we played really well together."
The Broncos were scheduled to play in the first round of the North Salem tournament on Thursday, but their opponent had to cancel due to COVID. In the finals of the tournament, Bronxville defeated North Salem 47-30 with Tormey (17), Ashley Wetty (10) and Eliza Ramundo (9) contributing to the scoring.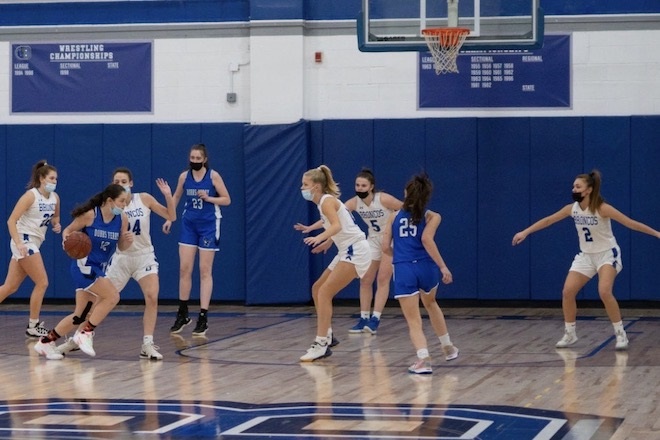 The Bronco girls in a home game against Dobbs Ferry. Photo by Walker Liggitt.
The Bronxville boys added two solid wins this week even though they were on the road. The team had a 61-53 league win over Edgemont on Thursday, a 68-60 win over Putnam Valley on Saturday. They suffered their first loss of the season last night against a strong Briarcliff team. In that game, the Broncos led by 9 at the beginning of the fourth, but the Bears came back to capture a 54-50 win.
In the game against the Panthers, Chris Kelty led with 23 points and 12 rebounds, and Sean McGrath and Jack Hershberg scored 15 and 14 points.  Kelty also led the team against the Tigers with 31 points and 13 rebounds with Hershberg adding 12, Teddy Dolan, 9 and McGrath, 8. 
Co-captains Hershberg and Kelty have been on the team since freshman year, and together with junior Co-captain Sean McGrath, lead a veteran group of junior and seniors.
"There are 14 kids on the roster, which is a lot compared to other years," said Hershberg. "It is a very experienced team, and that has contributed to our success. My freshman year we were 6-15, and now, to be 7-0 shows how much work we put in year-round. We hope to do something great this season."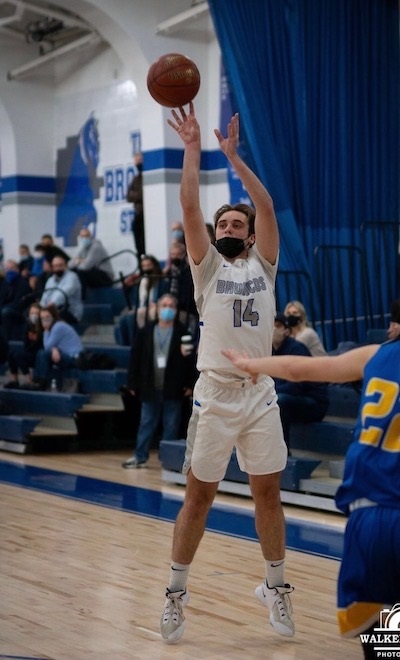 Jack Hershberg, #14. Photo by Walker Liggitt.
The pandemic has resulted in changes to the basketball program in the past two years. Last winter the season did not start until February, masks were mandatory, and no fans were allowed in the gym. While the teams will play a full season this year, the mask mandate is still in place, and in some school districts, including Bronxville, fans are limited.
"We only played ten or twelve games last year, and a bunch of teams had their seasons canceled because of COVID," said Hershberg. "Last year, even parents were not allowed at games, so it is nice to have some fans this year."
Having an enthusiastic Bronco fan base was a big part of basketball pre-pandemic. While fans are no longer there to organize "whiteouts" or hold up "big heads", the basketball players' head shots are still a part of the game, but they are hanging on the gym walls. 

The gym wall adorned with bih heads. Photo by Walter Liggitt.
Co-captains Kiki Tormey, Ashley Wetty, and Eliza Ramundo (pictured above), have played together for a long time. Tormey and Ramundo started playing together in 3rd grade; Wetty and Tormey joined the varsity team in eighth grade.  Despite the COVID restrictions and occasional game postponements, they are happy to be playing basketball.
"Given the circumstances, we are just grateful for every game we have," noted Tormey.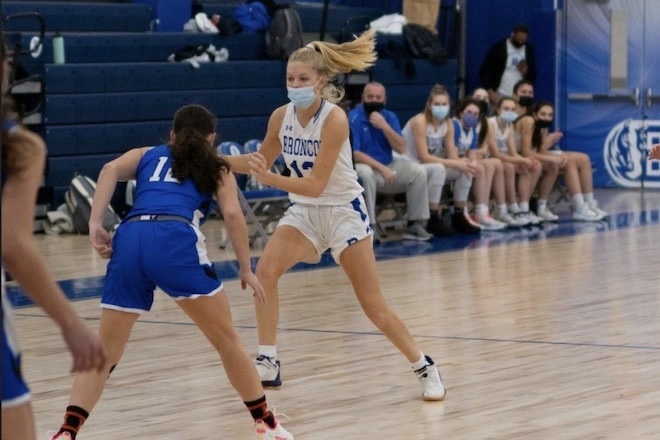 KiKi Tormey #13. Photo by Walker Liggitt.
The girls' team will play two away league games this week against Irvington today and Dobbs Ferry on Friday. On Saturday, they head to Yorktown where they will play against Coach Donny Lucas' daughter, Olivia, a junior on the Huskers' team. 
The boys' team is back at home against Irvington today and Dobbs Ferry on Friday. They will play in a non-league game at Nanuet on Saturday.
All home games and some away games can be seen on LocalLive at https://events.locallive.tv/school/bronxville-hs.
Go Broncos.