The Class C New York State Champions. Photo submitted by K. Samuels.
By S.Q DeJoy and J. Murrer
Nov. 17, 2021:  The Bronxville girls' cross country team had the No. 1 ranking in Class C as they headed to the New York State Championships, but at the beginning of the season, it was not clear how the team would fare. It was young team without a lot of experience, but in the end, the Broncos had their shining moment last weekend when they won the Class C New York State Championship.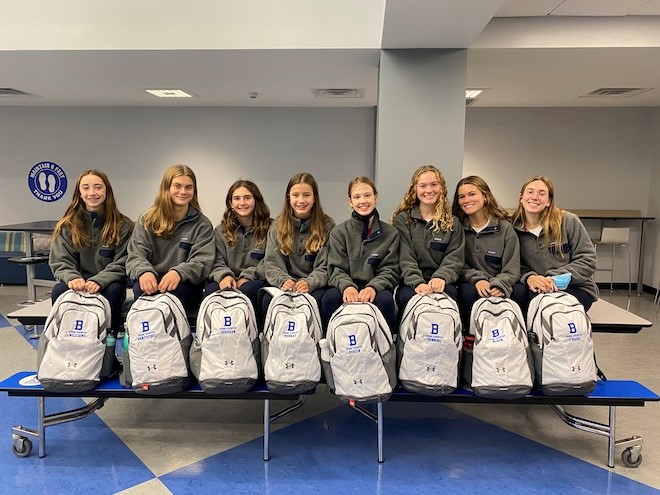 The Bronxville girls before boarding the bus to the State Championships. Photo contributed by K. Samuels.
Maddy Williams, just a freshman, was the first Bronco to cross the finish line and placed third in the Class C race in 19:07.90. She was not sure what to expect at states but was thrilled that the team won.
"I didn't think I was going to place that high," said Williams.  It was my first trip to states and was super fun. We were really hyped up and really wanted to win."
Ava Black placed 7th at states and finished 2nd for the Broncos in 19:27, and was followed by freshman Lux Burgin, 16th (19:57), junior Katie O'Hare, 21st (20:27), eighth-grader Quinn Sheehan, 48th (21:28), senior Rory Denning, 56th (21:40), and freshman Charlotte Murray, 83rd (22:24).
While rain was forecasted for Saturday's race, the Broncos were lucky to get an early start time before the rain began to fall. The girls were well prepared for the course at Chenango State Park, which had fewer hills compared to other courses where the Broncos compete.
Black, one of two seniors on the team, runs indoor and outdoor track, but this was her first season running cross country after having played soccer since 7th grade.
"I switched at the last minute," said Black. "I wanted to run in college. It was really hard to tell Cupe [Coach Don Cupertino] and the girls on my soccer team. I like cross country a lot and really like running better."
Black has committed to Cornell and will run cross country and track for the Big Red next fall.
Of the seven Broncos on the State Championship team, only two ran cross country last year, and none of runners had ever been to states. Captain Rory Denning is the veteran on this young team.
"I have been on the team since 7th grade," said Denning.  "I am the only person on the team who ran for Mitchell, Ryan, and Samuels. I have been on the team long enough to have a lot of experience, and it is great to see all the girls come together with all their hard work."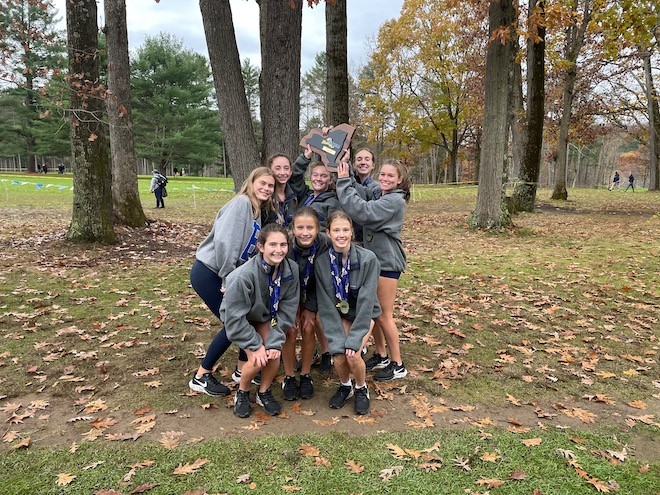 Photo submitted by K.Samuels.
Coach Keina Samuels took over as head coach this year, replacing Coach David Ryan who took the reins from Bronxville's track coach icon, Jim Mitchell. Mitchell retired in 2018 after 41 years of coaching at Bronxville.
By the time Denning graduates in the spring, she will have competed in cross country, indoor track, and outdoor track every year since 7th grade, a sign of true dedication.
"It is such a huge part of my life," said Denning. "I have done it all three seasons for six years. It has brought me some great friends, life lessons, and keeps me from being inside all day."
Bronxville girls' cross country is a well-known and well-respected program at the state level. The girls' team competed at states in 2018, but the Broncos have not won a state championship since 2014.
Denning is proud of how the team came together despite their youth and inexperience.
"All the girls were so new to it, but I think that is what makes it so great," said Denning.  "They were all so excited to keep doing their personal best.  It helps that all the girls worked together during the season and pushed each other. In the post season, we just continued to do that."
The season is not over for the girls' cross country team. They will compete against public and private schools of all sizes at the New York Federation Championships at Bowdoin Park on Saturday.
"This is my first year being a head coach and also my first time leading a team to the State Championship title," said Coach Samuels. "I'm just really proud of the team and the way they competed last weekend."
Go Broncos.